By: Al Elizabeth Turner
A little over 200 years ago, in 1818, to be specific, Athens, Alabama, participated powerfully in what is recorded even in secular history books as the Second Great Awakening. Alabama was brand new, and an amazing 4,000 people came here to be a part of it. Students of revival history will tell you it was a significant event in American history, and thankfully there are people who have been praying for years that God would move in our midst again with signs and wonders.
Scott and Kim Barnhart are two such people, and they have put everything on the line to give God both glory and the opportunity to pour out upon us. Specifically, out of obedience in May of this year, they closed the doors to a thriving ministry in Huntsville known as The Freedom House. Then they traveled to Florida, had a tent custom made to hold about 400 people, and on January 18, 2023, will be "opening the doors" at the Limestone County Sheriff's Rodeo grounds on AL Hwy 99. You are invited, and their hope is that we will not just be revived spiritually, but that our people in the area will be transformed by the power of God. The services will start at 6:30 p.m. Wednesday through Friday. On Saturday there will be two services — one at 1 p.m. and one at 6:30 p.m. On Sunday there will be two services, one at 11 a.m. and one at 6:30 p.m. The tent will be heated.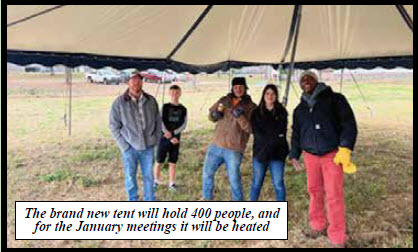 A word about the "tentmaker" from Florida, David Wine: He was blind as an eleven-year-old child and he attended a tent meeting in Oklahoma where Oral Roberts was ministering many years ago. Roberts laid his hands on the boy, and he received his sight immediately. The first thing he saw was a tent, and at that point he began his pursuit to become a tentmaker. He is 77 years old now, and practically all his life he has made tents, in part to show his gratitude for the miracle he received.
Scott was on the TN Valley Spotlight radio show this past Monday, and told the listeners, "When God moved in the Welsh revival, the police department shut down because there was nothing for them to do." I know from my own study of the history of revival that the same thing happened in the Hebrides, Scotland, revival after WWII, and in Almolongo, Guatemala, 25 years ago. Most people of faith know that the only thing that can rescue our country is true revival that will bring a transformation of the lives of the people.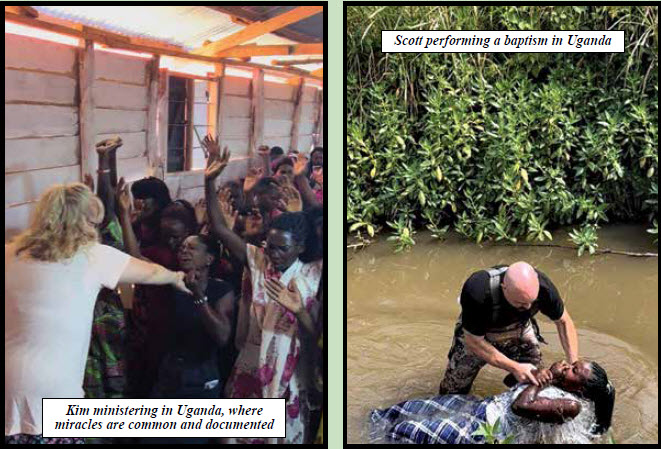 To prepare for this move of God in Athens, prayer is occurring at 8 a.m. every Wednesday at a designated location in the city. Kim Barnhart is leading an effort called "Walk & Pray Athens" and prays with anyone who wants to show up. That group of prayer partners come together in unity over the fact that they believe God needs to move in our city, and He will in fact do so it if we seek Him through prayer.
A bit of background on the Barnharts. They are the parents of four teenagers, three of whom are adopted. Scott was an Army brat, was born in Alabama, served during Desert Storm, and as an Army civilian, works with the Army Corps of Engineers, at which time he also served in Operation Enduring Freedom in Afghanistan. He has also worked in law enforcement in Montgomery. He and Kim met at Fort Bragg, and both have wonderful stories of how they have seen God move in their own lives, in the ministry here in the States, as well as in Uganda. In Africa they have planted many churches as well as an orphanage. The picture you see of Scott performing a baptism in the river in Uganda does not show the anacondas that were also present nearby that day!
Kim has an amazing story too where she was completely healed from what was diagnosed by a psychologist as "bipolar disorder with severe clinical depression," a condition doctors say is incurable. The secret to that transformation partly began when she was willing to forgive her father, and she has a special heart for those who have scars from the past that cannot be seen. She also recently published a book on this subject called The Bipolar Lie which can be found through any book outlet. It describes the details of her testimony, while at the same time provides a guide for anyone who desires to be set free from any kind of mental prison.
One of the things that Scott and Kim are praying will occur is that churches will come together in unity for this event. History bears out that when revival hits, people who have been newly transformed need a place to go where they can be discipled, encouraged, loved, and able to grow in their faith. It is not about denominational growth, it is about the gospel going out and doing what it was originally intended to do: turn the world upside down for Christ! The Barnharts are also planning on setting up the big tent for the future in March, May, August, and November in different locations in our area. Or, it might just need to stay up for a while. I guess we will have to see how God chooses. Consider planning on attending, planning on partnering, and planning on praying. Then, do it! You never know, you might just end up being a part of history!
For more information about God Encounters Tent Revival or if you are interested in becoming a partner, visit their website at www.GodEncountersTentRevival.com or email at freedomhousehuntsville@yahoo.com.
For information on Walk & Pray Athens, email Kim at freedomforthenations@gmail.com
If interested in sponsoring a child at their orphanage or the mission in Uganda, Africa, please visit www.thefreedomhouseafrica.com
By: Ali Elizabeth Turner