Many of you are familiar with the Serenity Prayer. It offers words of peace, calmness, and strength. This week, I read another beautiful prayer that was originally found in the Old Sarum Primer, a book of prayers written in 1558. It is a short prayer that offers a closer connection with God. It helps you feel and become closer to God.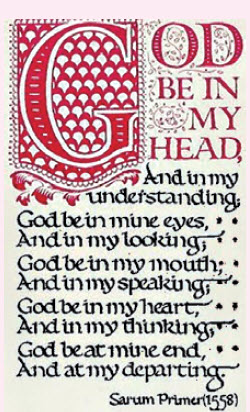 God Be In My Head
God be in my head, and in my understanding;
God be in my eyes, and in my looking;
God be in my mouth, and in my speaking;
God be in my heart, and in my thinking;
God be at my end, and at my departing.
It is only five lines, five simple lines that asks God to be in every part of your life. It is such a simple prayer, such a simple concept, but when the Gospel is broken down to the bare minimum, it is simple. God made following Him, at its core, simple. Easy enough for a child to follow and understand.
The older we get, we tend to forget how simple life can be. We let life cloud our eyes. We let worry creep in and take control, and our childlike belief and wonder is snuffed out. In the New Testament, Jesus tells us that to enter the Kingdom of Heaven, we have to become like little children.
This beautiful, simple prayer helps keep your focus on making sure God is in every aspect of your life. When God is in every part of your life, God will spill out of you. We are called as Christians to stand out from the crowd. We are supposed to look different. When Christ is spilling out of every part of you, you will stand out. "That you may be blameless and innocent, children of God without blemish in the midst of a crooked and twisted generation, among whom you shine as lights in the world." Philippians 2:15
I urge you to commit this prayer to memory, but more importantly, commit to putting these five simple statements into practice in your life. When Christ is part of every facet of your life, our outlook on life will change and others around you will come to know Christ as well.
This week's recipe is a delish frittata. Frittata is a fancy word for an open faced omelet! It is an easy breakfast meal, lunch meal, supper meal, or snack. You can eat this anytime you like, and it is completely customizable! Feel free to add whatever proteins, veggies, or cheeses your family loves to make this dish a staple on your weekly menu.
"So we have come to know and to believe the love that God has for us. God is love, and whoever abides in love abides in God, and God abides in him. By this is love perfected with us, so that we may have confidence for the day of judgment, because as he is so also are we in this world. There is no fear in love, but perfect love casts out fear. For fear has to do with punishment, and whoever fears has not been perfected in love. We love because he first loved us." 1 John 4:16-19