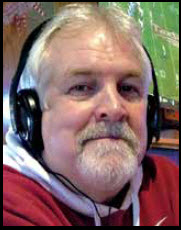 By: Tim Lambert
Congratulations go out to James Clemens's Noah Berry for his baseball commitment to Samford, Athens High's Emily and Katie Simon for softball commitments to Auburn Montgomery, and Lindsay Lane's Lindsey Holland, who committed to play volleyball at Huntingdon.
Football
West Limestone beat West Morgan 31-14, East Limestone 31-28, and Wilson 47-16. Tanner defeated North Sand Mountain 14-6, Columbia 41-8, Whitesburg Christian 47-12, and Falkville 35-28. James Clemens topped Huntsville 43-40, Lee 55-15, Florence 45-42, and Grissom 31-13. East Limestone turned back Brewer 49-7, Lawrence County 48-14, and Ardmore 42-0. Ardmore stopped Clements 55-27. Athens got by Buckhorn 27-24. Clements overcame East Lawrence 47-34.
Volleyball
East Limestone defeated Cullman, Columbia, Ardmore, West Morgan, West Limestone, Tanner, Lee, Lauderdale County, Buckhorn, Lawrence County, Muscle Shoals, Rogers, Central-Florence and Russellville. Athens turned back Calera, North Jackson, Corner, and James Clemens. Lindsay Lane topped Florence, Decatur Heritage, and Lee. Elkmont won against Clements. West Limestone topped Tanner, Lexington, Clements, and Decatur. Clements beat Decatur and Phil Campbell. Tanner turned back Whitesburg Christian, Tharptown, and Oakwood Academy. ABS beat Falkville and Oakwood Academy. James Clemens overcame Ohatchee, Buckhorn, and Cullman. Ardmore defeated ABS, and Mae Jemison. At the Limestone County volleyball tournament, East Limestone's varsity and middle schools claimed championships while Ardmore's JV took home the title. Lindsay Lane won their area tournament by defeating Oakwood Academy and Decatur Heritage. Elkmont blanked Clements and finished second to Lauderdale County. James Clemens shut out Austin and held off Bob Jones to claim their area championship. Super regional tournaments begin October 20.

Cross Country
Elkmont's Alex Kuntz finished second in 1A-4A boys at the Fairview Invitational; the Red Devils were ninth as a team. The Clements girls placed eighth in their division. Ardmore's Carter Richardson won the boys' 5A-7A division at the Kudzu Hills Invitational at Cold Springs; the Lady Tigers' Addison Tiemann finished second in the girls' division. Elkmont's Alex Kuntz was first in 3A-4A boys.
The West Limestone junior high girls were runners-up as a team at the Warriors Invitational at Wilson; the varsity Wildcats finished fifth. Athens High finished fifth in the boys' red division at the Jesse Owens Classic cross-country meet. ABS and West Limestone finished seventh and eighth respectively in 1A-4A varsity boys at the Hay of a Run meet at Fairview; the Lady Wildcats were seventh. At the Dew It on the Trails meet at Point Mallard, Athens High was fifth in 5A-7A boys , sixth in JV girls and seventh in both the varsity girls' and JV boys' divisions. Elkmont's Alex Kuntz won the 1A-4A boys' race as an individual. At the ABS Invitational cross country meet on Tuesday, the host Trojans' Jack Bradford finished third in 1A-3A varsity boys while Ardmore's Carter Richardson was runner-up in 4A-7A. The Lady Tigers' Addison Tiemann came in third in the girls' division. Tyler Morring of Ardmore was also third in JV boys while West Limestone's Bethany Harper, Ashly Romero, and Brooklyn Grisham finished 1-2-3 on the girls' side.
Look for the PlayAction Sports Report podcast featuring news, guests and highlights and dropping every Wednesday on your favorite podcast platform like iTunes, Google, Amazon and more. There's a list of apps and links online at www.pasnetwork.net. Enter your name while you're there to be our weekly Good Sport – you might pick up a $25 gift certificate from Mac's Steakhouse in Athens.
By: Tim Lambert
Tune in for the PlayAction Sports Update, three times each weekday on 1080 AM WKAC. Visit us online at www.pasnetwork.net! email: playactionsports@hotmail.com