By: Ali Elizabeth Turner
Education is a hot-button topic in the State of Alabama these days, and for good reason: we are dead last, rated 50th out of 50 states when it comes to the quality of our public education system and its poor results. That's the bad news; the good news is — 1. There is no place to go but up and 2. People are angry enough, creative enough, and motivated enough to do something about it. This is why Rex Davis has decided to run for the Alabama school board position that would cover Limestone, Madison, Jackson, and DeKalb counties. If ever there were a time to do something about a failing system, it's now. And with Limestone County being one of the fastest growing counties in the United States, the need to make substantial improvement is paramount.
Rex brings an unusual set of perspectives and experiences to the District 8 race, having taught for the United States Army as well as being unusually involved in the education of one of his children. He taught himself to read before he started school, and his parents invested in a set of World Book encyclopedias for their children. He had a speech impediment which made it difficult for him to read aloud, and the mistaken assumption was that he could not read at all. That was the first grade. In second grade, he was hospitalized for weeks with Reye's syndrome, an extremely rare and serious disease that effects the brain and liver. While he recovered from that and managed to pass the second grade, the speech impediment caused the school to send him back, and he was the biggest kid in the class. As happens so often, he became the class clown, for quite a while did not do well academically, and as he says, "When you are not learning, you do other things."
However, there were people who "saw" Rex and helped him pull through. One was Malcom, an African-American janitor who taught him how to fix locks and with whom Rex stayed in touch when Rex's family moved to California in 1968. Another was Mr. White, his P.E. teacher who coached him both in gymnastics as well as playing the trumpet. He took speech therapy with a Downs Syndrome girl by the name of Rhonda, and they were friends. There came a time when Rex decided finally to tackle the speech problems on his own. He practiced the preamble to the Constitution as well as the Gettysburg Address aloud, entered a radio context where he had to recite both from memory, and he won the contest.
Their family moved near an Air Force base near San Angelo that was located right on a runway, and it was there that his love for aviation was born. That proved to become one of his careers. While in the Army Rex was a MP, Criminal Investigator, and worked with Explosive Ordnance Disposal, or EOD. The Army EOD supported the Secret Service and the State Department, and Rex had the privilege of being a part of Ronald Reagan's protection detail at the Reagans' California ranch. Rex retired from the FBI Hazardous Devices School as a Senior Instructor. Through all of it, he taught, and for obvious reasons, took his jobs seriously: if people didn't learn right, they could lose their own lives or get others killed.
From 1968 to 1972, Rex thrived in the California public school system because it blended necessary skills with practical application, and by the time he was in the 9th grade, he was attending community college classes in fire science and criminal science. He was a commercial pilot by the time he graduated from high school. He then enlisted in the Army in 1972 and retired as an E-7. He is a proponent of the "voc-tech" approach to holistic education that is what is best for the student, and knows that there are plenty of smart, well-educated kids for whom university is not a good fit.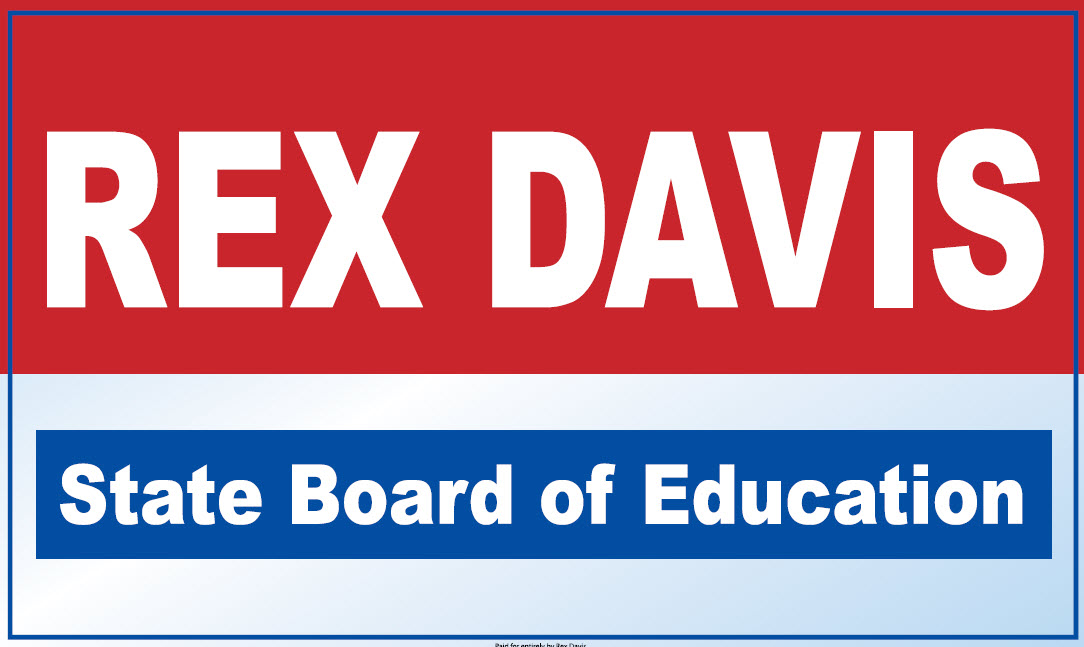 Close to 30 years ago, Rex and his wife, Rhonda, chose to have her be the breadwinner while he stayed home with their youngest son. That is when he became intimately involved in education in the public school setting, helped out as a nurse's assistant, and was the "helpful older neighbor lady." The combination of his own experience with struggling and then triumphing in school, being an advocate for kids in his son's class, and going on to be a classroom teacher in the Army caused him to take a hard look at what's going on in Alabama schools. He has some practical ideas as to what can be done to climb out of the national hole in which we find ourselves.
"The most important thing is discipline," Rex told the Madison County Republican Women's Club on Wednesday. "Teachers need to have the final authority in the classroom and to be able to say whether a child should be able to return to a classroom. The first day, the kids need to be told the rules, need to understand the rules, and be expected to follow the rules." As a business man, Rex understands that you can't just keep throwing money at something that isn't working. If a business is not delivering what it promised to deliver, then there are all kinds of consequences, most of which are economic. He would propose that if a high school issues a diploma to a student, and the student cannot then pass a college entrance exam, that the high school should have to pay for remediation within one year of the student's high school graduation. Rex added, "In all of the failing elements of public schools, there must be consequences for school failure; taking money seems to be the best punitive solution. Schools should pay for failure."
Rex supports parent choice in schooling, and that means that the money earmarked for that child should go to a private school, homeschool, charter school, or an excellent public school so that the taxpayer can get their money's worth — a well-educated child. He believes that from grades 1-4 there should be a heavy emphasis on reading, and providing free tutoring in reading for all students. "If you can't read, you can't learn," he says. Other subjects certainly are important, but reading is foundational.
Rex understands that teachers are under a heavy administrative burden, and firmly believes it must be quickly lifted. Simply stated, they are there to teach, not manage an ever-burgeoning bureaucratic system. He believes in a return to basics and uses he a term called "retro-teaching," or getting back to the methods that have always worked. He believes that state education money should go only to education. If there is a kindergarten class, it needs to be academic.
Finally, Rex believes that there needs to be complete transparency in terms of curriculum, content, text, lesson plans, and methods of instruction. One of the good things that was the result of the COVID lock- down was that parents all over America became aware of what their kids were actually being taught and started to speak up. Rex Davis started doing that nearly three decades ago, and if you want to help him do that for North Alabama, then vote for him to be our District 8 State of Alabama School Board representative
By: Ali Elizabeth Turner