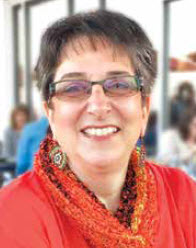 By: Lynne Hart
And One-Bag Challenge With Cash Prizes
Keep Athens-Limestone Beautiful and Athens State University are so excited to bring this year's Earth Day & Outdoor EXPO to our community!  There are so many new and exciting things in store.
Our Earth Day event will be held on Saturday, April 15, from 10 a.m. until 3 p.m. on the campus of Athens State University. Admission is FREE. A $1.00 donation is suggested to help support KALB programs. A list of activities will be provided at entry points.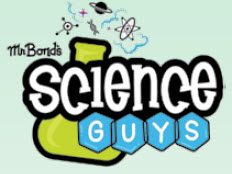 The day will begin with a guided walk at Marbut Bend Walking Trail in West Limestone. This is a unique walking trail with diverse wildlife. The walk will be led by Damien Simbeck with TVA who is an expert in the history of this trail and all the wildlife that call the area home. There are boardwalks over the ponds and decks with beautiful river views. Participants will meet at the trailhead at 8 a.m. Wear comfortable walking shoes, bring your camera, and use sunscreen and/or insect repellent depending on the weather.
Our office manager, Claire Tribble, has been instrumental in bringing several new exhibitors and vendors to this year's event. She has created a nice variety that will be of interest to children and adults. Here are just a few!
Steve Trash, Rockin' Eco Hero and Magician, will have stage performances in McCandless Hall at 10:30 a.m. and 1 p.m.
Rise Raptors will bring their birds of prey for a presentation in the gym.
The Science Guys – hands-on experiments.
Scott Clem, PhD, Research Entemologist – a variety of insects to study (and hold?)
Beth Haney Face Painting – Beautiful face painting designs FREE for children.
Athens State University will provide a tour of historic trees on the campus. They will also have reptiles on display, activities for the kids, and the opportunity to purchase and tie-dye t-shirts.
Limestone County Master Gardeners – answer gardening questions and plants for sale.
Athens-Limestone Beautification Board – plant cuttings to give away.
Fly High Worms – worm castings and worm tea fertilizer.
Fig Brew – an alternative to coffee and offering samples.
Food Trucks – Smashed (specializing in burgers), Kona Ice, Popcorn, and Cotton Candy
Bitte-Waffle – samples of their prepared waffle mix.
There are too many more exhibitors and vendors to mention, so you'll just have to come out and see for yourselves!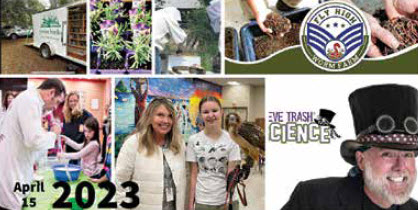 EARTH DAY ONE-BAG CHALLENGE
KALB and Athens State University are thrilled to educate; however, we also want to encourage our community to get involved in cleaning up our city and county. So we are offering this opportunity to not only clean up the community, but also to clean up with cash prizes totaling $1,000!
KALB will provide trash bags and lend litter grabbers, buckets, gloves, and safety vests to anyone who would like to use our supplies. Participants must completely fill one trash bag and dispose of it properly. Photos of the cleanup and trash collected must be provided to KALB by posting it on the Keep Athens-Limestone Beautiful Facebook page or emailing them to KALBCares@gmail.com. Name and contact information must be provided to be entered into the drawing for cash prizes.
One entry will be placed in the drawing in a participant's name for EACH FULL bag of trash collected.
Names will be drawn on Saturday, April 22 (official Earth Day) and winners notified. The first name drawn will receive $500 with several additional cash prizes to be won!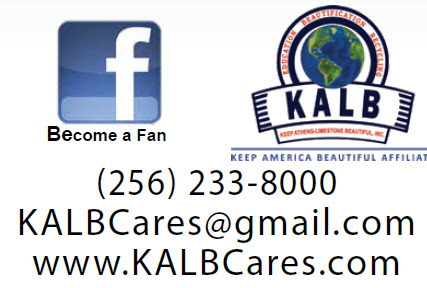 THANKS TO OUR SPONSORS
Earth Day & Outdoor EXPO and the One-Bag Challenge have been made possible by the following sponsors for whom we are so very grateful!
Limestone County Water & Sewer Authority
Athens State University
In-Tech Athens
Steelcase
Grayson Carter and Son Contracting
Indorama Ventures
Clem Tire
Listerhill Credit Union
Redstone Federal Credit Union
Bank Independent
For information, call 256-233-8000 or email KALBCares@gmail.com.
By: Lynne Hart 
KALB Commission Member, Keep Athens-Limestone Beautiful