By: Ali Elizabeth Turner
Can flowers come to the rescue in 2022? I would say that several people and I who live in Athens-Limestone County would respond with a resounding "Yes!" There have been several times that I have called Dugger's Florist with a particular price point, deadline, and the hope of a certain flower being able to be part of the mix, and Melinda Dugger and her crew have come through for me handily. One time was when one of our office mates had to unexpectedly have their family dog put down, and another was just a "pop-up-cheer-you-up" for an Athens Now client going through a tough time. A more planned-out bouquet was for my mother's 100th birthday which I was able to pick up and deliver personally clear across the country, and all of them were perfect.
Melinda Dugger is one creative woman, and loves to sew, do heirloom smocking, all kinds of needle work, paint, bake, travel the globe, and more. However, opening a florist shop was her husband Jason's idea, and flowers were something she felt were pretty, but not something with which she had any previous experience. Dugger's Florist & Gifts was born in the spring of 2011. For the first few months they scrambled to learn the business, and then in the summer of 2011, Melinda was able to undergo an intense training program in Louisiana to get her formal floral education. She looked at several floral schools before she decided on getting her certification from the Creative Floral Design School in New Orleans. Melinda picked that particular institute because Louisiana is one of the few states where florists have to have a license, and she felt that they just had higher standards. She also enjoyed the fact that the class size was small, and offered lots of one-on-one training and attention.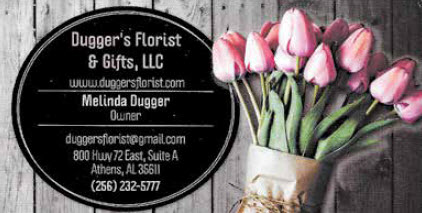 For a while, the shop was located in Tanner, and then they moved to their present location, which is at 800 US Hwy 72, Suite A in Athens. The business is one that thankfully survived the pandemic, and they are blessedly busy. "This weekend we have two proms, and then we will be getting ready for Mother's Day and the summer wedding season," Melinda told me when we chatted. I always love to learn things from Athens Now clients, and Melinda informed me that for Mother's Day, it is customary to have white roses be in honor of a mom that has passed, and red for moms that are still alive.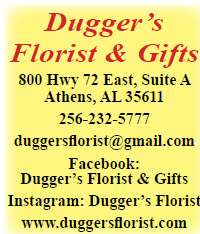 Melinda recently came up with an idea to help comfort kids who have lost a loved one. They are called "Memory Bears," and are teddy bears that have a customized shirt on them that say, "In Memory Of…" and can also have a picture of the child with the loved one put on the shirt. This way the child can "carry" the one they lost around with them and be soothed by the softness of the bear. Memory Bears have become quite popular, and are not just for kids, nor just for bereavement. I came into the shop one day when a woman was going out the door with a bear that had been customized to celebrate her friend's triumph over cancer.
One of the things for which Dugger's has also become well known are what are called "dog house flowers." A few of the guys in our BNI group have expressed deep gratitude to Melinda for speedily putting together arrangements that are given in connection with an apology, which hopefully serves to "get them out of the dog house." That is not confined to just guys, though, and Melinda has made dog house flowers for me as well.
Melinda loves to do weddings, and Jason, who works full-time in real estate management, helps out with funerals. These days, their daughter Sydney also works in the shop and sometimes holds down the fort when her mom has to drive to Atlanta or Miami to pick up orders. Melinda enjoys working in a state of what she calls "flexible creativity." What that means is that the combination of having an idea of what the client wants, while being granted the liberty to have free reign is the optimal environment for a beautiful result. She is just as comfortable with traditional floral arrangements as she is with the modern or exotic. Building that kind of reputation with clients is dependent on trust, and she has several who will come in the shop and basically say, "Do your thing; I trust you."
Dugger's Florist & Gifts is not the least expensive shop in our area, nor is it the most. They are always about quality over quantity, and are most often able to do a quick turnaround. "We try our best to please," Melinda told me. Come to Dugger's and discover what I mean.
By: Ali Elizabeth Turner