By: Ali Elizabeth Turner
Nick Niedzwiecki grew up in Athens, and by his own admission, was heavy most of his life. He was the class clown, never lacked for friends or sweethearts, and played football as an offensive lineman for Athens High School, graduating in 2010."I always had to wear the 'husky' jeans," he told me. For several years before and after his high school football career, Nick was close to 100 lbs overweight. He attended UNA and got his degree in Geographic Information Sciences. It was at UNA that he met his truly lovely wife, fellow CrossFit coach and co-owner, Jordan. "She has been by my side all the way, and none of this would have been possible without her," said Nick, as he pointed both to the fitness center, (known in CrossFit parlance as a "box"), as well as to himself. He is a "product of the product," but becoming a CrossFit "box" owner was not a part of his life plan.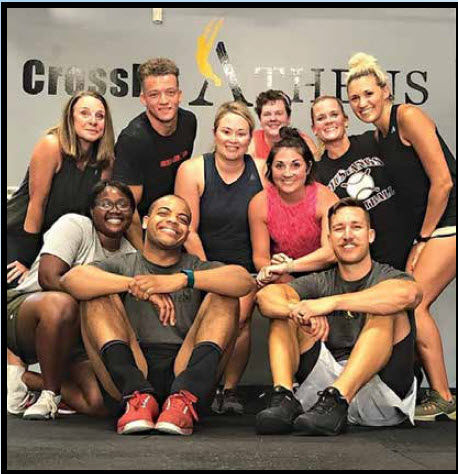 In January of 2014, Nick and two college buddies set a New Year's resolution that actually "took." They bought a membership at a local gym and began to work out regularly. Nick saw results to the tune of becoming 80 pounds lighter, and then found himself stuck. At the same time, his job as a defense contractor specializing in utility mapping called for lots of travel, and he decided to move closer to work. It was at Empire Fitness and CrossFit Madison that Nick experienced for himself just how well the CrossFit approach could work. He lost the last 20 pounds, changed his nutritional approach to fitness, and began to feel a pull toward helping others the way he had been helped.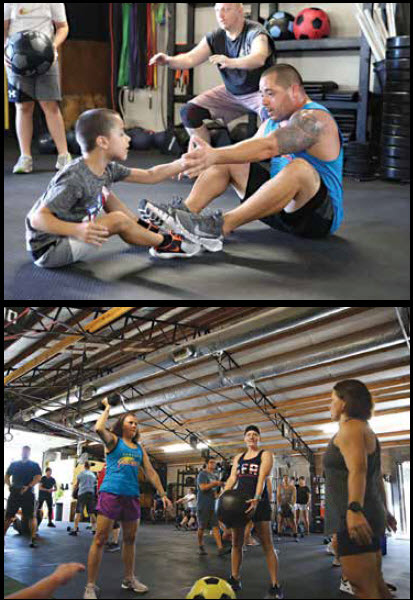 With the help of CrossFit Madison, Nick and Jordan opened their box, which is located in Athens at 15258 Hastings Road, on August 5, 2019.They weathered COVID, have grown to about 90 members, and offer classes for kids on up to people of any age, any level of fitness, for any goal. "To join the adult class, you have to be 13, but here we have classes for kids aged 5-12," said Nick, and helping kids become fit and healthy is something that is a true passion for him. Currently, CrossFit Athens members range in age from 5 to 65.
What sets CrossFit apart from other fitness approaches? It is the focus on functional fitness, which essentially means that your body is the machine, not the treadmill. They do use barbells, kettle bells, weights, rings, high bars, rope climbing, and a rowing machine, but it is the use of all of your muscles to get the job done, rather than isolating your muscles, that makes the difference. "Everything is unplugged," said Nick. The moves come from several genres: gymnastics, weightlifting, use of medicine balls, resistance bands, plyometrics (jump training), running, and at some facilities, swimming. Another feature is the continual change up in workouts. They are different every day, but each day a member works out for an hour; there is a 20-minute warm up, 20-minute workout, and a 20-minute cool down/ stretching session. CrossFit is used by first responders, military, and anyone who wants to be "ready for anything." In addition, CrossFit is used by the Royal Danish Life Guards, and the Miami Marlins, along with several American and Canadian high school sports teams.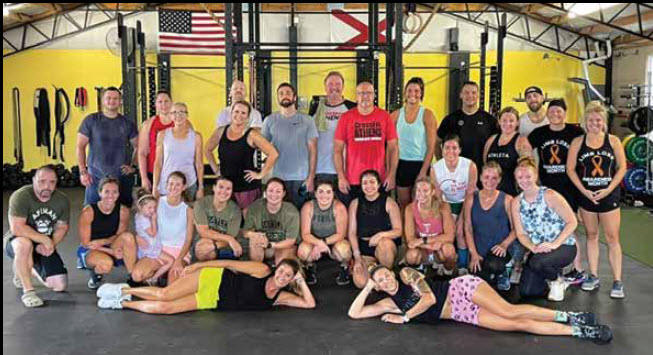 Here is what CrossFit says about their philosophy and approach:
CrossFit is a lifestyle characterized by safe, effective exercise and sound nutrition. CrossFit can be used to accomplish any goal, from improved health to weight loss to better performance. The program works for everyone — people who are just starting out and people who have trained for years.
Crucial to the success of anyone "inside the box" is a lifestyle change when it comes to nutrition. There are no diets, portions, carb or calorie counts, but Nick told me people are encouraged to "eat meat and vegetables, nuts and seeds, some fruit, little starch, and no sugar. Keep intake to levels that will support exercise but not body fat." The most important thing is to stay away from sugar and processed foods, and as Nick says, "Off the carbs, off the couch." If people are interested in having healthy meals prepared for them so they don't have to think about it, there is a service called Fit Five Meals that delivers to the box two times a week. Fit Five's tagline is: "Fresh food that fits your life, and macros, and schedule, and diet, and budget, and tastes." Nick told me that the cost is between $8 and $10 per meal. It is "fresh, flavorful food you can feel good about eating." You can find them at fitfivemeals.com, and you can get 20% off your first order when you use the coupon code: fitfive2020.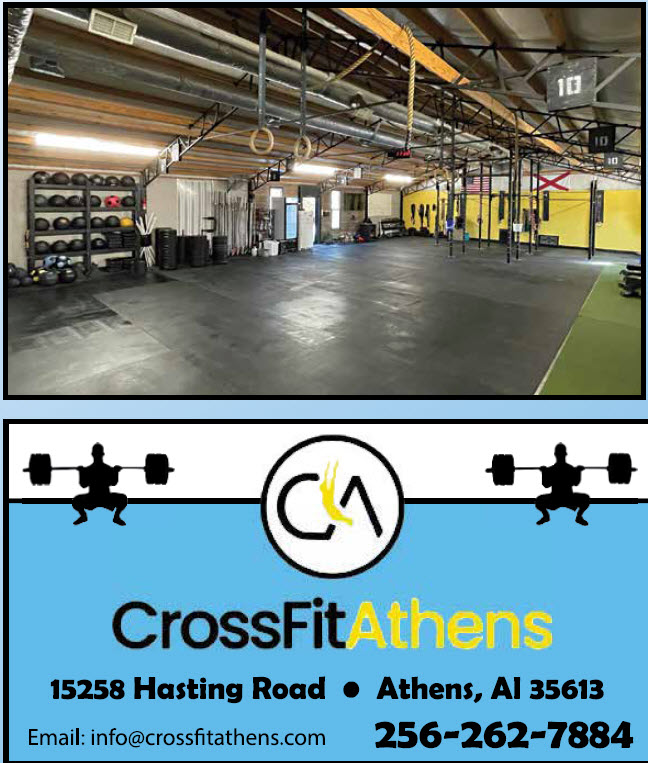 Another feature of the CrossFit Athens box is that they have a doctor who will assess would-be members prior to joining to see if there is any question about whether CrossFit is a good approach for that individual. His name is Dr. Nicholas Prylinski, also known as "Dr. P the Iron MD." He also practices concierge medicine, and his website is www.theironmd.com. His practice is located in Madison at 970 Balch Road, and is inside Empire Fitness. His phone is 256 617-1857.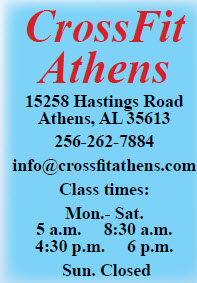 Everything we have discussed, i.e., functional fitness, nutrition, unlimited workouts, the built-in coaching, and the all-important change ups each session need to be in place if a "CrossFitter" is going to see results, but the "secret sauce" is the community and bonds that are forged at each box. Especially since COVID, people are "crazy for community," and Nick smiled most broadly when he talked about how much of a team spirit has been formed amongst the members. Young, old, male, female, it doesn't matter; when someone meets a goal or has a breakthrough, they all celebrate. A particularly charming feature of CrossFit Athens would be the two sweet dogs that belong to Nick and Jordan that are always there whenever the place is open. They are Jackson and Chief, and they make the place feel like home.
One coach at CrossFit Athens was pregnant, and worked as well as worked out until a week before she delivered. For a WOD (Workout of the Day), they attached medicine balls to the front of the guys with plastic wrap in order to see how they would do, and here was a Facebook comment: Had a hilarious WOD today celebrating John and Jessica Bzdell and the pending arrival of Baby Ollie! I didn't see any of these "pregnant" men doing a handstand walk like Jess can. Just sayin'.
 I think it's safe to say that you won't see that level of fun while working out many other places, and you can come in for a no-sweat, no-obligation introductory session to see what I am talking about.
Nick truly feels he is walking in his calling, and it shows when you talk to him. Here is his commitment to the CrossFit Athens community and people who are looking to change their lives:
"Come join our CrossFit Athens community today! Your body will thank you!"
"The will to win, the desire to succeed, the urge to reach your full potential…These are the keys that will unlock the door to personal excellence"– Confucius
Start your journey towards personal excellence today!
By: Ali Elizabeth Turner