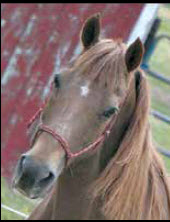 By: Deb Kitchenmaster
Out of my love and gratitude for horses, this month's article names 12 different horses that have been a presence in the lives of nations, foundations, military, competition, and media. Let's play 'Trivia'…JUST FOR FUN and FOR THE LOVE OF HORESES.
Try matching the horse with the description. The names of the twelve are:   *Champion  *Jim  *Bucephalus  *Big Brown  *Figure  *Sergeant Reckless  *Buttermilk  *Secretariat  *Gunrock  *Trigger  *Traveller  *Seabiscuit
Horse of great stamina: British spelling of its name; grey American Saddle bred; General Robert E. Lee's most famous horse during the American Civil War; notable for speed, strength, and courage.
Known as the "world's wonder horse." Partnered with Gene Autry in film, radio, and television; sorrel-colored; had a blaze down his face and white stockings on all his legs except for the right front; his first onscreen credit was 1935's Melody Trail.
Horse was used to produce serum containing diphtheria antitoxin (antibodies against diphtheria toxin; produced over 30 quarts); failures in oversight led to the passage of the Biologics Control Act of 1902, leading to the 1906 formation of the US Food and Drug Administration, or FDA
Cowboy Roy Rogers's best friend; brought sunshine (encouragement and hope) into the lives of people worldwide (particularly children); golden palomino stallion; originally named Golden Cloud.
Tamed by young Alexander the Great when no one else could break him. He was known for his courage and stamina riding into battles undaunted.
Overcame a pitiful start in life to take on one of the most powerful racehorses of the time (War Admiral) and beat him. He overcame injuries and prejudices because of his small size to prove that the heart is the most important element needed.
American Thoroughbred racehorse, competing from 20th position; known for winning the 2008 Kentucky Derby and 2008 Preakness Stakes.
A small bay stallion; became the foundation sire of the Morgan horse breed; known for passing on his distinctive looks, conformation, temperament, and athleticism.
This warhorse came from humble beginnings as a packhorse in the Korean War. Honored for her faithful service, she not only delivered supplies to soldiers on solo missions but also evacuated wounded soldiers from battle-torn areas
Was a day away from being slaughtered when rescued; had been severely abused which resulted in a very unkind demeanor; new owners' dedication turned this horse around to become a friendly, affectionate, and playful horse; a Quarter Horse (originally named Soda); new owner renamed horse after seeing a cloud pattern in the sky that reminded her of a song; became one of the most famous horses in the world of films and television.
One of the greatest racehorses ever. Born on March 30, 1970, and won the 1973 Triple Crown, becoming the first winner of this title in 25 years.
Mascot of the University of Southern California; appears at all USC home football games in the Los Angeles Memorial Coliseum, including numerous Rose Parades; grey in color (referred to as 'white' by many).
Did you enjoy yourself? How do you think you did? Your answers will be found in this paper.
Answers: 1-Traveller 2-Champion 3-Jim 4-Trigger
5-Bucephalus 6-Seabiscuit 7-Big Brown 8-Figure
9-Sergeant Reckless 10-Buttermilk 11-Secretariat
12-Gunrock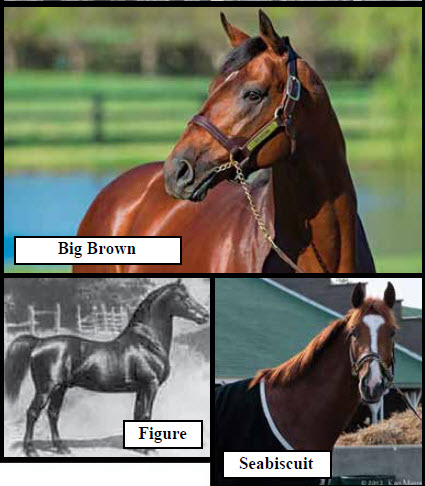 An update on our stock. Horses are well. Even our geriatric mare is showing signs of spunk and energy. All horses had their bridle paths clipped, groomed, and the world's best farrier (my opinion based on years of experience) trimmed hooves. The saddles cleaned and all grooming tools purged from dirt, hair, and dust. In case anyone is looking for a good product to clean leather with, I highly recommend LEATHER THERAPY. My favorite product along this line is WASH and RESTORER & CONDITIONER. The saddles and the saddles bags are sparkling clean!
May the government that rests upon His shoulders be upon all those who have government seats within our nation and the nations around the world. May we witness the reign of righteous leaders. Uprooting and planting be loosed in Jesus' name across the lands. May each seat be filled with a God-fearing, righteous leader. So be it.
Your "NEIGH"bor,
Deb Kitchenmaster