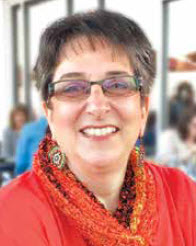 By: Lynne Hart
Claire Tribble
Promoted
The KALB Commission is very proud to announce that our office manager, Claire Tribble, has been promoted to the position of executive director.
Claire has been with us for 5 months and has successfully navigated a very busy spring season. Claire has organized and promoted a highly successful Tennessee River Cleanup, a wonderful and well-attended Earth Day EXPO, an exciting One-Bag Challenge, and is in the midst of preparing for the upcoming Household Hazardous Waste Collection on Saturday, May 20.
KALB Commission members have been very pleased with Claire's dedication, skill level, and enthusiasm and are very pleased to have her lead this organization into many years of continued success!
CONGRATULATIONS, CLAIRE!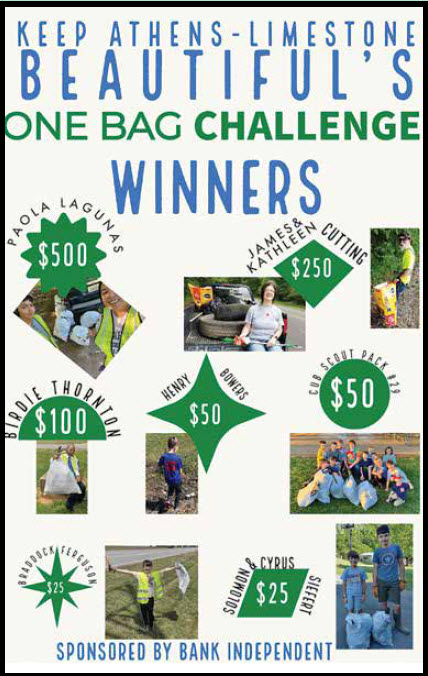 One-Bag Challenge
Winners
Several individuals and groups took part in the One-Bag Challenge, which offered prizes valued at a total of $1,000!  Each 13-gallon or larger trash bag filled with litter picked up within Limestone County earned the participant one entry into the drawing for cash prizes.
A total of 78 bags of trash and 10 tires were removed from Limestone County roadsides and public lands during the month-long event.
There were many families, individuals, and groups participating and, because of them, Limestone County residents are the true winners! It was so good to see families and youth organizations out picking up trash. What a great lesson for our children to get down and dirty in the roadside trash. One young man told us that after seeing the disgusting stuff in the ditches, he will never litter!
So, CONGRATULATIONS to the winners of our One-Bag Challenge and THANK YOU to all who participated.  A special thank you to Bank Independent for sponsoring the $500 Grand Prize!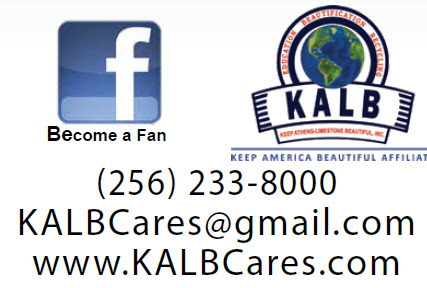 Stay Informed
There is always something going on here at KALB. We offer several ways to stay informed so you won't miss a single thing!
Facebook: The Keep Athens-Limestone Beautiful Facebook page is continually updated with information on current and upcoming events. Be sure to LIKE our page so you'll see content on your feed.
Athens Now: KALB has articles in the Athens Now paper twice a month with timely event information and interesting content.
eNewsletters: KALB emails a monthly newsletter that is full of information on upcoming events, recycling updates, and other pertinent community information. We never spam and we never share or sell email addresses. You are safe with us! Just provide your name and email address to us at KALBCares@gmail.com or call 256-233-8000.
By: Lynne Hart – KALB Commission Member, Keep Athens-Limestone Beautiful