By: Ali Elizabeth Turner
Vincent Anderson has had an impressive and varied professional career, having been everything from a radio broadcaster, a social worker, an educational consultant, a foster parent, an adoptive parent, a member of General Motors' sales and marketing team, a private boarding school assistant principal, and a university professor. He has several advanced degrees, and knows the value of a solid education. Recently he told me with a smile that back in the day, "Social work paid the bills, and broadcasting was the hobby." Most recently, he spent several years working at the GM Springhill, TN, facility and taught workers the skills they needed as the plant shut down from producing Saturn automobiles and re-tooled both physically and educationally to produce Chevrolets.
I met Vincent last winter when he came to visit our BNI group, Limestone Leaders, and all of us in our chapter are so glad he decided to join us as a real estate investment professional. The purpose of this advertorial is to make you aware of a particular part of the real estate investment "pie," and to demonstrate why Vincent is a good choice if you are either looking to invest or learn how to do it yourself. In either role, I am impressed by his calming ability to educate as well as to inspire confidence.

As is often the case, Vincent and his wife, Joyce (who has 55 years of experience in health care and is a nurse practitioner), experienced the desire to own a business of their own. Each had been highly successful in their respective fields, and had owned some properties in the area. Around two years ago, Vincent became aware of and enrolled in a school of real estate investment that is headed up by two men by the names of Ron La Grand and Jay Conner. Vincent became certified as a "Platinum member" of Jay's private money academy, and underwent an intensive education process to both learn how to use it himself and teach others.
What in the world is a "private money academy?" It is a system that educates prospective investors regarding alternative real estate financing. It is legal, fiscally legitimate, somewhat sophisticated, and time tested. That being said, the reason why it is such a boon for everyone involved is that it genuinely serves people who have a desire to get in or out of a property safely, as well as for those who choose to be the investors.
How does it work? Largely it utilizes a self-directed IRA. This allows the investor who actually has the account to be the one that directs the investment, rather than the corporation that issued the IRA in the first place. Vincent described it to me, as someone whose bailiwick is clearly NOT high finance, as follows:
This teaches people to self-direct their IRAs and invest in real estate properties. There are many people who can invest and don't need to have huge amounts of money in the bank for investments. There are others who have significant investment capital, and the IRA companies don't direct the usage of the funds. When alternative financing is used, the return on investment (ROI) for the investor is 10%, which is paid by Chaj Rondelle Enterprise for as long as we use your money. This is how we are able to leverage a retirement or investment account for the investor. Chaj Rondelle Enterprise uses the funds to make offers on properties for the investor, and sometimes we buy, repair and sell distressed properties. We can sell them, hold them, and sometimes rent them. We find owners who are willing to use self-financing options. Lease purchase and lease option are most popular, and they are the simplest.
This approach also makes it possible for a buyer to get into a good property while they are repairing their credit.
I asked Vincent what his most satisfying "close" had been so far, and it's a condo that had been a part of the Airbnb system. The family was tired of the property and wanted out. Vincent was able to turn it around; now it is producing, and a long-term client is coming.
The Anderson family has always had a heart to protect the vulnerable, and the alternative real estate financing approach also has the potential to help those that are in need of assisted living in a residential setting. "Marriott has taken apartment complexes and converted them into assisted living quarters," said Vincent. Right now, Vincent is getting his Residential Assisted Living Training, and is headed toward getting licensed in TN and AL. "There is a need for residential homes where people can stay in a small, family-like setting, are not as expensive as "big box" situations, and are not government-run facilities," he said. Chaj Rondelle Enterprise is hoping to have everything in order for that service by December, so stay tuned.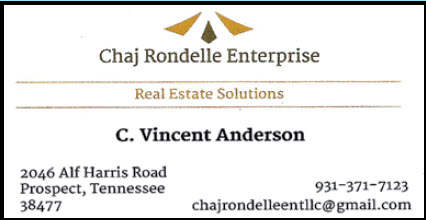 If you are an investor, or are wanting to get in or out of a property and need help to do so, why should you choose Chaj Rondelle Enterprise as a company, and more importantly Vincent Anderson as a person? That's easy. All of their businesses and adventures have one thing in common: they have been born out of a heart to serve. Call Chaj Rondelle Enterprise LLC and Vincent Anderson today to see if this is your next right step. You'll be glad you did.
By: Ali Elizabeth Turner