By: Ali Elizabeth Turner
In this year of 2022, for the first time in our history, the classic and accepted definition of "recession" was changed into something that no one understands. Inflation is at a 40-year high, the markets are unhappy, and given what is going on in China, it would not take much to disrupt supply chains even further. There is a lot of confusion about what we should do with our money, whether we have a lot or a little. We need trustworthy folks to make sense of it all, and while no one can "predict the future to the last farthing," one fellow who I know from experience has the ability to help greatly is Caleb Lawler of Edward Jones Financial Services.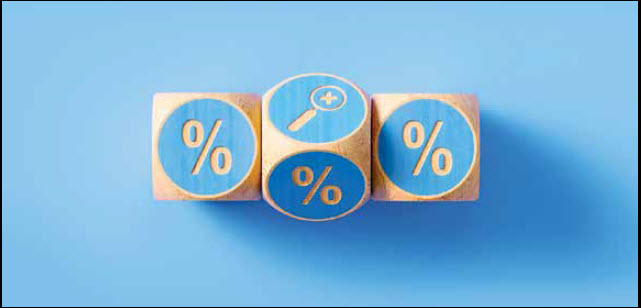 Recently, I sat down with Caleb for the purpose of preparing for this advertorial, and as always, felt encouraged as he told me about what we can glean from history as it pertains to times of financial uncertainty. Caleb is the president of Limestone Leaders, our local Business Networking International chapter, and I have learned more from him about finances and investing in the few short years he has been a member than I have in my whole life.
By way of background, Caleb is a graduate of UNA, and thought he would pursue a career in software engineering. While he genuinely loved it and was successful in his field, what he found he wanted to do more is help people with whom he could meet face to face. It was at a family BBQ that a relative suggested he look into becoming a financial advisor with Edward Jones, and he has never looked back.
Edward Jones is a privately held, solid, reputable financial advising corporation well known for how it gives back to the community and teaches its advisors to do the same. I asked Caleb for an example, and he said, "When I was taking my training, they had seasoned veteran agents come in on their own time and teach us how to help our clients, what to say to say to them, how to ask the hard questions. That's how they do business, and that's why I took the 'leap of faith.'" He further describes Edward Jones as a company that concentrates on getting to know clients — finding out their needs, goals and dreams, and then developing a strategy that meets those needs. Once Caleb finds out what is important to them, he asks, "Is this goal attainable? If not, how can we change things so that it can become attainable? How can we get them back on track?"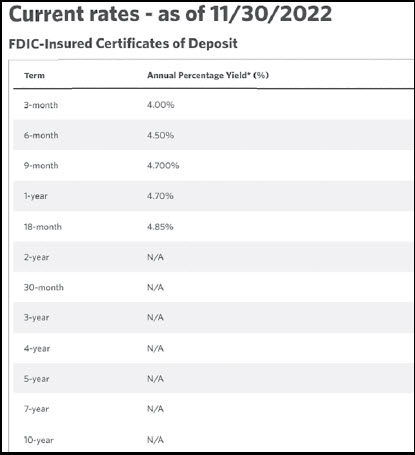 So, what can we glean from history as it pertains to finances, and is there any reason for us to have hope? While it's necessary to reiterate that investing always involves risk, here is what Caleb taught me, using the weather of North Alabama as an analogy: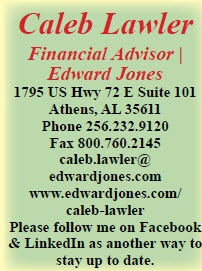 "What I want to share with people is that downturns are normal, and negative years are normal. Just like living in North Alabama, there will be storms, and sometimes tornadoes. Sometimes they will affect us, and sometimes not. When you look at history and look from the Great Depression until now, averaging out good years and bad, three years will be positive, one will be negative. The good outweighs the bad. We tend to remember the bad, but we need to look at the odds, especially the long-term perspective. It's important to be appropriately invested. That's where I come in and say, 'Okay, here is where you need to be, and here's why. We'll discover information together, and here's what we can do.'"
One thing you can do that will make a difference is to get together with Caleb and discuss certificates of deposit (CDs). Short-term CD rates offered by Edward Jones are more than generous, but this won't last long. The minimum investment requirement is $1,000, and for a six month CD, the rate is 4.5%, and a one year is 4.70%. Caleb explained to me, "Short term rates are more competitive, and we will have more desirable rates in comparison to what is offered currently with banks." Caleb finished up our time by saying, "The worst thing you can do is nothing because you think it's too late. It's not." If you are in need of understandable financial information, education, and direction, then call Caleb Lawler of Edward Jones Financial Services today at (256) 232-9120, and let him give you help and hope.
By: Ali Elizabeth Turner