By: Ali Elizabeth Turner
On August 28, Caleb Lawler, along with his family, friends, and clients, met together to celebrate the grand opening of his new office, located at the intersection of Capshaw Road and East Limestone in Athens. It was indeed a marriage of dreams and diligence, as Caleb had spent several months studying hard to become a CERTIFIED FINANCIAL PLANNER™ professional. At the time, he was president of our local BNI Chapter known as Limestone Leaders, and we all cheered him on. "It was like passing the bar exam," he said, and we were all immensely proud of him.
Caleb's hard work paid off, new office space opened up, and although he is only in his early thirties, I believe he is headed for a long, successful career. I can say, as someone with very limited exposure and experience when it comes to finance and investing, Caleb has a gift for making the complex understandable for the average person, and that is one of his many "secret ingredients" of success.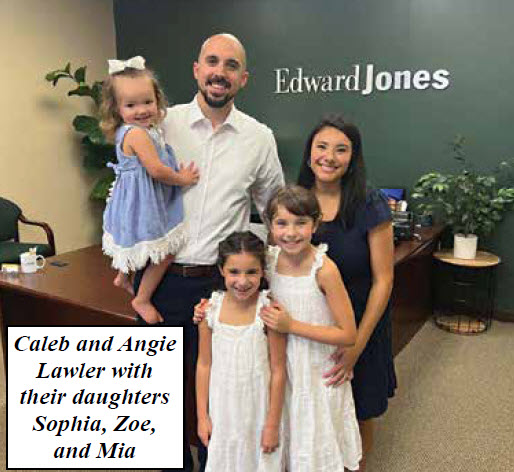 By way of background, Caleb is a graduate of UNA, and thought he would pursue a career in software engineering. While he genuinely loved it and was successful in his field, what he found he wanted to do more is help people with whom he could meet face to face. It was at a family BBQ that a relative suggested he look into becoming a financial advisor with Edward Jones, and he has never looked back.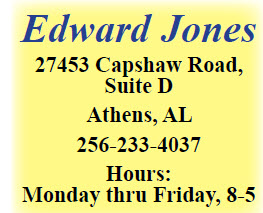 Edward Jones is a privately held, solid, reputable financial advising corporation well known for how it gives back to the community and teaches its advisors to do the same. I asked Caleb for an example, and he said, "When I was taking my initial training, they had seasoned veteran agents come in on their own time and teach us how to help our clients, what to say to say to them, how to ask the hard questions. That's how they do business, and that's why I took the 'leap of faith.'" He further describes Edward Jones as a company that concentrates on getting to know clients — finding out their needs, goals, and dreams, and then developing a strategy that meets those needs. Having a high emotional quotient (EQ) is critical for success with the company, and it is something that I would say from knowing him for several years is one of his strongest gifts. Once Caleb finds out what is important to potential clients, he asks, "Is this goal attainable? If not, how can we change things so that it can become attainable? How can we get them back on track?"
Edward Jones is all about encouraging their advisors to get in touch with their "why" when it comes to the reason they chose to be financial planners. For Caleb, it was his grandfather. His Papaw worked hard all his life, had no one to guide him regarding his financial future, and his retirement which was unexpectedly followed by his passing was a challenge for the whole family. Caleb wants to do everything he can to protect seniors on down to helping young people prepare for the future, even in a time of a highly unstable economy, rocky political landscape, and rising global tensions.
What can we glean from history as it pertains to finances, and is there any reason for us to have hope? While it's necessary to reiterate that investing always involves risk, here is what Caleb taught me, using the weather of North Alabama as an analogy:
"What I want to share with people is that downturns are normal, and negative years are normal. Just like living in North Alabama, there will be storms, and sometimes tornadoes. Sometimes they will affect us, and sometimes not. When you look at history and look from the Great Depression until now, averaging out good years and bad, three years will be positive, one will be negative. The good outweighs the bad. We tend to remember the bad, but we need to look at the odds, especially the long-term perspective. It's important to be appropriately invested. That's where I come in and say, 'Okay, here is where you need to be, and here's why. We'll discover information together, and here's what we can do.'"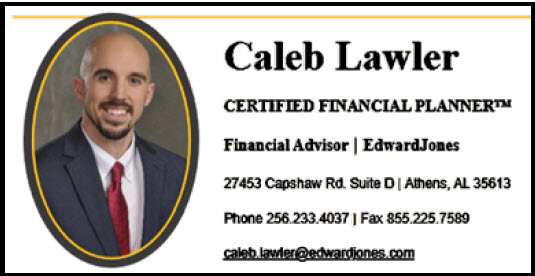 One thing that is on Caleb's agenda is to increase his ability to be of service to people who have private wealth by becoming a Certified Private Wealth Advisor. Achieving this designation is no small task, and I am sure he is up to it! If you are building your financial future, are looking for responsible ways to increase the size of a diverse portfolio, are in need of understandable financial information, education, and direction, then call Caleb Lawler of Edward Jones Financial Services today and make a no-obligation appointment. Caleb will give you help and hope.
By: Ali Elizabeth Turner