By: Ali Elizabeth Turner
Kim Whitworth and Richard Shirkness are a married couple who own two locations of a nation-wide staffing service franchise known as Express Employment Professionals.  They are also parents, grand- parents, and fierce supporters of our military, first responders, and America. They have worked hard, have been rewarded and awarded for their efforts, and want people to know about a dream come true: having a thriving location in Athens.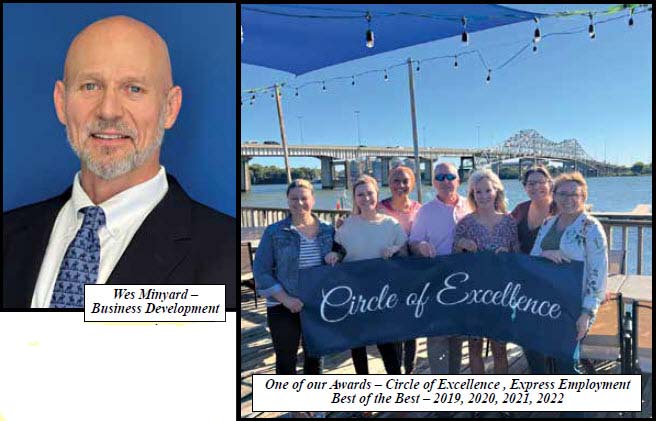 While Express Employment Professionals has over 800 locations throughout America, each office is privately owned and operated. After a careful selection process for potential franchise owners, the corporation gives training, support and oversight. However, it is up to each owner to make a go of it. Richard and Kim have been able to do that both in Decatur and Athens, and are grateful for how our community, especially the Family Resource Center helped them get their start in Athens. During COVID the Athens location was in the Family Resource Center, and it was a match made in heaven for both entities. Tina Cook, who runs FRC, and her staff were able to benefit from what Kim and Richard offered, and vice versa. "If there had been space, we would have stayed right next door, and I credit them with getting us off to such a good start here in Athens," Kim told me. They moved to their new location at 621 Hwy 72 W Athens this past July, and maintain close working ties with the FRC. Richard holds down the Decatur shop, and Kim runs the Athens office.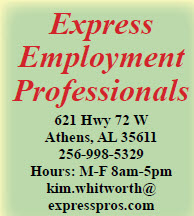 We talked about the challenges that both large and small business owners are encountering these days in hiring people who are actually willing to work. "We have had to think outside the box for sure," said Kim, and when you consider the role of a staffing service, the beauty of Express Employment Professionals is that they are able to save prospective employers a lot of head and heart ache because of the lengths to which they go to get to know the applicants before they ever meet the business owner. That's their whole job, whereas the business owner has to "run the business while they look for people to help run the business."
Kim and Richard like to be selective when it comes to both the business owners (clients) as well as the associates, the name they give to those who are looking for work. They don't want business owners to invest in an applicant that is poorly suited for the position, and they certainly don't want an associate to be working for an outfit that is not up to the Express Pro standards.
"Associates never have to pay for our services," said Kim. "All of the tests, preparation and background checks are not their responsibility," she added. Kim also went on to mention that for the business owner, they make a point of fitting into the culture of that particular company. Some bosses are laid back, some jobs are high stress, some associates have transportation issues or kids with special needs, and it is the responsibility of Express Employment Professionals to make sure that everyone in every role comes out ahead.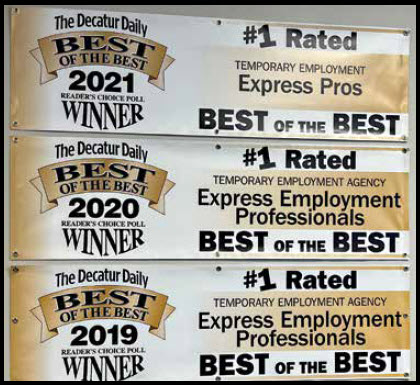 Express Employment Professionals' carefulness, work ethic and attention to detail has caused them to win multiple nominations and awards in their field. For four years they have been voted as the "Best of the Best" in the staffing profession by the Decatur Daily, and the Express Pros parent company have chosen them for their Circle of Excellence Award. Our local Chamber of Commerce awarded Kim and Richard the Small Business of the Year Award in 2021. They were also among the 2021 finalists for the Alabama Chambers of Commerce Small Business Award.
Kim has served as an Ambassador for the Greater Limestone Chamber of Commerce, as well as on the Board of Directors of the Limestone County Economic Development Association. She wanted to thank them for all of their support. "Fully half of our business now comes from the Athens office," said Kim. She also mentioned that Pammie Jimmar and her crew have been such an outstanding example of supporting local businesses, which is something that has benefitted us all.
I asked Kim why, when it comes to staffing companies, I should come to Express Employment Professionals? She smiled and told me: "We are locally owned, and we live here!" In other words, if they don't do a good job, they won't be "thriving in Athens" for very long at all.
The Athens office has two recruiters, Mercedes Reinhardt and Jazmine Recruiter, and Director of Recruiting is Kim Huffman. They also have a business developer whose name is Wes Minyard. This whole team is experienced, willing and prepared to help you find what you are looking for as an employer or an employee. The working philosophy of Express Employment Professionals is that they exist to "help good people find good jobs." Let them help you build your business or your future, starting today.
By: Ali Elizabeth Turner