When David Russell was 15 years old, he started working at Athens Muffler Center and married when he was 19. He and his wife, Leisha, had the first of their three children at the tender age of 22 and bought the business soon after their first child was born. The Athens Muffler Center story, along with the story of the Russells themselves, is a wonderful reminder that the strength of America is in its families and its small businesses. And David, when you talk to him about it, has absolutely no problem giving all the glory to God.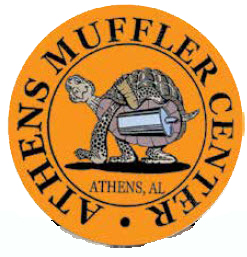 Recently, I had the privilege of attending the official Athens Muffler Center grand opening and ribbon cutting sponsored by the Chamber of Commerce, and their new facility is beautiful. It is located at 26977 US Hwy 72 in Athens, right next door to the new Sides Auto Body shop. You do not have the feeling that you are in a muffler repair shop at all. The lobby is pleasant and airy, as is the comfortable waiting room, and the repair bays are immaculate.
Clay Russell, David and Leisha's son, "has really picked up on the business, especially with social media," his dad told me. Clay will most likely take over the business one day. David's wife, Leisha, has been an educator in Athens for 23 years, and is the media specialist (librarian) at Athens Elementary. She helps out with the business as well, and is so proud of their family. They have three children and three grandchildren. On the day of the ribbon cutting, not only was Leisha hosting the event, but also was preparing for daughter Ashlyn to receive her degree from UNA with a bachelor's in communication the very next day. It has been a busy, happy time for the Russells, and the beautiful new facility is a dream come true.
I asked David why, when I have choices, should I come to Athens Muffler Center. He replied, "We have a combined almost 40 years of experience." He then added, "The pricing is better than a lot of shops because of little overhead." Because Athens Muffler is not a franchise and has no franchise fees to pay, he can pass savings on to the customer. "I am a hometown guy, and not a 'big box,'" he said. They are also now able to offer auto mechanic services at the new site.
But don't take my word for why using Athens Muffler Center is a great idea. People drive from Tuscumbia all the way across North Alabama to Huntsville to get the service and outstanding customer care that is the "standard of care" at Athens Muffler Center. Here are some of the things they have had to say:
"Thank goodness someone recommended this place. I drove 30 minutes and was so glad I did. The scope of the work was a full down pipe and out complete exhaust rebuild on a Jeep CJ7. I arrived 40 minutes early and was car number 2 in line. Clay arrived 15 minutes early, welcomed me and asked about my needs. He was courteous and happy."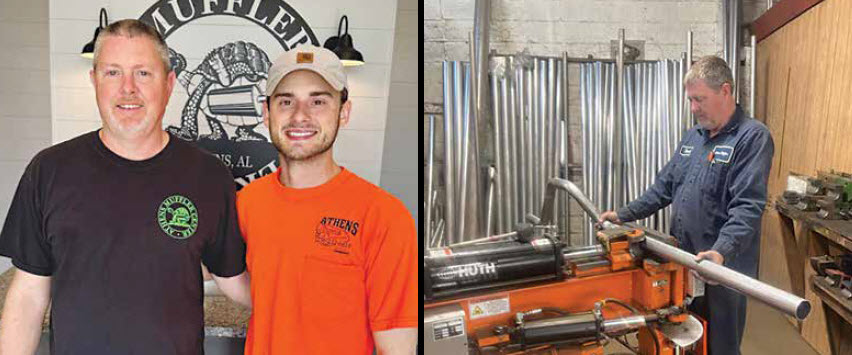 "David (the owner) also made his rounds at the opening. He introduced himself to all the customers and looked over my vehicle to discuss needs and details. My vehicle was in and out in good time. Mike, Clay, and David worked as a team and knocked out the job. Several times, David pulled me in to show me what he was doing to make sure I was satisfied. They are professional and didn't swear."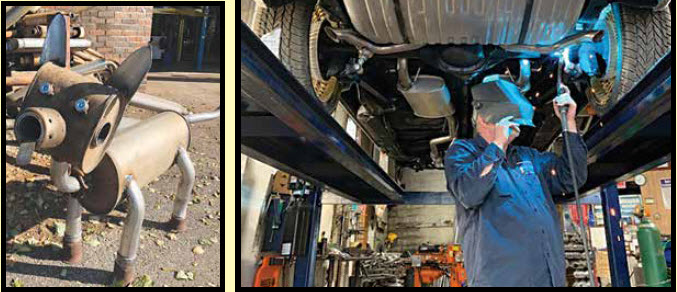 "Price was great. I'll always drive over as these guys will be my "go-to" for all things exhaust. I wish everyone operated like this. I wish good things for these guys."
Another said:"Definitely recommend! He fixed our truck in a timely manner, explained everything to us and took awesome care of us. Will be back for our future needs for sure. Thank you so much for your service. We drove an hour and it was beyond worth it"!
A third remarked:
"Came in today to fix an exhaust pipe that had broken, they brought me back, were extremely friendly, let me watch them work, and had me in and out in 15 minutes. It was absolutely unbelievable service at a great price."
If you are in need of a new muffler, come to Athens Muffler Center, the Exhaust Specialists, and let the Russell family get you happily back on the road.
By: Ali Elizabeth Turner