When former US Army Combat Engineer Ken Hill was stationed at Fort Benning, GA, his mother-in-law gave him a home-brew kit for making beer. "The yeast was stale, and we used tap water but we were thrilled with it," said Ken with a chuckle. Ken honorably served our country in Afghanistan as well as Iraq, and Lori held down the homefront. After 12 years of service, the Hills decided to settle in North Alabama, which is where Lori was raised. They have four children: Gwyn, 15; twins Reverie (who is older than her brother by one minute) and Killian, 7; and 6-month old Ledger. After leaving the Army, for the first 18 months of the twins' lives, Ken was at home full time being a dad. Then he had the chance to learn the ins and outs of the brewing industry at a microbrewery in Madison. For years he had a dream of owning his own place and his own brewery, and for about 5 years had looked at several shops on the Square in Athens. When the Razor's Edge Barber Shop became available, the Hills took a giant leap, and the result is a classy, cozy gathering place that still has the barber poles proudly hanging outside where they have always been. "We wouldn't THINK of getting rid of them," said Ken.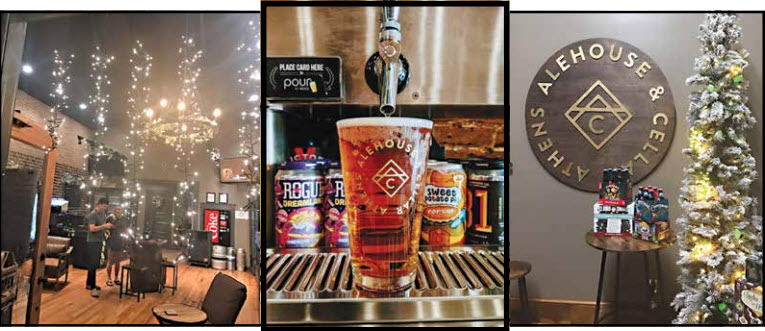 My first time to Athens Alehouse & Wine Cellar was in October when they did the Athens version of Oktoberfest. The line was down the street as well as to the back of the store, and Ken and Lori have been most heartened by the welcome they have received from our community. Lori is actually an Athens native and went to Athens High. She also has a degree in Business Management from Athens State University, and has spent her career as a procurement specialist for several defense corporations. Currently, she is able to work from home for Dynetics while juggling being a mom and a business owner, and the whole family helps. I have seen the kids use the label machine under their dad's watchful eye, Gwyn clear tables, and Ledger is known to bounce happily in a bouncer. Athens Alehouse & Wine Cellar is indeed a family enterprise.
Before Ken and Lori opened the Alehouse, which is located at 111 Washington Street in Athens, they explored, experimented and tweaked recipes, and tried them out on their friends. They really knew they were on the right track when they went to Tuscaloosa with a cooler full of their product, and a well-known ale. They conducted a blind taste test "challenge" along the lines of the famous one conducted years ago by the two major soda companies in America, and hands down, theirs won. In the spring of 2022, they will be introducing their microbrew beers. The flagship product will be a golden ale.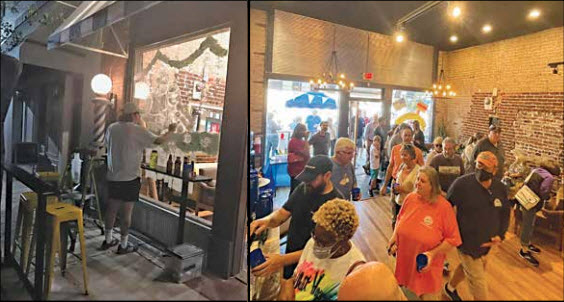 The Hills have spent the last week getting ready for the Christmas Open House which starts this weekend, and they have a number of special items ready to kick off the holidays. There will be a "tap takeover," which is when just one brewery, in this case Duclaw, is the only thing available on tap. Numbers of holiday beer and wine choices will be on hand to sample and purchase. There will be representatives of various wineries present for the festivities. Wings will be available on Saturday, and the flavors will be mango habanero, Jack Daniels BBQ, and traditional buffalo. Crisp celery will round out your choice of blue cheese or ranch for dipping.
Lori has assembled a number of items to create build-your-own gift baskets. They will range in price depending on what you select, and will contain beer or wine, Athens Alehouse & Wine Cellar glasses, chocolates paired for specific wines, aerator pourers, wine wipes for teeth, cheese straws, jerky bacon, and coozies. They will be gift wrapped by Lori and ready for you to pick up early next week. Lori is also preparing a brunch for Sunday that will be served on an olive wood board. The brunch menu includes chicken and waffles, assorted quiches, shrimp and grits cakes, funnel cake fries, bacon, and fresh fruits. The price will be $24 dollars. Mimosas and Tokyo Marys, which are Bloody Marys made with sake wine) will be available for $5. Two days before Thanksgiving, Lori is going to host a class on making wine cocktails for the holidays, and the cost for the class is $35.
Athens Alehouse & Cellar is now in the Beer Trail of North Alabama tourism brochure. They are available for special events, and I had the privilege of attending one that was hosted by Restore Pavillion and catered by Chef Shae of Huntsville. Lovely food, a festive and tasteful atmosphere, and a perfect kickoff for the holiday season. Come out for the Christmas Open House weekend, and I am quite sure you'll be back.
By: Ali Elizabeth Turner