By: Carol Holland
A little over a year ago, we set out on a new adventure, that of owning an antique store. It was a bit of a risk given the fact that many businesses had closed during the pandemic, but I am pleased to report that Antiques on Jefferson is ready for the 2023 holiday season! I took some time to interview our vendors in order to give you an idea of what we have available, and we especially hope you will visit us during the Christmas Open House event this weekend. Below you'll find brief descriptions of what you'll find in the various booths that all make up the total Antiques on Jefferson experience.
Jerry, Booth 33, sells popular books at significant discounts. Jerry has a degree in American history and English from Athens State College and enjoys offering high-quality used books that focus on topics like local history, Native American history in the South, the settlement of the U.S. especially the Old West, the Civil War, and the wars and culture of the twentieth century. Classic fiction, sports titles, and biographies can also be found in his booth. He likes to browse distant collections to find and offer books on many popular subjects at prices that enable buyers to enjoy significant savings. Some of Jerry's book inventory is pricey because there are some rare or first editions, but most are affordable for anyone just looking for an interesting topic to read about. And a good used book is often viewed as a thoughtful gift.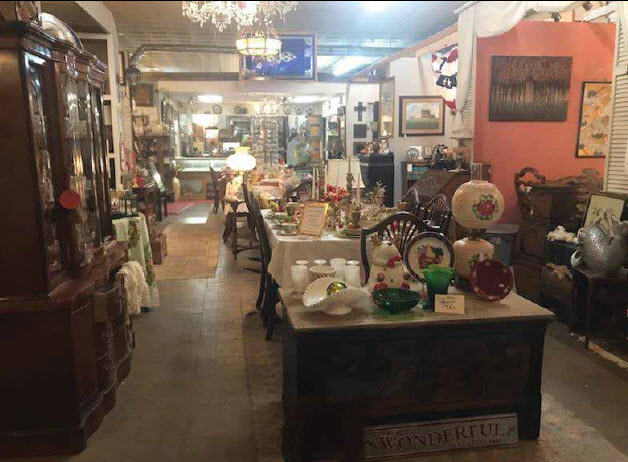 Doris has Booth 61 and is an associate realtor with Crye-Leike Realtors. She loves selling real estate and collecting china and crystal. Doris's favorites include Waterford, Lenox, Fostoria, Wedgewood, Noritake, Flow Blue, and many others. These beautiful things are what you will find in Doris's booth at Antiques on Jefferson. Come and check it out!
Kimberly, Booth 528 – Millefleur Vintage Rugs, grew up in Huntsville and Europe and headed for the bright lights of Atlanta within moments of graduating from Auburn University. She currently splits her time between Atlanta and Elk River. She loves all things floral…including growing them, arranging them, and finding beautiful, unique mille-fleur treasures. She especially enjoys antique and vintage wool rugs, fine china, and other home furnishings. Millefleur (in French mille-fleurs literally means "thousand flowers") refers to a background style of many different small flowers and plants.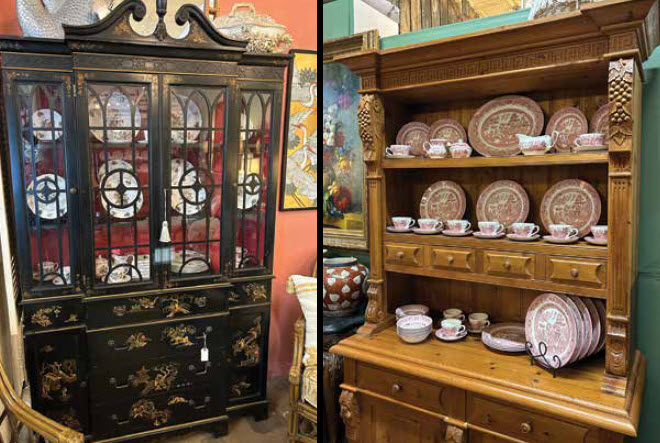 Marilyn, Booth 222, was around ten years old when her parents started collecting antiques. They found wonderful pieces and refinished them. Marilyn loved going to auctions with them and learned a lot. Marilyn's booth has many of her favorite types of pieces — primitive pieces. However, primitives are getting harder to find and are more expensive. She also stocks her booth with several things from the '30s and '40s, dishes that are no longer produced, and miscellaneous linens and doilies, etc. Come and have a relaxing time strolling through her shop.
When Jennifer, Booth 77, thinks of Antiques on Jefferson, she thinks of all the beautiful, unique, and curated looks all under one roof, with vendors ready to assist in helping someone create a space "just for them." Getting to be a small part of this overall vision is exciting to Jennifer and she loves being able to assist customers in creating their special look for their personalized spaces. Jennifer believes Antiques on Jefferson provides new, exciting ways to help our customers and our vendors have the best possible experience.
Donna Davis, booth owner of The Wren's Nest, enjoys the "repurposing" process. Bringing items back to life is enlivening! It's fun to curate these gems to imagine a new purpose…a new home, a new design, a new color, a new shade, or even new knobs! She presents items that are visually interesting and curiosity provoking, mixing old with new, and most of all, are take-home ready! Donna loves to dabble in art, glassware, home décor, and some vintage things!
Merri Beth and Jeff have Booth 7780 and enjoy pairing vintage and contemporary pieces for beautiful looks. Both are retired and enjoy antiquing and contributing to our thriving downtown community with their booth, "Through the Garden Gate" at Antiques on Jefferson. They enjoy helping our customers find that "one-of-a-kind" piece that helps that customer "tell their story" in their home. Through the Garden Gate is also a great place for finding that perfect gift. They enjoy talking with customers and hope to see you soon.
JoAnn, in Booth 32, has always loved mixing old with new. She believes that tends to create more interest in our homes when we pull in pieces that are a little different from our overall style. JoAnn worked as an interior decorator in the past years and still enjoys finding pieces that others can enjoy in their homes.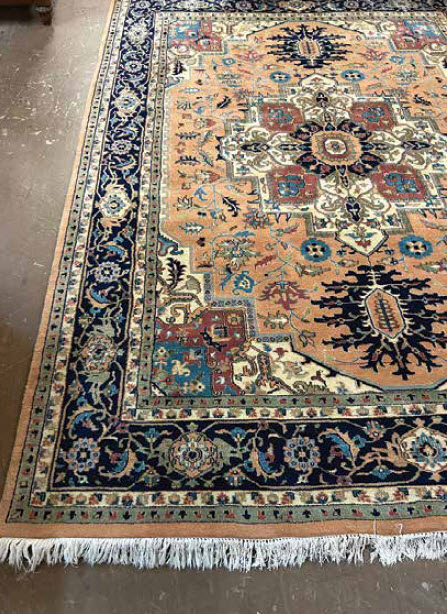 Kay is the vendor for Booth 14. Kay and her husband have been married 50 years and began purchasing antiques for their new home even before they married. Kay's in-laws had beautiful antiques and she learned to love them also. She rented her first space about 27 years ago and says she is addicted to estate sales and auctions. Kay features a lot of more primitive, simpler things in her booth. Kay invites you to come and visit Antiques on Jefferson and stop by her booth and look at her treasures.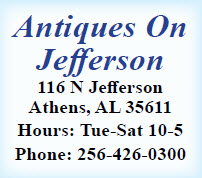 Our jewelry vendor graduated from Clemson in 2009 with a degree in civil engineering. "At that time, there were no available jobs in that field and my dad had a booth in an antique store that he enjoyed working since his retirement. My parents asked me to come and work with him — going to sales, polishing pieces, etc. I was lucky to be able to work with my dad for years and we had a great time! After Dad passed suddenly, a choice had to be made whether to make a business out of it or go back to engineering. My mom pointed out that I really enjoyed the antique business now and suggested that I  continue and promised to help me get started. So that's what we did. Now I've moved from Augusta, GA, to Huntsville, found my wonderful/beautiful new wife and have 4 booths in Augusta, 1 in Athens, 1 in Madison, and 1 in Huntsville. Thank you for your support in this new journey!"
Dan and Kami are the owners of the Italian restaurant Terranova's in Madison and soon to be back in Athens behind First National Bank at the corner of Highway 72 and Lindsay Lane. They keep their booths full of interesting, primitive, simple, vintage items that could have been found in anybody's home years ago – near and far. Dan has told stories of going abroad on mission trips with his father in years past and finding treasures on those trips that ended up in the antique booth. They spend a lot of time arranging their treasures in ways that will draw a customer's attention and make them "have to have it.
Steve and Lakesha's booth is Twice as Nice at Antiques on Jefferson. They love all things antiques, primitive, and vintage. Whether it's art, décor, furniture, old money, you can probably name it and Steve and Lakesha either had it or still have it. They have spent more than two decades "picking" over the Tennessee Valley, several states, and surrounding areas looking for rare finds, collector's items, and eye-catching pieces. Their booth treasures represent different parts of the world — from African art to Italian purple class vases, Indian tea urns to good old primitive farm tools. They hope their booth gives you a back-in-time experience and that something will capture your heart and you just have to take it home.
I hope you have enjoyed getting "to know" our vendors, and we'll see you this week and throughout the holidays!
By: Carol Holland