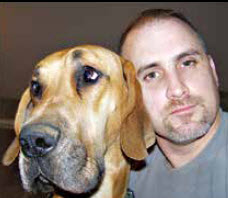 By: Joel Allen
Dear Doggie Claus,
Another year has quickly gone by and I have a lot to ask for. This year I have taught my "hooman" to fly, so to speak. We were walking along, the sun was shining, and there was a light breeze in the air.  Suddenly, out of nowhere, appeared a squirrel. I was barking, "SQUIRREL!" and before my hooman had time to stop me, we were off with him flying in the air behind me and holding on for dear life! The squirrel was zigzagging to escape me, and I was running for all my worth trying to catch it. I remember feeling a tug on my collar and could hear some yelling behind me, but that did not slow me down. The squirrel managed to get up a tree with me right behind it lunging and my hooman crashing down behind me in a heap of disheveled clothing and messed up hair. Of course, after I realized what had happened to my hooman and that I was the cause of his present condition, I kissed him with my long drooling tongue apologetically. Oooops! LOL! When we got home, my hooman limped over to the computer and went online. He ordered an E-collar (shock collar)! So, Doggie Claus, I am writing to ask that the order be replaced and made to look like a mix-up with toys and yummy treats (I am such a "foodie") along with a "How To Walk Your Dog Better" book. Could a football helmet and pads be included also in the order for my hooman?
Lately, my hooman and I have been in this routine; he goes to work or whatever and I stay home waiting for his return staring at the door he left through. Mysteriously, in his absence, the bed has been getting messed up. This tends to happen when he remains gone for what I feel is too long. Maybe 5 minutes after? Anyways, who's counting?! When he comes home, I have an alibi but he does not believe me because I try blaming a phantom cat we don't have, and he hollers at me pointing at the bed saying things like, "BAD DOG!" or "I know you did this!" I look at what he is pointing at, all the blankets and pillows piled into a huge mound in the center of the bed, and then I turn on the "Puss-n-Boots" apologetic eyes (puppy dog eyes) and pretend to be sorry. He quickly sighs, rolls his eyes, and forgives me. So, I have a solution, could a cat from the Athens-Limestone Shelter be adopted by us? I always wanted a scapegoat, I mean cat. I might even come to like the critter enough to share the blame for everything that goes wrong around the house when our hooman is away. Yes, I can see it now, our hooman comes home, sees the mess, and I dutifully point at the cat, laying the blame at his feet! I will have to think of creative ways to get the cat blamed for my shoe addiction though.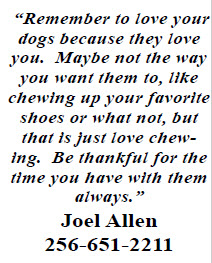 Okay, now for a real serious problem I am having with my hooman about the bed. He seems to think that a small part of the bed can accommodate me. Oh no, we have to really show him that 75% is mine and the edge is his. Get where I am going with this yet? I am requesting, if possible, could a California king-sized bed be brought to us for Christmas? Of course, the same rules will apply, most of the bed is mine and he gets the edge!!! LOL!
Yeah, all in all it has been another good year for me. Not so for my hooman's shoes and the occasional sock. I feel that my hooman is lucky to have me. If not for me, he would not get the latest fashionable shoes every few weeks. Oh sure, he grumbles a little but I do it out of love and missing him. Could there be some extra pairs of socks and his favorite shoes under the tree on Christmas morning? I promise to wait a week before chewing on any of them! Hehehe!
Finally Doggie Claus, I have a Christmas wish. Could all the people in the world visit their local animal ahelters (aka "Doggie Jail") and see if there are programs like "Foster to Adopt" and perhaps give some of my distant cousins a loving "furever" home? Thank you Doggie Claus and Merry Christmas to everyone — fur and hooman!
Sincerely,
The Family Canine
P.S.  Could you, as always, bring extra toys and bones? Squeakers are great too!
PSA:  This Christmas, I challenge my readers to open their hearts and homes to a shelter animal. If you live in Limestone County, call 256-777-7889 for the Athens-Limestone Shelter or Peace, Love and Animals at 256-233-4343. If you live elsewhere, I strongly encourage you to look up and visit your local shelters. Who knows?! You might find a love that never ends, Amen!
By Joel Allen