By: Ali Elizabeth Turner
In January of 2020, Athens Now had the privilege of telling the story of Alliance HR Services, which at that time was temporarily housed in the Athens State University Center for Lifelong Learning, located on the Square. Everyone on staff was excited about gearing up to serve our community by providing opportunities for employers and those seeking employment to find each other. Then COVID hit, the Center shut down for a while, and the Alliance staff had to learn to work at home and find a way to meet the needs of businesses that needed staff, and find the fit for those who could and would work for the right business in the middle of the pandemic. This was no small task, but they pulled together, rode out the storm, and managed to grow to the point that they have recently purchased two buildings in Athens to prepare for the unprecedented growth we are experiencing in our city and county.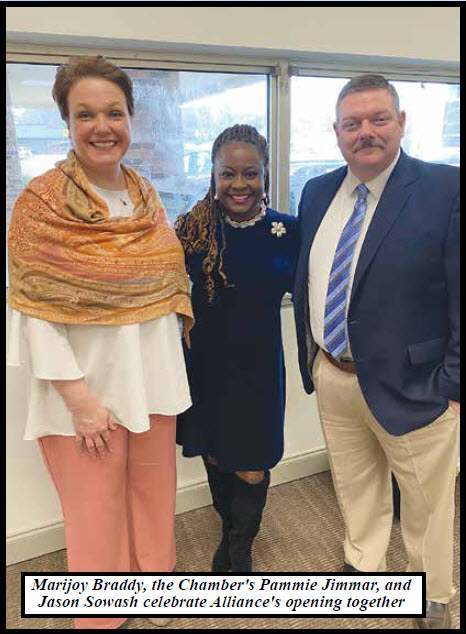 Earlier in December, it was my joy to attend the Chamber of Commerce ribbon cutting event for Alliance HR, who has taken over the old SouthTrust Bank on the corner of Forrest and Jefferson, as well as the former Limestone County Water and Sewer building right across the street. The small building will be the site where candidates will apply and undergo their hiring process, and the three-story building will be renovated and serve as Alliance's corporate headquarters.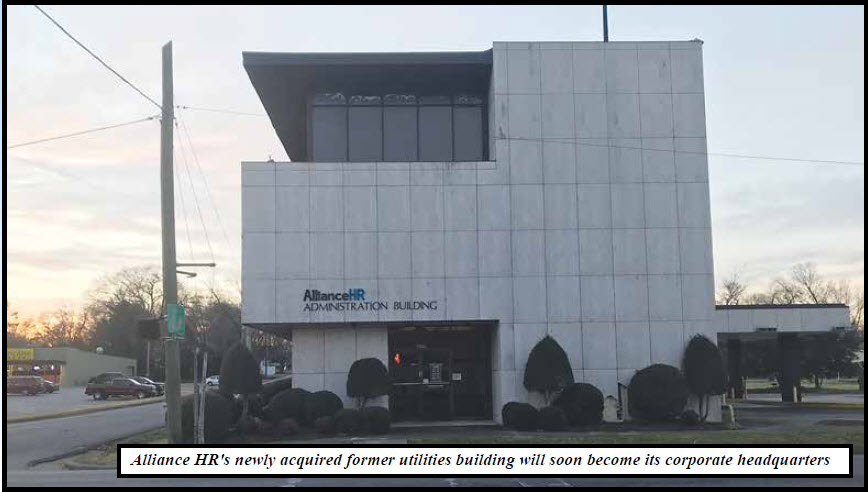 Jason Sowash heads up Regional Sales, and Marijo Braddy is over Regional Operations for Alliance HR, and they are now enthusiastically open for business. Two more team members round out the Athens branch, and their names are Elizabeth Hernandez and Aliza Leon. Elizabeth is the office manager and Aliza is a recruiter. Both Elizabeth and Aliza are professional, warm-hearted, and wonderful translators as well.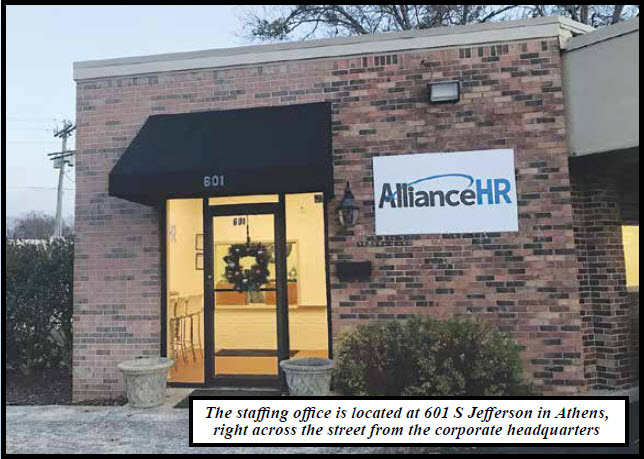 My first question to Jason was, "Why these buildings?" He replied "Basically, because they are on busy streets." Alliance wants both buildings to function like a hub both for the corporate headquarters as well as the staffing site, and they have specific plans to improve both buildings that will help serve our area well. The smaller SouthTrust site is going to have the drive-through canopies removed to make it easier to park, and because it was formerly a bank, there are a number of built-in security features that are already in place for everyone's safety. The large building was originally a bank and has a tornado shelter; the first floor will be remodeled for corporate headquarters, the second floor freshened and hopefully rented out as office space, and the third floor will be available as a community event center. If you have ever been up on the third floor, there is a beautiful bank of windows on the south side and a large open space, and a limited-use kitchen. The room would be suitable for all kinds of meetings, events, and celebrations. There is elevator access to both the second and third floors.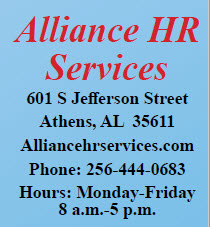 I met Jason two years ago when we did the first Alliance article, and he honorably served our country as a medic in the Navy. He is married, has a 17-year-old, a 14-year-old, and a one-year-old. He genuinely loves helping people and mentioned that few things feel better to him than "putting someone to work." Jason understands that one of the most important functions of a staffing service is a consultative one—making sure that the needs of both the employer and employee are well met. "We are diverse in every way. We have filled positions from secretary to lineman, and recently in the Madison office we actually filled a need for a cryptography software engineer," he said.
Drug testing is of course required, and Alliance knows that they are competing for skilled workers. They also do a national background check which helps potential employers as well as candidates for hire. Because of the odd shortage of workers we are experiencing in our culture, Alliance HR understands more than ever how important it is for everyone to get it right the first time. They make sure everything is in order when it comes to workman's compensation, and each employer signs a clearly communicated service agreement.
Alliance HR wants people to know that "whether your need is short-term or long-term, temporary or permanent, full-time or part-time, Alliance HR can provide even the hardest to find employees.  Outsourcing is simply a better way to run your organization.
Alliance HR is comprised of a team of professionals with over 68-combined years of experience and is locally owned and operated.  An "alliance" with us will solve your employment related hassles. We know when selecting an HR partner your concerns are quality, service and price. These are just a few of the ways we can deliver for you. The professionals at Alliance know what it takes to best evaluate and recruit talent in human resources and pass this benefit directly to our customers.

As the employer of record, Alliance HR guarantees full compliance with all Federal employee laws and state payroll tax reporting requirements, including FICA and unemployment taxes.  In addition, all employees are fully covered by workers' compensation and comprehensive general liability insurance.
Our outstanding service has earned us the reputation as the leading human resource executive search and staffing firm. Our unmatched service quality is deeply rooted in our strong commitments to the success of our clients and our candidates."
For Employers
HR staffing and executive search services for businesses nationwide
Customized recruiting solutions to fit your staffing needs
Expedient and cost-effective with video conferencing interviews
For Job Candidates
Job placement for HR professionals at all skill and experience levels
Temporary, temp-to-hire and direct-hire positions
We provide unique skill matching process and career advancement guidance.
Alliance HR is also looking to hire staff for their own organization in the region.  Call them today if you are either looking for a job, or have jobs for people. Jason Sowash and his staff will carefully work to find the fit that is best for both of you.
By: Ali Elizabeth Turner