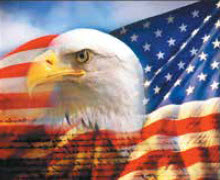 By: Ali Elizabeth Turner
In the wake of the recent heart-breaking school shooting at Uvalde, TX, I have struggled to find something to say for Publisher's Point that hasn't already been said, was coming up empty, and thought I would move over to "the next page," All Things Soldier to see if anything "popped." I believe that providentially I was made aware of a kid by the name of Easton Shane whose soul appears to be the polar opposite of the 18 year old who felt that 10 year olds deserved to die for whatever God-knows-what reason, and everything about Easton gives my heart hope.
Easton is now 19, and when he was 14, he wrote a song in tribute to his father, who at the time was active military. Easton would say, "Whenever I ask my Dad why he serves in the military, his response has always been, 'I wear this uniform for you.'…He would remind me that wearing the uniform meant to protect and take care of the ones we love and to act honorably." Admittedly the video accompanying the song shows the little brother who is "serving on the homefront" to be the perfect angel while he is having to be "the man of the house," and that is not likely to always be the case, no matter how well his parents have raised him. But this I know from my time in Iraq: kids would step up extraordinarily, and their fervent love for their folks who were in-theatre was a powerful force for good. I would go so far as to say that the love of family back home saved lives, and more than just that of the parent in a combat zone who was on the receiving end.
This past Monday was Memorial Day, and as I attended the ceremony at the Veterans Museum, I was struck by the young parents present with their kiddos who were learning first hand, as we honored the fallen, that freedom isn't free. I honor those parents for teaching their kids the truth.
Here are the lyrics to "This Uniform's For You," and although Memorial Day is just behind us, being thankful for our freedoms here in America is something that we can be every day of the year.
Vs 1
Dad gave me my uniform when I was only four before he headed off to go fight a war
As tears flowed down my mother's cheeks, Dad whispered in my ear, "Do all the things that I would do if I were here."
CHORUS
He said, "You're the man of the house now son, and I'm leaving it up to you; take care of your Mama, boy, and your little sister, too. I'll miss playing ball with you and watching you ride a bike. It's why I wear a uniform; this uniform's for you."
VS 2
Dad told me leaving us was the hardest thing he'd done/ But there's a war to fight and a battle to be won/ We didn't get to talk that much but he wrote me every day/ He told me that he loved me, and how to find my way
CHORUS 2
We struggled through this time without you being around/ Didn't understand but now we know what it's about/ I just want you to know I'm the man of the house now, Dad, so do what you have to do/ I'm taking care of Mom and my little sister, too/ It's OK you missed my games, my birthday, Christmas Day, I know you wear your uniform, this uniform's for you/ Dad, I  wear my uniform, this uniform's for you.
Then, as if that wasn't enough, Easton wrote the following at the end of the video that says, "Please take a moment to thank those who serve our country and honor those who have paid the ultimate sacrifice."
I am reminded that we are not alone, we are not to be overcome by evil, but to overcome evil with good, and more importantly, there are untold Eastons out there ready to do just that.
By: Ali Elizabeth Turner