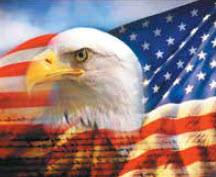 By: Ali Elizabeth Turner
Jack Lucas was born in 1928, and when he was fourteen, he forged his mother's signature so he could join the Marines. The Marines eventually discovered the truth and sent him to Hawaii to drive a truck. While truck driving is an absolutely essential role in war, Jack was not content to sit out the rest of the war. So, he stowed away on the USS Deuel, which was on its way to Iwo Jima. He was eventually discovered by the Marines, who allowed him to join them as a fellow Leatherneck on a journey that would eventually send 7,000 Marines to their deaths. One of them that "should" have died was Jack Lucas, who defied death after throwing himself on one grenade which threw him into the air, and when he landed on his back, he saw another one, rolled over, and pushed it as far as he could into the sand. It went off, too, and everyone thought he was dead. Jack had turned 17 six days before, and he saved several lives that day.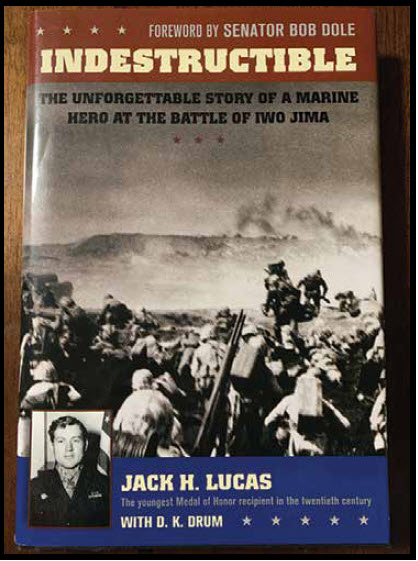 A Marine happened to notice that, amazingly, Jack was alive, and not only was he alive, throughout the whole ordeal he never lost consciousness. He could breathe but he couldn't speak. A Navy medical corpsman did what he could for him in the field and after being evacuated, Jack underwent 26 surgeries to remove approximately 250 pieces of shrapnel from his body. One would think that Jack's military career would have once again either been over or at least greatly re-directed, but that is not what happened. He underwent eight months of rehab and worked tirelessly to regain the use of his arm, and experienced more miracles later in his life that were of the same caliber as what occurred on Iwo Jima. Those we'll talk about that in a moment.
On October 5, 1945, President Harry Truman awarded Jack the Congressional Medal of Honor for his unmatched bravery. In doing so, Jack became the youngest person during WWII to receive the highest and rarest military award possible in America. Throughout American military history, there have been about 3500 medals awarded, and in the aftermath of Iwo Jima, there were 27 Marines who received it.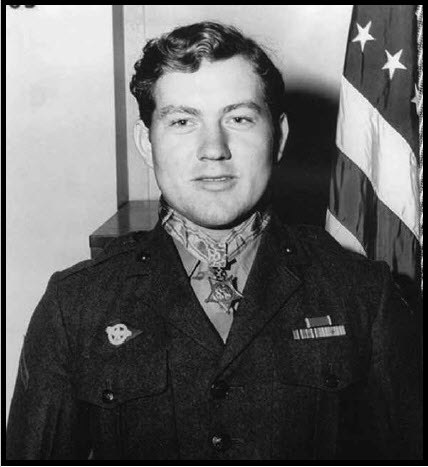 After the war, Jack was involved in business for a while and in 1961, joined the Army at the age of 33. He began training as a paratrooper. This time, on a training jump, BOTH of his chutes malfunctioned and he literally fell out of the plane and plummeted to the earth. To say that this was a miracle is not an overstatement. Personally, I would have preferred that Jack had given God the glory for his survival, but I am not judging the man for saying that it was his decision to roll hard when he landed along with being stocky that saved his life. I wasn't there, and perhaps the last two major adventures of his life served to help him fix his gaze upward.
The next episode in the life of Mr. Indestructible was surviving a house fire, and then his wife tried to have him murdered. I have no idea what the particulars were with regard to the contract that had been taken out on him, nor how he escaped either time. I don't think it was his stocky build that saved him from the attempt on his life, but one way or another, I believe that now Jack has the full story. He passed away in Hattiesburg, Mississippi, in 2008, and while I hope that he got both his vertical and horizontal relationships squared away before he died, I would be remiss if I did not point out that few people deserve the designation of being honored as members of the Greatest Generation more than Jack Lucas.
His memoir is entitled Indestructible, and can be purchased on Amazon.
By: Ali Elizabeth Turner