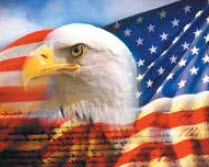 By: Ali Elizabeth Turner
USAF Master Sergeant (R) Bill Schueler, who was highly involved in our local veterans' community, passed away at home two weeks ago, and we had a celebration of life for him at the Alabama Veterans Museum on July 16. Bill and his wife Nellie Mae adopted my husband, Steve, and me into their tribe while I was still in Iraq, and we both are deeply grateful for that "spirit of adoption." Steve drove for Schueler & Schueler Trucking Company, and then purchased his first truck. Bill was always there to coach Steve as an owner-operator, but more importantly, he became our new dad.
While all of Bill's accomplishments and involvements in Athens, both in and out of the veterans' community, are certainly important, what the family really wanted me to speak about was Bill's "home-going." About a year ago, we all now think he knew that time was drawing short, and he began to "get his house in order" in a most unusual way. He mended fences, wrestled with his Maker on some theological issues, and began to express gratitude for the life he had lived and the people he had loved. The kids, grandkids, and great-grands listened while stories were recorded for posterity, and slowly over the months, Bill began to wind down.
A few weeks ago, it was discovered that Bill had cancer, and long-standing cardiac issues were in play as well. He had surgery, and then he had a heart attack, and no one expected him to recover. We took turns sitting with him, praying with him, and I rubbed his bald head. His grandkids, Chad and his wife Amanda Lindsay, even slept in his room for the last month.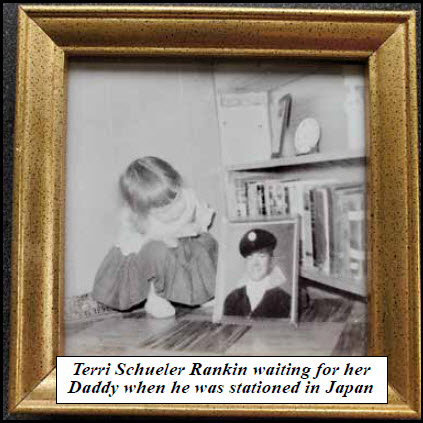 As it was getting closer and hospice had been called, friends from the Schueler's old church came and sang, filling the living room with the Gospel in song. "It sounded like angels were here," said Terri Rankin, Bill's daughter. Unbeknownst to either of us, both Terri and I prayed that God would fill Bill's room with angels, and give him a glimpse of where he was going, and boy, was the answer to that prayer extravagant.
The last night of his life, Terri stayed up all night sitting with her father, and by this time he could not move or speak. For the entire night his eyes looked everywhere; they were the eyes of a child beholding something marvelous. The kids had kept music of all kinds playing in his room — everything from Southern Gospel to Big Band to Herb Alpert and the Tijuana Brass. Then, seemingly out of nowhere, Bill lifted his arms and said, "Nellie Mae, let's dance." (Nell had passed away about six years ago.) Then, Bill greeted his own mother, his son Randy who had passed in 1998, and his brother-in-law Bobby Sides. Then he went back to making sounds that could not be deciphered, but it seemed he was greeting others. The next morning his granddaughter Kristin arrived, and the circle was now indeed unbroken. About 6:30 p.m., as Chad held his hand and said, "It's okay, Grandpa, you can go," Bill let out one last breath, and he was gone.
It was an exquisite example of a precious passing, and I will always be grateful that I got to have a second daddy. "Soon and very soon, we are going to see the King!" It really is, "Bye for now, Bill, and thank you for how you loved God, family and our country."
By: Ali Elizabeth Turner