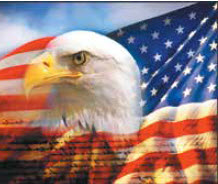 By: Ali Elizabeth Turner
A year and a week ago, a disastrous drawdown and woefully ill-conceived withdrawal from Afghanistan caused the deaths-by-ISIS of 13 service members who were supposed to be headed home after having been in harm's way in a war that lasted for 20 years. Most of them were Marines, and according to every service member with whom I have discussed this travesty on and off the air, it simply never should have happened. However, I am not going to take any more space here to discuss the present administration's failures when essentially turning tail, leaving behind sophisticated equipment, and more importantly essentially abandoning American service personnel and civilians to face God knows what. It has happened before; no doubt it will happen again, and instead, this space is devoted to honoring the fallen.
Enter Alabamian Angel Brown who, along with her husband Jonathan, had already been ministering to soldiers by sending care packages, and the name of their organization is Good News Boxes. I can tell you, as someone who distributed care packages during the three years I was in Iraq, Christmas comes all year long for the Joes and Janes, Sailors, Airmen, and Marines when people from home remember them. They look like they just got a bike or a puppy when they open them up.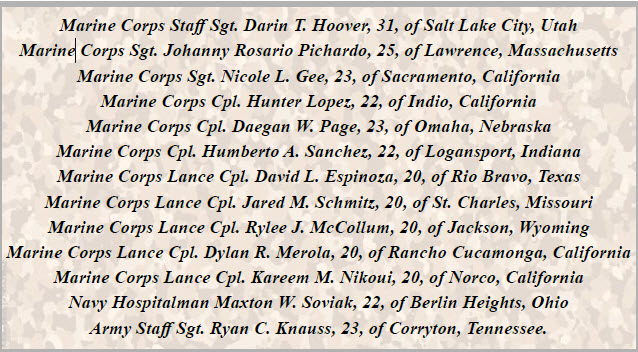 The day that took the lives of "The Thirteen," Angel was already in Costco wheeling a flat down the aisle which was filled with "gold toe" socks, something that is a favorite amongst the soldiers. She got the news about what had happened, and tears began to flow right there in the middle of the warehouse.
In two days, the Browns raised two thousand dollars for soldiers as well as the families of the fallen, and the response from the families who lost their loved ones that day has been overwhelming. Angel wraps the packages with all kinds of greetings to the family, includes a handwritten note, and even puts on the outside of the box a note to the carrier to please handle the box with care because it is intended for a hero.
When Angel graciously agreed on short notice to come on my radio show, we did something that was difficult yet satisfying: she read the names of all 13, their branch of service, and their rank. It was tough, but as Angel pointed out, their names had not ever been honored by the media, and it was my honor to participate.
What Angel and their organization want to see happen is that people are touched in their hearts far beyond what a pair of socks, a hand-carved cross from Israel, coffee from Honduras, a hand-written card, or other treats can provide. They want to make an eternal impact, and be used to heal broken hearts.
Of The Thirteen, there was one who leapt off the page when I saw her picture. It's not that somehow she was more special than any of the others, or the 170 Afghanis who died that day. She just grabbed me, that's all. Her name was Nicole Gee. She was a sergeant in the USMC, and as you look into the eyes of this extraordinary Marine, I would ask, we would ask, that you would pray for her family, and consider helping the Browns to keep on blessing. Thank you.
Go to www.goodnewsgiftbox.com to learn more.
By: Ali Elizabeth Turner