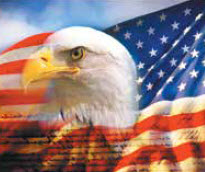 By: Ali Elizabeth Turner
Local legend Jack Hunter "slipped on home" a week ago, and at age 97, was one of the last remaining WWII veterans in Limestone County. He was born at home in 1926 at 501 N. Houston Street in Athens, and years later came back and lived at the same address. He graduated from Athens High School and joined the Army at the age of 18. After the war, Jack went to what used to be referred to as Athens College.
Jack (whose given name was William) was a tail-gunner on a B17, and was part of what was then referred to as the Army Air Force. Jack was in what was called "The Mighty 8th" and was part of Squadron 547. He served in the European theatre, and his first combat mission was Dresden, Germany. All in all, he flew over 20 missions, was wounded in battle, and went home having been awarded medals for Victory, Good Conduct, Air Medals and a Purple Heart. Jack had gone to war with a strong faith and sense that he would be coming home, and he miraculously survived against all odds. According to interviews that were conducted by the late Jerry Barksdale and published in his book, Duty, a tail-gunner in Jack's outfit rarely survived more than 15 missions, and were often killed or captured. Out of the entire 8th Army Air Force, there were 26,000 deaths and 46,000 casualties.
Jack came home, and married a gal from Mississippi. Her name was Bobbie Nell Windham. They had two children, Cathy and Bill. Jack worked for TVA as a surveyor well as Mabry Engineering in Decatur. Jack was on the Board of Directors of the Alabama Veterans Museum, and he was a beloved fixture at the monthly Coffee Calls, which is where I met him.
I have two favorite memories of Jack, who was always kind to me. The first was how he valued young people, and was concerned that the current younger generation not lose their history as well as their appreciation for what the Greatest Generation had purchased for them. I watched from a distance as he conversed with a young man who happens to be quite a history buff, and I could tell that they were both enjoying the conversation. John David McGee always looked forward to Coffee Call, and having the chance to talk with "Mr. Jack." I know that JD will miss him.
The other memory was when, in November of 2022, the Veterans Museum sponsored an evening with members of a Polish diplomatic team, and Jack was a guest of honor seated at the table for the guests of honor. One of the high points of the evening was when they played the military hymns for each of the branches of the Armed Services. As the Army hymn was played, Jack struggled to stand to his feet and join the other Army veterans as they honored their branch. But, he just couldn't quite do it. However, one of the members of the Polish team, a man many years younger, elegantly came around behind Jack, slid his arms under Jack's arms, helped him stand up straight, and together they stood in honor. There is a lump in my throat as I remember that evening, and as I have the deep honor of remembering "one of the great ones," Jack Hunter. Rest in peace, dear Jack, and thank you for your sacrificial service.
By: Ali Elizabeth Turner