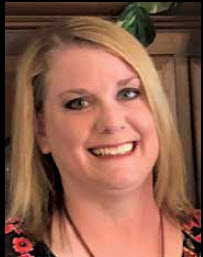 By: Leigh Patterson
Springtime is a very busy time for KALB. We have several events in the works that we are excited about and looking forward to, and we hope that you will find these to be exciting too! We invite you to join us for any or all of these events.
ELK RIVER CLEANUP
As part of our yearly Trash Attack series, we are planning to spend time cleaning up the Elk River and surrounding public lands. The Elk River Cleanup will be held on Saturday, March 12 from 8 a.m. to noon. KALB invites individuals, families, businesses, groups, and organizations to help us with this effort.  Volunteers will meet at the Hatchery Road Boat Launch off of Hwy 99 in West Limestone at 8 a.m. to check in and to pick up supplies, including litter grabbers, gloves, vests, and trash bags. Refreshments will be served at check in. After picking up supplies, volunteers will then disburse to different areas along the Elk River to clean. This is a great opportunity for those needing volunteer hours to get out and make a difference in our community. We are grateful to Tennessee Valley Authority (TVA) for sponsorship of this event.
HOUSEHOLD HAZARDOUS WASTE COLLECTION
Another event that we are looking forward to is our Household Hazardous Waste Collection event. This will be the third collection that KALB has hosted since 2020. The event will be held on Saturday, March 19 from 8 a.m. to noon at Athens Middle School (100 Hwy 31) in the north parking lot. Residents of Limestone County may bring items such as paint, mineral spirits, turpentine, paint thinner, transmission fluid, brake fluid, anti-freeze, lawn and garden poisons, old gasoline, household cleaners, ammonia, bleach, pool chemicals, fluorescent tube lighting, and more. This is a safe and convenient way to dispose of these items that are unsafe to place in your regular trash. Simply drive through and drop off your items as volunteers remove them from your vehicle. Be sure to be there on time, as the gates will close sharply at noon. KALB is thankful for our partnerships with the Limestone County Commission and the Limestone County Solid Waste Authority that make this much needed event possible.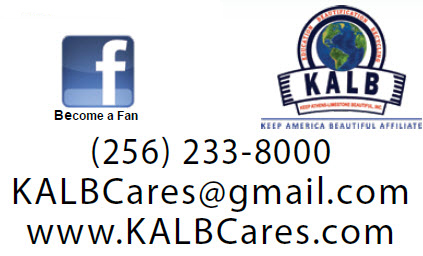 EARTH DAY & OUTDOOR EXPO
KALB's Earth Day & Outdoor EXPO is an event that we thoroughly enjoy bringing to our community year after year. The last couple of years have been a little bumpy with the pandemic. We had to cancel the event in 2020, and we had a smaller scale event in 2021, but we are hoping to bring it back bigger than ever in 2022! We have once again partnered with Athens State University and plan to host this year's EXPO on the university campus. There will be vendors and exhibitors with earth-friendly products, homemade items, educational information on environmental topics, food, animals, crafts, and FUN! Please join us on Saturday, April 23 for this exciting event! More information is coming soon.
For information on any of KALB's upcoming programs or events, please visit our website at www.KALBcares.com, check the Keep Athens-Limestone Beautiful Facebook page, or call 256-233-8000. We look forward to seeing you in the spring!
By: Leigh Patterson
Executive Coordinator – Keep Athens-Limestone Beautiful