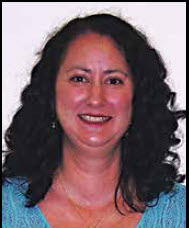 By: Holly Hollman
Sitting for hours undergoing chemo treatments or waiting on a loved one to complete a radiation treatment can be an exhausting process in the fight against cancer. A group of students and Relay for Life volunteers collaborate each February to bring love and encouragement to those undergoing cancer treatments and to their caregivers as well.
The City of Athens Relay for Life Team and Athens Mayor's Youth Commission collected items for care baskets to distribute to the cancer treatment centers: Southern Cancer Center in Huntsville, Clearview Cancer Institute in Athens and Huntsville, and Alliance Cancer Care Radiation in Huntsville.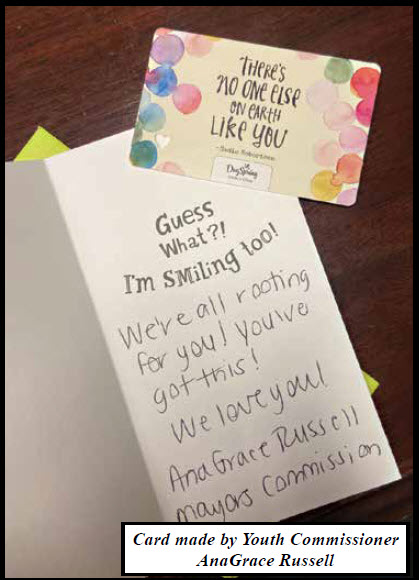 Some youth commissioners wrote cards with messages such as this one from AnaGrace Russell, "We're all rooting for you! You've got this! We love you!"
The baskets have individual goody bags with items such as puzzle books and pens, juice boxes, snacks, hard candy and lotion.
"Our Relay teammate Kathy Cothren fought two types of cancer before passing away last year," Relay Captain and Youth Commission mentor Holly Hollman said. "She did chemo and radiation, and was the inspiration for these care baskets about four years ago. She told us items we should get, such as suckers and hard candy because the chemo can leave a metallic taste in your mouth. The snacks and puzzle books give patients and caregivers something to do and eat while waiting at appointments."
Cherry Hammonds, senior development manager for the South Region of the American Cancer Society, works with these volunteers to deliver the goody bags. "Relay really cares," Hammonds said. "We let our survivors know we are thinking of them as they face their fight against cancer, and we let their caregivers know they are an important part of that fight. Seeing the youth commissioners join us in this endeavor is a blessing. We don't want anyone to fight this fight alone."
Hollman said youth commissioners and team members donated so many items, volunteers will deliver about 65 individual bags to the treatment centers this Valentine's week.
"We had enough left over that on Valentine's Day we delivered about 35 goody bags to Athens-Limestone Hospital so they can recognize staff members," Hollman said. "Our youth commissioners and Relay team have big hearts, and for the last few years we have received so many donations, we have been able to show some love to our local hospital, too."
By: Holly Hollman