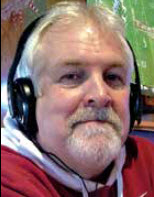 By: Tim Lambert
Athens High athletes signed letters of intent: Jordyn Bailey with Fisk University basketball, Holland Brooks with UT Southern soccer, Isabella Monceaux with King University swimming, Ryann Van Hoozer with Jacksonville State cheer, and Meredith Hicks and Bree Holden with UNA cheer. Athens High pitcher Raiden Pressnell will be a part of Calhoun's baseball team. Larry Howard chose Huntingdon football. James Clemens' Nate Guyse committed to Snead State baseball and the Jets' Camden Wells picked Mount St. Joseph University football. East Limestone's Maddison Kaney inked with Mercyhurst University cheer. Clements' Brady Moore and Jame Putman signed with Troy University football and Tennessee Valley Prep basketball. Athens Bible School's Luke Davis made a golf commitment to UNA. Ardmore's Tanner Meloon will take his track skills to UT Southern. Lindsay Lane's Chloe Ruble will play golf at UAB.
The North All-Star softball team was announced with Athens Bible School's Claire Holt and Athens High's Morgan Stiles included on the list. Tanner's Christian Cruz made the boys' soccer team while East Limestone's Brianna Proudfoot was tapped for the girls' roster. The Lady Indians' coach Max Norman will be one of the North coaches. Lindsay Lane's Chloe Ruble and Athens Bible School's Luke Davis will play on the North All-Star golf teams. James Clemens' Bhavya Chalasani was chosen for the North Girls' tennis team.
The All-State baseball team had James Clemens' Ty Marsh and Colten Payton, Athens' Jack Elliott, West Limestone's Colin Patterson and Cooper Phillips, Elkmont's Mykell Murrah and Lindsay Lane's Ray Anderson and Alex Cook as members, while the All-State softball team named Athens' Morgan Stiles as Hitter of the Year with teammates Haley Waggoner and Mya Clark joining her on the list. Ardmore's Ella Singletary, AG King, Sarah Sanders and Ellie Riley were also on the roster, plus West Limestone's Lilly Bethune and Addie Wallace and Athens Bible School's Cana Vining. The Lady Golden Eagles' Morgan Stiles was chosen for the Super All-State softball team.
East Limestone girls' head soccer coach Max Norman is stepping down from his position; JV coach Caitie Carr will be taking over the helm. Ardmore also gained a new softball coach; Cherish Hamner comes to the Lady Tigers from Tuscaloosa County High School where she was assistant volleyball and softball coach.

Baseball
Lindsay Lane made it to the state semi-finals where their season was ended by Vincent. West Limestone made it to round three before losing to Etowah. ABS, Athens and Ardmore were eliminated in round two by Appalachian, Cullman, and Sardis. Elkmont and James Clemens lost in round one to Gordo and Spain Park.
Softball
Ardmore went through state tournament play undefeated until a meeting with Brewbaker Tech in the finals ended in two losses to the Lady Rams. After dropping to the losers' bracket, Athens worked their way back through to the finals, but fell to Wetumpka. ABS lost to Maplesville in round one and were eliminated by Skyline.
Soccer
Tanner's boys claimed the first state championship in program history, beating St. Luke's; the Rattlers' Christian Cruz was the game's MVP. East Limestone's girls were topped by Springville in the semi-finals. Athens' girls, James Clemens' boys, and Elkmont's boys were all stopped in round one. Clements' girls got to round two and were defeated by Susan Moore.
Track and field
Athens Bible School's Jack Bradford and Kaylie Key each won their respective Class 1A 1600m races, in the state meet Meredith Romans was first in the 1A girls' discus, Elkmont's Alex Kuntz was runner-up in the 3A boys' 1600m. Athens' Jayshon Ridgle was first in the 6A boys' 110m hurdles, James Clemens' Dylan Dryer placed 3rd in the 7A boys 800m and the Jets were also 3rd in the 4X800m relay. James Clemens' Ben Thomason won the AHSAA Decathlon Championship on Tuesday with a total of 6,166 points.
Golf
James Clemens' Jack Mitchell finished in second at the state golf tournament in Class 7A boys as an individual. Athens High's Adalyn Pike kept her third place in 6A girls. Lindsay Lane's Chloe Ruble was second individually in 1A-3A girls; the Lady Lions ended up in third as a team. Athens Bible School's Luke Davis was in a tie for sixth place individually; the Trojans were fourth as a team.
By: Tim Lambert
Tune in for the PlayAction Sports Update, three times each weekday on 1080 AM WKAC.
Visit us online at www.pasnetwork.net! email: playactionsports@hotmail.com