By: Ali Elizabeth Turner
Born near Owens Elementary School in West Limestone County and growing up with cotton and horses, Stan Smith put in his 28 years at Steelcase knowing that he would one day return to his "first love"– horses of all kinds. His dad was a farrier (someone who puts shoes on horses and cares for the health of their hooves) and taught Stan the craft as a teenager. Stan also used to rope calves in rodeo competitions.
For Stan, COVID ended up being a blessing because it provided a backdrop to develop what has become a much-loved part of tourism in our area: carriage rides. Stan traveled to Ft. Worth and West Virginia for his replica carriages, and he even has an open hearse as well as one that is glass enclosed that are from Canada. He also has a Cinderella "pumpkin coach," a doctor's buggy, and two long wagons with several seats for groups.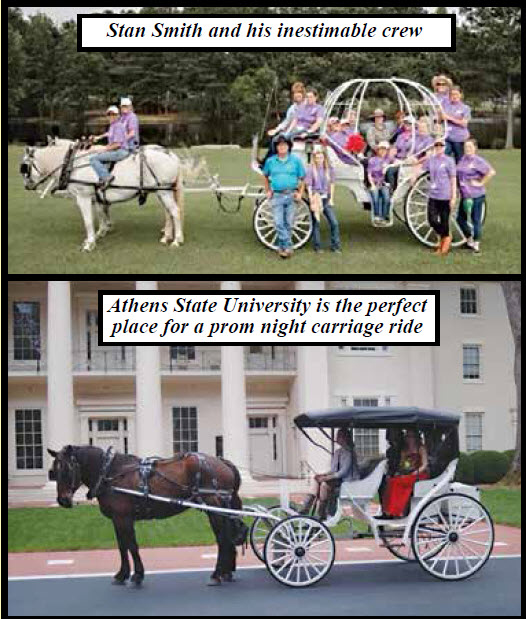 As charming and varied as the carriages are, even more important are the horses and the burro in their role of what Stan refers to as "an experience." The horses are the true heroes and brains of the operation!
Here they are:
Miss U is a six-year-old mustang from Nevada, and formerly was considered "unadoptable;" hence the "U." Stan has had extensive experience on the Ride TV Channel series Extreme Mustang Makeover, and transformed her into a beautiful horse that is one of the favorites of his stable. The mustang makeovers involve taking a wild mustang that usually has never been around people at all, has never even had a halter put on them, and in 120 days, transform them into a horse than be around people and enjoy it. In the past, Stan has won the "reserve champion" prize and designation, and is going to keep after it until he wins. There is something about mustangs that likes to show off a bit once they have been gentled and trained, and Miss U is no exception. For one of her tricks in the competition, she first jumped over a couch, and then sat down on it! She is clearly no longer "unadoptable," and she clearly loves her human.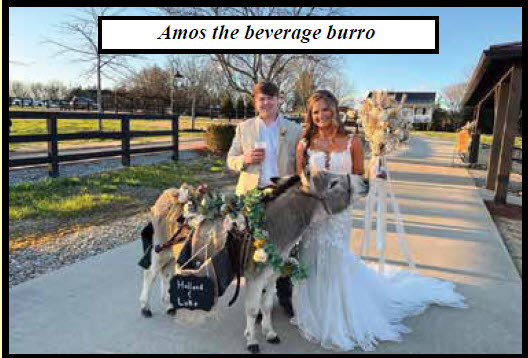 Big Jake is a Percheron cross, and looks like the standard draft horse one would see in Central Park. He is a big ol' sweetie.
Jewel and Bonnie are Percheron sisters who are used to pulling in places such as Nashville, and neither reacts to loud sounds.
Uber is the quarter horse that brings in the bride at weddings, and has pulled during Mardi Gras, which is not an easy gig for horse or man.
And then there is Amos the burro. Most of the time Amos has saddle bags on both of his sides at parties and serves as the beverage dispenser. He can also pull a mini-carriage and is a favorite with kids.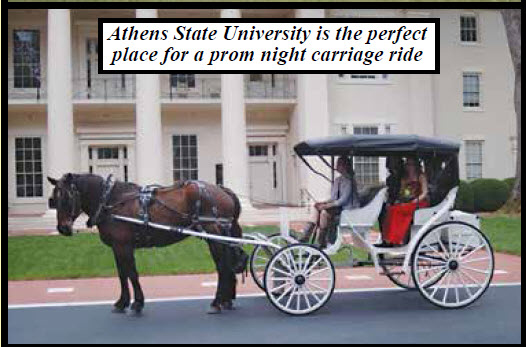 Stan is quick to point out that he absolutely could not run Wild Hearts on his own, and is grateful for his crew. I did get a chance to talk to Chelsea Cobb who spoke for all of them when she said, "Getting to work with Stan is an adventure. He is personable, is deeply rooted in Athens, and Wild Hearts has a small-town feel. He does everything he can to make sure people have a good time and an experience they will never forget."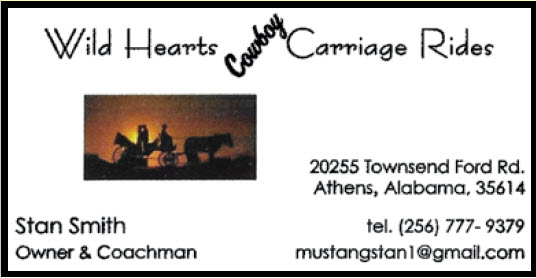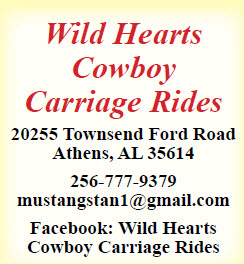 Wild Hearts Cowboy Carriage Rides is not just something that you will encounter on the weekend at the Limestone County Courthouse Square, although with festival season coming up in Athens-Limestone County, you can bet they will be there throughout. Stan told me that they have been a part of wedding proposals, quinceañeras, and proms. Another unusual venue that requires just the right and respectful touch is burials. A horse-drawn hearse that carries the departed to their resting place can actually serve to add some dignity and warmth to a difficult situation.
Recently, Stan had the great joy of providing a carriage ride as part of a birthday celebration for a woman who had turned 103! The grin on her face shows what it meant to have such an unusual experience at that stage of her life.
Speaking of experience, that is what drives Stan and his team. I asked him why people should "hop in the Wild Hearts carriage," and here is what he told me: "We are not in the carriage business, we are in the entertainment business. Let us make your special day unforgettable."
Call today for all your "carriage needs," or come to the Square this weekend and let Wild Hearts Cowboy Carriage Rides take you on a memory-making ride. Your carriage awaits…
By: Ali Elizabeth Turner