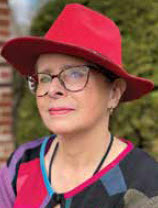 By: Ali Elizabeth Turner
This is the third Publisher's Point that I have written about the David-and-Goliath-movie-turned-movement that is entitled Sound of Freedom. Three times around seems odd to me too, let alone that I can't yet seem to "give it a rest." I guess I have to hope that the press I feel inside to keep on getting the word out is for someone who perhaps has been on the fence with regard to seeing it. We'll see. For now, I hope this installment will at the very least cause Athens Now readers to think, then ask questions, and perhaps draw a line in the sand with their awareness and their wherewithal. You might not be able to kick down doors and rescue kids, but you can help support and pray for those who do. You can also pray for those who are involved in what is known as "after-care," the dicey, complex and often frustrating process of bringing a survivor back to living life when someone stole their "true North," especially if they were a child when it happened.
So, here is my first question, embedded in the title: What will happen when the "Sound" hits the house? Whose house? Our house, and by that I mean, legislative houses; the ones that can make the laws and appropriate funds to end this inarguable evil.
Here are some interesting developments. The attorney general of the State of Alaska, a man by the name of Treg Taylor has offered to pay out of his own pocket for his department employees to go see the film. "It would be my pleasure to personally purchase a ticket to Sound of Freedom, for any member of the Department of Law who wishes to see the movie," AG Taylor said in an email. Who does that? In addition, there are legislators in Alaska who have also sponsored showings of the film.
Has there been outrage at his gesture? You bet. Taylor has been criticized for his generosity, and here is what he said in response:
"I am saddened by the pushback my actions and this film have received," Taylor wrote. "I would have thought that we could all agree child sex trafficking is an abomination and would applaud any effort to bring this issue to the forefront."
Child sex-trafficking is not a political issue, it is straight up a moral issue. One would indeed think that if there were any place that people could work "across the aisle," it would be when it comes to the safety of our kids.
And, speaking of politics, the plot thickens in the Peoples' Republic of California. A Democrat California Assembly member by the name of Liz Ortega actually voted against legislation that would toughen punishment for those convicted of sex-trafficking. Then Twitter tweeted into a frenzy to the point that Governor Newsome called for a second vote, and this time it passed. In what is to me an uncommon show of regret, Ms. Ortega actually admitted she was wrong to veto it in the first place and will get behind the legislation. "I made a bad decision," Ortega stated on Twitter on July 13. This was after the bill moved on to the Appropriations Committee. "Voting against legislation targeting really bad people who traffic children was wrong. I regret doing that and I am going to help get this important legislation passed into law." It seems that Sound of Freedom has hit like a wrecking ball, and I for one could not be happier.