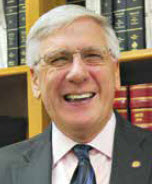 By: Ali Elizabeth Turner
One of my favorite parts of my publication week production responsibilities is when we are doing this column and Mayor Ronnie comes flying in the office on Monday morning, phone in hand, ready to show us some new and remarkable footage that almost always showcases a local event. This is even more the case during college football season or NCAA basketball season. This week I was treated to two of them; the first was an official video of Jimmy Cliff's version of "I Can See Clearly Now," which he and Sandra had used to celebrate the success of her first cataract surgery. They drove around while she said with child-like wonder, "I can see!" or "I wish you could see this!" or "That is so clear!" (You can fill in the blanks.) They changed the lyrics to "I can see clearly now the clouds are gone," and you should take a look at the video. It is truly inspirational," and as he showed it to me, he said, "What they can do these days is a miracle…" May Sandra's second surgery finish off "the clouds" completely.
We then moved to the second video, which was of Devin Simmons singing on the square for the Athens Main Street Thursday Night Talent Show competition. The number of contestants has been narrowed down to six, and young Devin reminded me of Percy Sledge of the Shoals who wrote and performed the classic "When A Man Loves A Woman" while he was working as an orderly at a hospital in the Shoals six decades ago. Devin has pipes, for sure, and was a part of the Mayor's Youth Commission for two years. Devin has also sung the National Anthem for the Trash Pandas. If Devin wins this talent competition, he will be awarded a thousand-dollar prize.
It is budget season, and Mayor Ronnie is one of those rare birds who actually enjoys the process of number crunching and doing budgets. He is energized by hearing what different departments want to accomplish, and finding ways to make projects that will better our quality of life in Athens-Limestone County. He wanted to make sure that the people of Athens know that the budget is a literal open book, and that any part of it can be explored.
The last thing we talked about was the 100th birthday celebration of Katherine Horton, the daughter of legendary Athens jurist Judge James Horton, who set aside the conviction of the Scottsboro Boys ninety years ago; thus saving their lives. Not everyone knows that he and his family were threatened, and when I think of a ten-year-old little girl being in danger because her father did the right thing,  I am even happier that after we prayed, the mayor went to the Goldton facility where Miss Katherine lives, celebrated her birthday, and gave her a key to the city. Once again it was time for Ronnie to roll, and once again I was glad that I live in Athens, Alabama.
By: Ali Elizabeth Turner