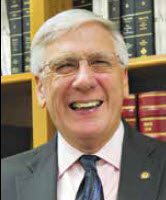 By: Ali Elizabeth Turner
When we met, I had been home from the Asbury Revival in Kentucky for a week, and I had the chance to tell Mayor Ronnie about what an amazing experience it had been. It especially pleased him that the Asbury administration had put such an emphasis on honoring the students, from having them do the lion's share of the ministry to protecting their stories and testimonies by giving guidelines with regard to filming and posting. We both marveled at what had happened there, and as it applies to our own youth, once again Jerome Malone is overseeing the Mayor's Youth Commission as they produce a podcast at the Athens-Limestone Public Library. We also talked about how impossible it seemed that graduation is just around the corner, and how time has seemed to speed up all the way around.
With regard to the upcoming State of the City breakfast and address which will be held on March 7 at Athens State University, Mayor Ronnie said tongue-in-cheek, "We are going to have fellowship, fun, and a few facts." I retorted with a smile, "Only a few?" He knew that a ton of pie charts, spread sheets, and graphs were not going to be what would truly meet the needs of Athenians who would attend, and while the standard topics that make any city great would be addressed, i.e., growth, public safety, and quality of life being the most important, he wanted this year's address to be slightly more light-hearted. "Thank God we get to serve, live, work, worship, and play here in Athens, Alabama," he said.
We moved on to the topic of roads. "We have been in contact with Alabama Department of Transportation (ALDOT) to find funding streams to make Line Road safer," he said. Line Road is on Highway 72 near 306 BBQ and the Christmas tree farm, and turning on to it either direction is riskier than it should be. "Another road that needs attention is Cambridge Lane, and crossing it to turn west on Highway 72 is super dangerous," said the mayor. He then added, "We'll be upgrading parking lots, too."
People are always asking Mayor Ronnie about retail projects, and he has had to say to me on several occasions, "I can't comment on that, yet." However, what is amusing is when people come to him and are dogmatic that a certain big-box retail store or stores are going to be built in various areas, and he says to himself, "Hmmm, how come no one told me?" It is true that we are growing "fast and furious," but several of the "proposed projects" have, in fact, never been proposed at all and their ground-breaking ceremonies are not at all in the offing.
We talked again about Asbury, how it was just as miraculous that the town of Wilmore, KY, whose population is about 6,000 was able to handle swelling to the size of about 50,000 and handle it so well. And then we prayed, as we always do, and then it was time for Ronnie to roll.
By: Ali Elizabeth Turner