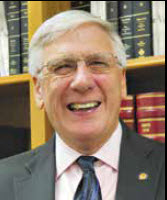 By: Ali Elizabeth Turner
On Saturday, October 1, Athens lawyer Eddie Alley was sworn in by Judge Chad Wise as our newest City of Athens Municipal Judge in the Athens City Courtroom. He was attended by his wife, daughters, other relatives, Athens City Council members, several judges and attorneys, Athens Police Chief Johnson, Mayor Ronnie and other well-wishers, including me. I first met Eddie when I started working for Athens Now, and had written articles for him when he ran for office. While he did not win at the time, somehow I knew that there would come a day when he would in fact be on the bench, and I would always refer to him as "your Honor" when I would see him. He would chuckle, but on this Saturday, he grinned. It had finally happened, and everyone was glad.
Mayor Ronnie wanted to spend space in this edition welcoming Eddie to the bench, and thanking retiring Municipal Judge Don Mansell for his service to our community since 1996. Judge Alley had been chosen unanimously by the Athens City Council for his new post. He has been a state and federal prosecutor, and has served as a legal instructor contractor for the U.S. Department of Justice. He also worked for the Limestone County's District Attorney's office before going into private practice. As his website says, Eddie has tried every kind of case from a traffic ticket to murder, and he became experienced with trying cases while he was still in law school. He graduated from the Alabama School of Law in 2002. It is also an added blessing that Eddie speaks Spanish.
There were some interesting comments made during the swearing-in ceremony, and they had to do with the fact that "traffic court," if you will, is something that many people will be in at some time in their life, and it can be the first impression of a city. "People need to be treated with respect in any court, but city court is where it all starts. It needs to be professional at all times, and making sure the rights of the people are respected," Mayor Ronnie reiterated when we met on Monday. Eddie pledged to uphold the law and to respect people.
We moved on to other topics. He had been in Montgomery for a farewell event for retiring U.S. Senator Richard Shelby, had a chance to chat with Katie Britt, who is hoping to fill the senator's slot come November, and is getting ready for a 14-state conference of southern mayors of cities under 100,000. "I am really looking forward to this," he said, and added, "They always have such good ideas about ways they have solved problems in their cities."
Mayor Ronnie then took me into the boardroom and showed me a table that was close to half full with supplies for Birdie Thornton and other charities. There were art supplies, cleaning supplies, paper towels, toilet tissue, and more, and the returning kids from the Mayor's Youth Commission were the ones who had collected them. "We have 17 returning kids and are still in the selection process for the rest," said the mayor. I know from experience that he and Holly Hollman, along with the rest of those who work with the students, enjoy themselves immensely, and they are ready to get this year going.
The time had come for both of us to go, and so we did what we always do, and that was to pray. And then once again it was time for Ronnie to roll.
By: Ali Elizabeth Turner