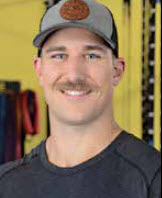 By: Nick Niedzwiecki
CrossFit Athens is a community of like-minded individuals, striving to achieve one common goal — live a longer, happier, healthier life. Everyone who walks through the door has a different vision of what this looks like. For some, this means being able to play with their children, anytime, anywhere, no matter what. Others may be looking to learn the basics of exercise and nutrition, and the list goes on. We are made up of individuals from all walks of life — children, teenagers, young adults, parents, grandparents and all the in-betweens. Our common goal is what brings us together and makes CrossFit Athens different from any other fitness program you have ever tried. Our coaching staff will guide you every step of the way on your health and fitness journey.
How does CrossFit Athens work?
Our program consists of daily classes. Every class is led by one of our CrossFit instructors who will be there to guide you through the daily class at the appropriate stimulus for the day. Our workout will change every day; we will never do the same workout day to day or week to week. This is what keeps our classes exciting and fun!
What is in a CrossFit workout?
The workouts will consist of functional movements that will help you in your daily life. Squats, deadlifts, presses overhead, pulling yourself up, getting down on the floor and standing back up, these are just a few of the things that we will work on throughout our program. We do gymnastics with progressions that are accessible to all. We bike, run, swim, jump, and row. We use intensity customized to the individual.
CrossFit works for everyone. Have no fear, all of the movements we do in our classes will be modified to meet you where you are in your fitness journey. Squats are as simple as gaining the ability to stand up from a sitting position. We use deadlifts every time we bend down to pick something up off the floor. These movements are essential to life; knowing how to properly do these will aid you in living a longer life, no matter your current age and fitness level.
CrossFit can be used to accomplish any goal, from improved health to better performance. CrossFit is so effective it may feel like magic, but in truth, it's a formula — a formula that works. It's the formula for everything we do, from forging elite fitness to preventing and reversing chronic disease. It's the inputs that give us the outcomes, the results that have revolutionized an industry and changed millions of lives for the better.
We would love for you to come try a FREE week of CrossFit classes to see exactly how our program will change your life!
By: Nick Niedzwiecki