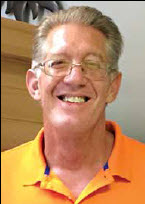 By: Roy Williams
Christmas is a time dedicated to the One who gave us the greatest gift ever bestowed on mankind. The gift of forgiveness. Up until the birth and death of the one and only Son of God, in order to be forgiven, blood had to be shed, a sacrifice of burnt offerings made, a debt paid for our transgressions.
Up until the death of Jesus Christ, salvation had to be earned by keeping all aspects of the Law of Moses. Up until His death, we had to have a mediator, a priest who could go into the temple and go past the veil into the presence of God, and ask for the forgiveness of our sins.
The most beautiful gift ever given is when God, who loved us so much, allowed His Son to be born of woman to live and eventually die for our transgressions. In other words, God loved us so much he allowed His Son, who was perfect and without sin, to be murdered. And Christ loved His Father so much that He was willing to die to please His Father and give us direct access to God. At that moment the veil was ripped from the top to the bottom, giving each of us the ability to go directly to our Father and be forgiven.
Yes, the birth of Christ is about giving and forgiving. Sometimes, at this time of year it is hard to know just what to give those we love. Our lives are so busy, so commercialized, and so confusing that, if we aren't careful, we can forget what this season is really all about. So, lets stay focused on the greatest gift ever given and please our Father in heaven by remembering the birth of His Son, our Lord and Savior, Jesus Christ.
To help make giving as easy as we possibly can, Herbs & More in Athens and NHC Herb Shop in Killen will be offering each of you discounts on all NEWtritional Health Care products with this article. Go by either location or call 256-757-5660 and choose any of our exclusive products and save 20% through December 25.
The Perfect Gift
Please remember, during these stressful times, we now have Stacy, a well-recognized Massage Therapist who specializes in, relaxation, therapeutic/deep tissue, prenatal, and hot stone sessions. You can also purchase a MASSAGE gift certificate for the one you love or those who already have everything. We have never heard from anyone who wasn't truly delighted with one of those.
Let me remind all of you that over 20 years ago we developed what I believe is the best lotion ever, called MSM+C Full Body Lotion. We made sure that all the ingredients are natural and without any paraffins or chemicals that have been tied to many health disorders. It is so clean and soothing that many ladies use it as a base before makeup, men use it after shaving, and it is the best full-body lotion I have ever used. Well known to stop diaper rash and often used with any skin disorder, including eczema and psoriasis.
Often called the beauty lotion, our infamous MSM+C Full Body Lotion is a first choice because of its ability to create collagen, which gives your skin a real healthy shine and reduces crow's feet and wrinkling due to dehydration. Because it has emu oil and MSM it has been used by many to reduce sore muscles and joints and even back pain. It has no fragrance and there is simply no other lotion on the market that comes close to its success.
With This Article
From now through December 25, you can purchase this remarkable lotion for yourself or to give it as a Christmas present and save 25%. (Limit of 3 bottles per customer.) The large 18-ounce bottle lasts a long time and our regular retail price is only $24.00. With this article you can save $6.00 per bottle.
So, to conclude, we at NEWtritional Health Care LLC and our locations want to wish all of you the Merriest Christmas ever. Keep it beautiful by remembering that it really is all about Christ and His love. Remember when Christ was asked what is the greatest commandment? According to Matthew 22:37-39, "Jesus said unto him, Thou shalt love the Lord thy God with all thy heart, and with all thy soul, and with all thy mind. This is the first and great commandment. And the second is like unto it, Thou shalt love thy neighbour as thyself."
Your friend in health,
Roy P. Williams