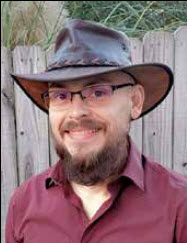 By: Benjamin Lawrence Bradley
The 22nd Annual Wacky Quacky Ducky Derby went off without a hitch. The adoption donations from all our participants are essential to the mission of KALB by enabling us to continue our efforts to clean and beautify the community.
Our tent at the Tennessee Valley Old Time Fiddlers Convention afforded us the opportunity to share our purpose and activities with those whose interests were piqued while walking by our duck-themed booth. I very much enjoyed getting to know many locals as well as people from around the country. It is great to see the broad level of appreciation for the work that we do here at Keep Athens-Limestone Beautiful.
Over at the duck pond, as we began to set up for the race, an excited crowd gathered along the spillway in anticipation of seeing their ducky racers in action. Children shouted and cheered as they watched the ducks float by. They were not the only ones. More than a few older kids and adults got wrapped up in the excitement too, openly expressing their enthusiasm.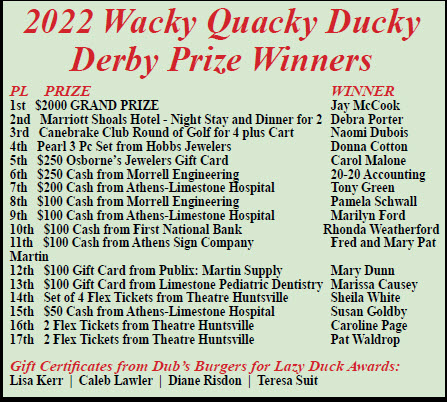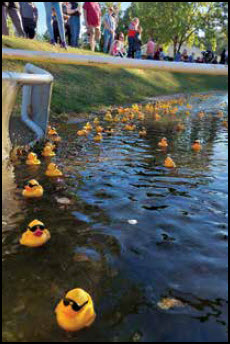 It is with great joy that we announce the Championship Race winners. A couple of winners were present. Marissa Causey won a $100 gift card, and a few young girls were ecstatic to have received one of the hilarious lazy duck awards. A few more winners were at the convention when I called to give them the good news. They were able to pick up their prizes at the tent, once they moved far enough away from the clamor of the music onstage to hear me, that is.
What a treat it was to inform all the winners big and small, and to see each one of their delighted faces. We have many people who play every year, some of whom, while they were signing up to adopt ducky racers again, told stories of having won in the past.
We would like to express our sincere gratitude to all our sponsors. Because each prize is donated, all proceeds from ducky adoptions go directly to funding our objective to enable the citizens of Athens City and Limestone County to take greater responsibility for enhancing their environment in a variety of ways.
A special thanks to our anonymous benefactor who donated the remarkably generous $2000 Grand Prize, and congratulations to Jay McCook whose winning duck was the first to paddle across the finish line. Mr. McCook is a long-time supporter of KALB, and we are happy to see him rewarded after all he has done to bolster this nonprofit organization over the years.
We love to see the many individuals who come to participate in the race each year and the excitement of those entering for the first time. We even had one of our winners donate their winnings back to KALB. We could not be more amazed by the remarkable altruism shown by our fellow citizens. If you'll forgive the cliché, the incredible success of the Wacky Quacky Ducky Derby in bringing us together to a sense of common purpose makes us all winners.
By: Benjamin Lawrence Bradley 
Executive Director of Keep Athens-Limestone Beautiful