By: Ali Elizabeth Turner
Limestone County Sheriff Joshua McLaughlin moved here from Connecticut with his family when he was 14. He was a Navy brat, had lived all over, and told me, "Athens is the first place that felt like home." He graduated from East Limestone High School in 2000 and planned on becoming a veterinarian. He attended UNA as well as Calhoun to get his basic courses out of the way, and then the direction of his life changed completely when he was contacted by the Limestone County Sheriff's Office to take a look at law enforcement for a career. "It took me a year to say yes to going on a ride-along, and when I did, I rode with Justin Camp. That was when I fell in love with law enforcement," Josh told me.
Training began, and over time Josh filled several roles. He was a reserve officer, a corrections officer, a patrol officer, a narcotics officer, a K-9 officer, an investigator, and spent several years as the chief investigator for the Limestone County's District Attorney's Office. With his love for animals, he thoroughly enjoyed working with his K-9 partner, a Malinois that had the fascinating name of Kilo. Kilo is now retired and receives outstanding care as a veteran member of Limestone County's law enforcement team, and Josh misses working with her.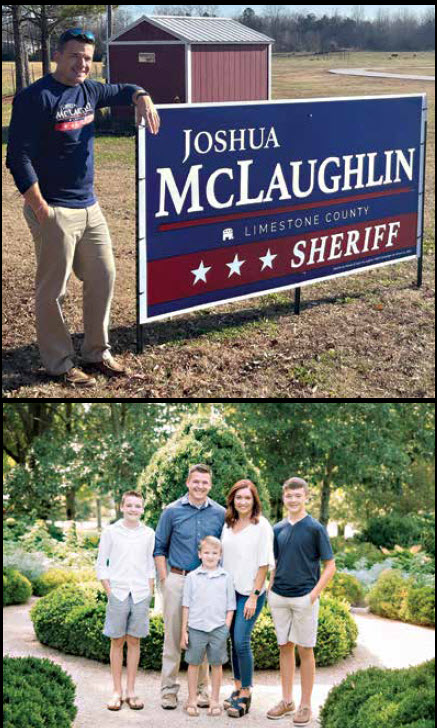 It is clear when one talks with Joshua that being our sheriff is something to which he feels strongly called, and by which he feels deeply moved. Governor Kay Ivey appointed him to the position in September of 2021, and her comments regarding the appointment are as follows:
"Joshua McLaughlin not only embodies the best qualities of a dedicated member of law enforcement, but also that of someone who is committed to serving their community, being a man of faith and of his family. I am proud to appoint Mr. McLaughlin to serve as Limestone County Sheriff. He believes, first and foremost, in protecting his community, the rule of law and the rights of others. Throughout his career in law enforcement, he has proven to be an advocate for personal accountability, but also a believer in second chances. The people of Limestone County deserve to have total confidence and trust in their elected officials, and I am confident that will be restored with Joshua McLaughlin."
Josh put his hat in the ring to run for sheriff in 2022, and that final selection for the position will be made by voters on November 8. He is grateful for the support he has received from the community, and is confident he will be able to serve Limestone County for a good while.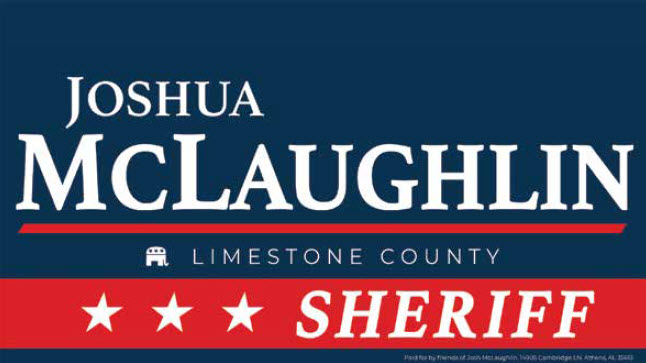 Josh met his wife Meghan in high school, and they were married in 2006, and they have three sons: Ryder, Houston and Kutler. As a family they love to hunt, fish, camp, play all kinds of sports, and are very active at their church, Lindsay Lane Baptist.
Josh has chosen to focus on protecting kids, teaching about the dangers of social media, dealing with all kinds of drugs (including fentanyl), gangs, human trafficking, and the kinds of scams that are directed toward vulnerable seniors. Over the past 20 years, he has developed excellent working relationships with the FBI and other investigative organizations, and has the department train with them for any and all scenarios, including mass casualty. "Training is my big thing," he said, and wants to increase the level as well as the frequency of training for his entire staff.
"I want to get the K-9 dogs back in the schools because they make such an impact on the kids," Josh told me, and he wants to customize and update the D.A.R.E. curriculum to make it relevant for dealing with today's drug problems. In addition, he knows that the sheriff's department needs to grow well to meet the needs of a growing county. He has asked for more officers, and knows that if we are going to keep excellent law enforcement officers and support staff, we are going to have to make their pay competitive in order to reduce turnover.
Josh misses being out in the field, and tries to get out into the community often. "I stop by local games just to check in with the community, and sometimes they will call me to go out at night to deal with an incident. I want people to feel free to come to my office and talk about the things that concern them, even if it's not easy to hear," he said. He is committed to restoring trust in the department and building the community.
If this blend of experience, vision, compassion, and competency is what you are looking for in the Limestone County Sheriff's Office, then Joshua McLaughlin and his family would appreciate your vote on November 8.
By: Ali Elizabeth Turner