By: Ali Elizabeth Turner
Earlier this year, Keith Montgomery of Vinyl Revival walked into Frame Gallery of Athens and happened upon the exhibited works of Reesa Pearl Milam. Keith, who is also a musician in addition to owning Vinyl Revival, fell in love with Reesa's painting of a guitar and snapped it right up. It also gave him an idea: Why not convert a room on the west side of his own shop and make it into a place where artists could exhibit their work? So, that's exactly what he did, and the result will be that Vinyl Revival will be hosting an exhibit of Reesa's work on June 10 from 11 a.m.-6 p.m. Vinyl Revival is located at 113 Pryor Street E in Athens, just a couple of blocks east of the Veterans Museum.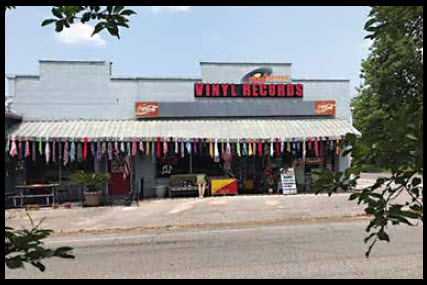 Here's a bit about Vinyl Revival's first featured artist. Reesa was born in Kentucky and her family settled in North Alabama in 1972. Her dad worked for Colonial Banking Company, and they moved many times. As a kid, art and Jesus were her solace, and Reesa described herself as being a "doodler" back in the day. She was able to study art while they lived in Texas, but when she transferred to Ft. Payne High School, the high school did not offer art or music classes at that time. She continued filling her sketchbooks of the Lookout Mountain area, and as a high schooler was given the honor of coordinating an exhibition of student art work, poetry and music for a fundraiser. The project sparked her passion for photography and graphic images.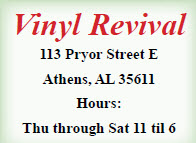 After graduating high school, Reesa moved to Huntsville and attended the University of Alabama Huntsville. She graduated as an Honor Scholar in Art/English and her emphasis was lithography, which is now nearly a lost art. Recently, Reesa told me that to her chagrin, at UAH's class reunion she discovered that the litho machine was now down in the basement of an adjacent building, a casualty of the times. "No one even knows what lithos are any more," she said with sadness. "Well, they will on June 10," is what have to say to that! She also attended the University of Missouri/Columbia for a special art study program while pursuing her degree at UAH. During her junior and senior years, she worked as Art Gallery Director at UAH where she designed displays and assisted with exhibits and advertising. During that time Reesa won a Merit Award for "Downshift," and a first-place award for "Heading for a Fall."
Reesa is skilled in most art media with the exception of the newer technological advances, and she has "no time" for things like artificial intelligence. She has a wide range of experience in the fields of woodcut and stone linoleum cut, silkscreen printmaking, and of course, lithography. She also has enjoyed photography and etching. By the way, lithography is a multi-step printing process that uses stone or metal as the base and depends on several chemical reactions from sequenced applications to produce the finished printed creation.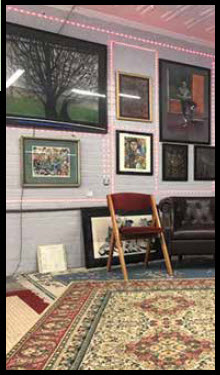 After graduation, Reesa's work was featured in a number of juried and non-juried shows all over the United States. She won several awards in the early 1980s for visual art dealing with women's issues. Her award winner, "I Stayed Home With Mine" was highly regarded in many shows for its role in speaking to a range of women's issues. She's also given demonstrations at several museums, schools, and civic organizations.
More recently, Reesa has continued to develop her skills in painting, drawing, and photography, and her work has been displayed locally in Decatur's Second Street Gallery, Adrian Ford Gallery in Florence, and the Maralyn Wilson Gallery in Birmingham, to name a few. She has also had several shows at Frame Gallery of Athens, and has been their Artist of the Month. Her work has been featured as part of Panoply in Huntsville, AL, the Tennessee Valley Fiddlers' Convention in Athens, AL, and she has two pieces which are part of the permanent collection of local artists shown in the Huntsville Museum of Art. Reesa's work has also been covered in several newspapers and magazines such as The Huntsville Times, the Athens News Courier's quarterly publication known as Faith And Family, as well as Athens Now.
Reesa's work has touched my life personally. Her family property in West Limestone is replete with round limestone fossils that she has collected and made into all manner of "visual statements." The one she felt "had my name on it" is a piranha that is hiding behind some sea fronds. At first, I didn't know what to do with him, seeing as piranhas are not exactly known for being kind or humble, two qualities that are super important to me. Then I realized that this inarguably ugly piranha is the perfect reminder to devour the fears, victimization, bitterness, and junk in my life that try to stand in the way of MY purpose, even if it means chumming the waters of my soul! So, I named him Pete. Now, Pete ain't purty, but HE has a purpose, and I am grateful for Reesa's generosity.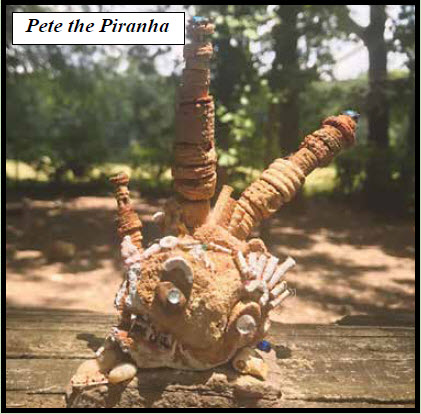 To celebrate Reesa's installation, Keith Montgomery of Vinyl Revival invites you to come and enjoy the life's work of a skilled artist, have some lemonade, and take the time to get acquainted with a remarkable collection of albums and memorabilia. The community is invited to come and enjoy meeting the artist. And, should you be interested in making any purchases, the prices range from one dollar to five hundred. See you there!
By: Ali Elizabeth Turner