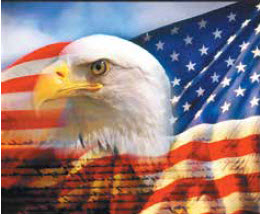 By: Sandra Erickson
The AMVETS Post 21 held their monthly Veterans Breakfast on Saturday, March 11, and it was a resounding success. More people attended than previously, with 133 meals served! It was great to see so many individuals come out to join us in supporting our veterans, first responders, and community. The breakfast is a great way to enjoy a great meal and fellowship and meet new people.
The breakfast included several delicious choices including biscuits and gravy, eggs to order or omelets, sausage, French toast, bacon, and more. AMVETS members and volunteers from Boy Scout Troop 7236 worked tirelessly to ensure that everyone had a hearty breakfast and a warm welcome.
AMVETS prides itself on serving the veterans in their commnity, and the monthly breakfast is just one way they fulfill their mission. The organization is always looking for new members and volunteers, and they encourage anyone interested in supporting our veterans to get involved.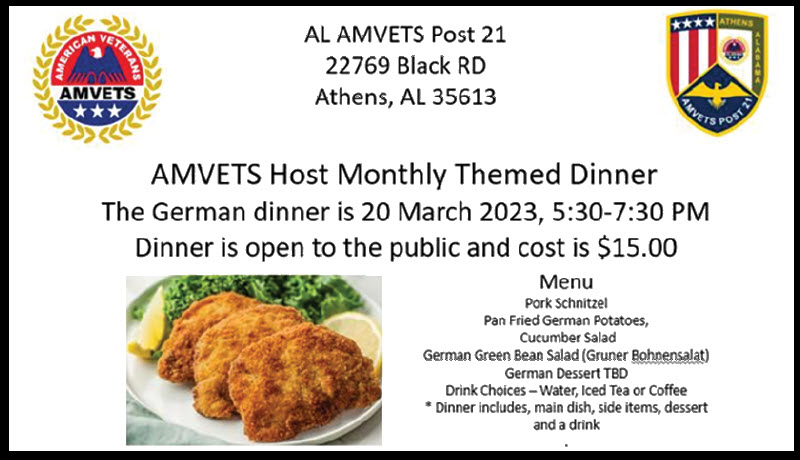 Please join us for the next monthly Veterans Breakfast on Saturday, April 8, 2023, from 7:30 a.m. – 9:30 a.m. at the AMVETS Post 21 located at 22769 Black Rd. Veterans and first responders eat free and we ask for an $8.00 donation from all others. The proceeds go to help meet the needs of our veterans and their families. Meals can be ordered for takeout. It's a fantastic deal!
You may also like join us at our next AMVETS Monthly Themed Dinner on March 20, 2023 from 5:30 p.m. – 7:30 p.m. This evening will feature delicious German favorites such as pork schnitzel, German potatoes, cucumber salad, German green bean salad, and more! We ask for $15.00 per meal. Well worth the deliciousness!
If you are a veteran and interested in joining AMVETS or have other questions, please contact us at amvetsalpost21@gmail.com or (256) 444-2793.
We look forward to seeing you at our next event!
By: Sandra Erickson