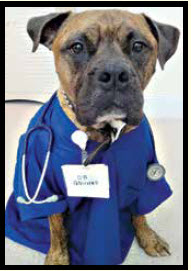 courtesy Brandpoint content
(BPT) – If you've always wanted an animal companion, or even if you already have a dog or cat but have room for more, now is the perfect time to adopt a pet. While there are plenty of good reasons to adopt a furry friend – from the joy they bring to the love and care you can provide them – there are even more urgent reasons to consider doing so now.
Shelters are in crisis
Many pet shelters are currently overcrowded due to the overwhelming number of pets in need. But contrary to some recent headlines, this increase is not due to higher numbers of relinquishment of pets adopted during the past year. Fortunately, most people who adopted animals during the pandemic are keeping their pets, but intake levels have still grown exponentially with shelters seeing near record level increase in adoptable pets in the past several weeks and months.
According to Petfinder, a searchable pet adoption resource and network of more than 11,000 shelters and rescue organizations, several factors have resulted in this influx of adoptable pets, including:
* Spaying and neutering efforts decreased. Due to the pandemic, many programs to spay and neuter animals came to a halt, leading to an influx of kittens and puppies in need of adoption.
* Natural disasters. A surge of increased need is also due to recent natural disasters such as fires, hurricanes and flooding. Animals who lost their homes and have been displaced need immediate care from shelters that are already overcrowded.
* Staff and volunteer shortage. The pandemic led to a dramatic decrease in available staff and volunteers. Shelters rely heavily on community volunteers, so staff turnover has made it harder to keep up with the increased intake.
* Shutdowns. Many shelters, especially smaller ones, have temporarily or permanently closed since the pandemic began due to the lack of funding and resources. This has also led to overcrowding at locations that have remained open.
Shelter overcrowding affects both humans and animals
For animals, an overcrowded shelter may mean a longer stay in an already stressful environment. The constant stimulation of nearby animals, along with extended confinement and less human contact due to staffing challenges at many shelters can take an emotional and developmental toll on pets waiting to find their forever families, Kittens and puppies in particular are less likely to get the socialization they need with humans to keep them happy, healthy and ready for adoption.
"Despite shelter staff doing all they can to create a welcoming environment for pets, longer stays at shelters can be detrimental to an animal's mental health," said Jessica Arnold, Manager of Petfinder Shelter Partner Engagement at Purina. "The shelter environment can be stressful for pets, and not all of them handle it well. So, the sooner they are adopted and taken out of that environment, the sooner they will acclimate to a new forever home."
Overcrowding at shelters can have an emotional and psychological impact on employees too. Shelter staff can experience burnout due to the stress of caring for animals during a crisis, which ultimately leads to an already high turnover rate (almost 100%) – and new staff may have an even harder time adjusting to the stress and urgent needs of pets in their care.
It's never been easier to find your perfect pet match
As the leading authority on pet nutrition, welfare and adoption, Purina and Petfinder encourage anyone interested in adopting to visit Petfinder.com or use the Petfinder app to connect with the largest network of shelters with adoptable pets. Recent Petfinder technology enhancements now make it even easier for shelters to upload pictures and bios of pets up for adoption, so people can find their ideal match online quickly and seamlessly.
If you're unsure of what pet is perfect for you and your lifestyle, you can take a 60-second quiz on Petfinder.com to help find your furry match.
In addition to adopting a pet, fostering or volunteering at a local shelter or pet rescue are also great ways to help pets and the people who are caring for them as they wait for loving homes. Adopting or fostering a pet impacts the pet you are bringing into your family and makes room for another lovable animal at the shelter. And volunteering not only supports shelter staff, it means more loving interactions, enrichment and attention for pets when they need it most.
Courtesy Brandpoint Content