By Ali Elizabeth Turner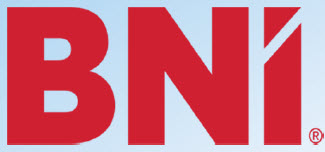 Every Tuesday morning, I happily roll out of bed and prepare for one of the best mornings of my week. This is because of my 7:30 a.m. BNI meeting which is held at our newly re-opened Veterans Museum at 114 Pryor Street in Athens. BNI stands for Business Networking International, and it is a global business building organization that has been around since 1986. It was started by Dr. Ivan Misner as a way of increasing revenue for his consulting firm through personal referrals, and last year, even with COVID wreaking havoc on the economy, the amount of business that was generated by BNI chapters around the globe reached 16.3 billion dollars. Yep, that is billion with a "B." And, during COVID, our tiny band was blessed to produce almost 1.5 million dollars of business for each other. That's million with a M.
Dr. Misner is quite transparent about the fact that one of the things that inspired him to design the format that now has 10,000 chapters and 275,000 members was his own distaste for having to do "cold calls." You can hear him exclaim on any number of BNI podcasts, "I HATED DOING COLD CALLS! That's why I started BNI!" To that outburst I can only say, "Amen!"
I was first invited to a Limestone Leaders BNI meeting in the dead of winter 2019 by my friend, Athens Now front cover bottom banner client Tracie Spain of Frame Gallery Off The Square. I was skeptical and largely went in order to be polite and keep our relationship strong. But here's the point: I trust Tracie, have done so for years, and I knew her to have integrity as well as a lot of business acumen.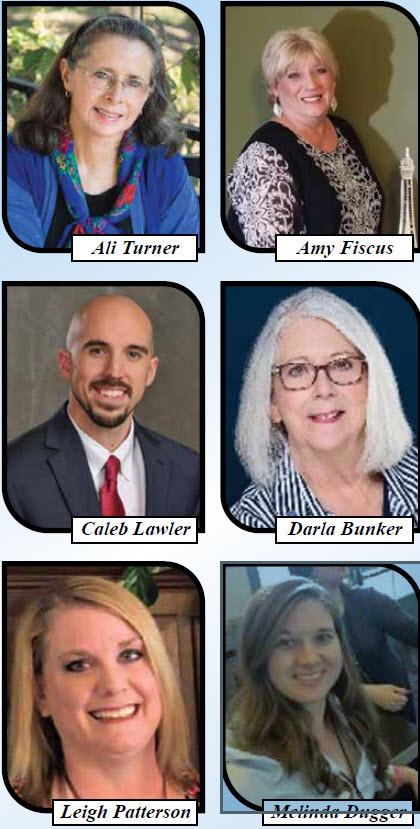 It took me a few visits before I took the plunge and applied, and even though it was in the lean post-holiday season that hits every year on January 2, I tell everyone that it was one of the best personal, business, and personal development decisions that I have ever made. BNI is built on the universal principle of "Givers Gain," which in our culture is most often recognized as "give and it shall be given unto you; pressed down, shaken together, and running over." It is important to realize that members understand that the only way that "Givers Gain" actually works is if you give without an agenda; if you give without trying to get something back, the results end up being quite remarkable. It can take a while, but once you have built relationships that are built on trust that are the result of your steadfast performance, your business will grow. As with almost all human organizations, you get out of BNI what you put in to it.
One of the unique features of the BNI organizational framework is that if you are, for example, a cabinet maker, then you alone hold that seat or chair. Anyone else who is in the same trade would need to join another chapter in the region or start their own. This ensures that the person holding that seat becomes the "I-have-a-guy/gal" person for that specific type of business, and it is not at all uncommon for people who get too much business to refer out to fellow BNI members that are technically competitors in other chapters. One other thing: BNI members have come to understand that being in BNI is a privilege. Potential members who wish to join are vetted as to their reputation in the community.
Now I am going to talk about our members so you can get to know them and their businesses, and I am also going to invite you to come check us out. We at Limestone Leaders have been described by the regional BNI leadership as being "small but mighty," and we are both looking to grow as well as help Limestone County entrepreneurs prosper in every regard.
Amy Fiscus,
Vollara
Amy is a highly successful network marketer and holds the health and wellness chair in our chapter. She has quite the product story as to how well the Vollara products have helped her, and her relentless focus during COVID was getting the Air and Surface Pro purification units into as many homes and businesses as possible. Vollara also offers Active Pure laundry and water purification systems, along with nutritional supplements, and Amy is passionate about protecting people's health.
Bella LaFontaine,
Crown Service of Alabama Pest Control
Bella is the youngest member of our BNI group, and she is wise beyond her years. It is so important to her that Crown Service's customers know that they are not just "a number" dealing with a big box outfit that she gives them her cell phone contact info. She is not happy until the job is done and done right by the techs, and her customers love her. So do we!

Brody Jackson,
State Farm Insurance (Property and Casualty seat)
Brody very nearly died in an auto accident that was caused by "the other guy." More to the point, Brody's demolished truck exploded seconds after he was helped out of it, and it was his dreadful experience with his insurance company that inspired him to make sure no one was ever treated as poorly as he was. We transferred all of our insurance accounts to him, and are forever glad we did. Brody also is our chapter's vice-president.
Caleb Lawler,
Financial Advisor with Edward Jones
Caleb is our chapter president, and prior to joining Edward Jones he spent his career in IT and developing software programs. His passion is to help people develop a financial plan that will serve them through every season of life, and I am astounded at his ability to make complex financial terms and concepts understandable for people such as I who have no experience in that realm. The education he has given me has been invaluable, and he never makes me feel anything other than utterly respected.
Darla Bunker,
Real Estate and
Property Management, Crye-Leike
Darla is our secretary/treasurer and mentor coordinator. In addition to that, she fills a need that doesn't often get met in the real estate world, and that is looking out for the needs of renters and property investors. She brings to the business over 40 years of construction project management admin experience. She is one of those people that is a straight shooter and she knows her stuff. I have watched how other people both in the real estate and construction business trust her, and I do, too.
Jason Santo,
Athens UPS Store
US Army 1st Sgt (Ret) Jason Santo spent his first career serving and protecting our country and our soldiers when they were wounded. When he retired after 20 years, he and his wife, Bridgette, wanted to purchase a franchise, and they chose UPS. He has printed things for our chapter, has shipped things for me to friends in New Zealand, and does it with professionalism, speed, and humor. He has a great crew to help him, and if I go to the shop and Jason isn't there, I am always treated like a family member.
Jim Farej,
Property Inspections, National Property Inspections
Jim spent over 25 years with his brothers in the construction business, and was also in Walgreens management for just about that same amount of time. He has been on both sides of the inspection process when it comes to construction and homes. He doesn't want anyone to find themselves facing a situation like a contract that binds them to a "money pit," and goes the extra mile to help his clients, whether they are buyers or sellers.
Leigh Patterson,
Non-Profit, Keep Athens-Limestone Beautiful
Leigh brings nearly a decade of experience working in a non-profit, meeting with officials, dealing with grants, volunteers and staff, and organizing events such as the Duck and Run 5K, the Wacky Quacky Ducky Derby, Earth Day, Trash Attacks, and Hazardous Waste Collection events. She also has spent countless hours in the classrooms of our local schools to teach them how to be good stewards of Alabama the Beautiful.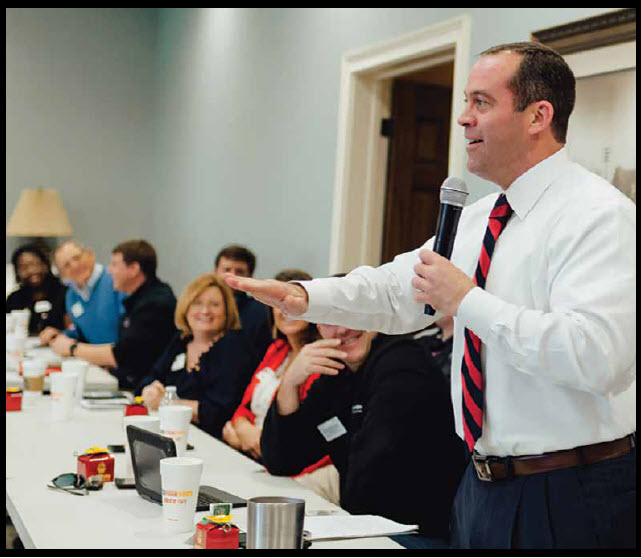 Melinda Dugger,
Dugger's Florist And Gifts
Melinda has been a florist for over ten years, and I have called upon her many times for arrangements large and small. Often my need for a bouquet has emerged at the last minute, and she has always stepped up and made it happen. Melinda chuckles when she talks about doing "doghouse flowers." Those are what someone brings with them when they want to apologize for messing something up. Several of our chapter members are grateful for her ability to create arrangements that can smooth ruffled feathers, do so beautifully, and shorten their doghouse visit.
Michael Muse,
River City Roofing Solutions
Michael and his brother Chris continually manifest a commitment to give the customer a roof that is going to last a long time and at a fair price. In particular, they are skilled in dealing with insurance companies, and they love to educate their clients. They use cutting edge computer technology that helps them more accurately estimate costs, and drones to give them a true bird's-eye view of the roof and problems that may have been more difficult to identify previously. River City's warranties are the best in the region and they stand by their work.
Randy McKinney,
Athens Athletics
Randy has owned his business for nearly 18 years, and if it can be silk-screened, sublimated, embroidered, engraved, or in any other way customized, he will do it. He has on more than one occasion done a fast turn on T-shirts, and many of our BNI members use Athens Athletics for their uniform embroidery needs. He also rents U-Haul trucks. One of the things for which Randy is most thankful when it comes to BNI is the chance to get better at public speaking by giving small weekly presentations. He is also quick to say that Limestone Leaders are like a family, and we all agree.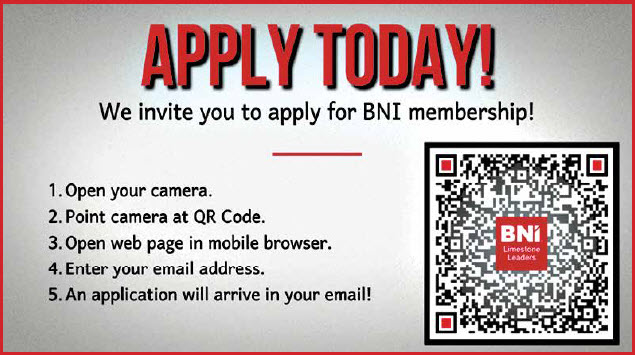 Robin Gerrish, Real Estate, Crye-Leike
Robin has been a high level producer and is largely involved in executive housing. That being said, she is just as committed to helping buyers and sellers whose budget is more moderate. Robin has a passion to help our first responders, women who are facing an unplanned pregnancy, and women who have been the victims of human trafficking. Robin also particularly loves helping our service men and women find the perfect home.
Teresa Hagood,
Residential Mortgage, Iberia Bank
Teresa is one of the first people I met when Steve and I moved here 21 years ago, and her knowledge of mortgages astounds me. Somehow she manages to stay abreast of all the lending programs, traps to avoid, how to qualify for a loan, and how to get the best rates. She is another one who loves to look out for both buyers and sellers, and I have seen her work miracles. Our first responders and military are safe in her care.
Tracie Spain,
Custom Framing, Frame Gallery Off The Square
Tracie is the one who made the way for my business life to completely change by introducing me to Limestone Leaders, and I am forever grateful. She is a careful and creative artisan whose work is all over my home, office, and has been given away as well-loved gifts. She is also a supporter of local artists and authors and has showcased their work in her shop.
If you are looking for a proven way to build your business, build your community, find friends, make money, and have fun while you are doing it, then click on the QR code today and apply. You may have just found who and what for which you have been looking, and you'll be welcomed all over the globe.
By: Ali Elizabeth Turner