By: Ali Elizabeth Turner
Recently, I became aware of a sobering statistic. According to Dr. Mark Virkler, small-business startups that have a chance to go through a "business incubator" type of launch training will succeed 8 out of 10 times. Businesses that do not, will fail 8 out of 10 times. Thankfully, in Athens, we have an abundant set of resources and training opportunities designed to "beat the odds" known as the LaunchBox. It is located at 121 S. Marion Street in Athens, which is also the site of the Center for Lifelong Learning that was started in 2012 as ASU's Continuing Education Center. The LaunchBox "launched" in the fall of 2022, right in the middle of a time of economic uncertainty caused by the pandemic, and during our current economic challenges, the "Box" has never been more important or needed. The purpose of this article is to get the word out as to the services and planned events from which entrepreneurs can benefit, and thus strengthen our community.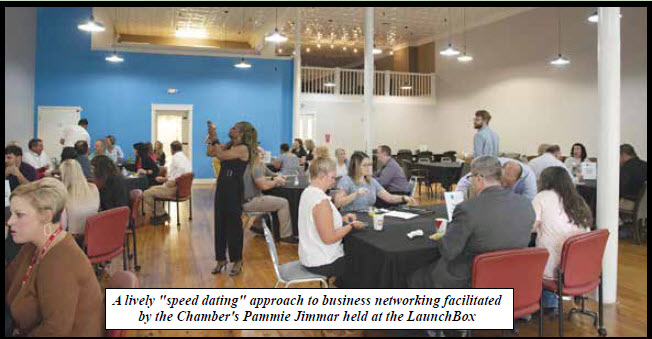 Below you will find descriptions of information and upcoming events taken from the LaunchBox website, which can be found at www.athenslaunchbox.com:
 Operated by Athens State University, the LaunchBox was established to develop a local, innovative "ecosystem" through collaboration, educational programming, and community engagement. The project is supported with funding from Athens State University, Appalachian Regional Commission, and the U.S. Department of Agriculture. The LaunchBox provides an imaginative environment for residents and professionals to explore their big ideas and connect with similar minded individuals. 
Start Up Limestone Virtual Incubator
May 18, 2023 
Audience: Early Entrepreneurs or aspiring entrepreneurs
10-week session
When: Thursday afternoons 5 p.m. – 8 p.m.
Session 1: Knowing Yourself
Session 2: Knowing Your Customers
Session 3: Finding the Right Solution
Session 4: Getting the Relationship Right
Session 5: Building Blocks
Session 6: Structures & Systems
Session 7: Discovering the Bottom Line
Session 8: Financial Modeling
Session 9: Planning For Growth
Session 10: Celebration – Graduation
Leadership Development Training For Business Owners
May 19, 2023
Leadership Development Training for Business Owners
Audience/Participants – Business Owners
10-week session
Introduction to Leadership
Financial Management and Business Acumen
Human Resource Management
Diversity and Inclusion
Effective Communication and Influencing Skills
Marketing and Customer Relationship Management
Introduction to Business Sales
And more!

Ignite Your Business Training
Many budding entrepreneurs understand the effort necessary to create a business, but they might not be familiar with the many steps required to launch a business venture. If you're willing to put in the effort to build a business, you're going to want to know the steps needed to reach your goals. Tasks like naming the business and creating a logo are obvious, but what about the less-heralded, equally important steps? Whether it's determining your business structure and accounting system, getting your business license, or crafting a detailed marketing strategy, the workload can quickly pile up. Rather than spinning your wheels and guessing at where to start, join us for an in-depth workshop with local subject matter experts to transform your business from a lightbulb above your head to a real entity.
Marketing Strategy – May 9 from 11:30 a.m. to 12:30 p.m.
Engage In Entrepreneurship
This event is also referred to as a "lunch and learn" and is free. However, you do need to provide your own lunch! I am planning on attending this one because even though I have been in business a while, I am painfully aware of the areas in which I need to grow, and am looking forward to face those challenges.
Begin building your idea. By attending our Engage in Entrepreneurship Workshops, you'll not only clarify your vision but grow your network of like-minded people, find support and resources to start or grow your business, and discover the importance of communicating your business effectively. Whether you are just starting or already established, this workshop works through our business model canvas and provides you the assistance and resources you need to be successful at any stage of the business life cycle.
May 23 from 11:30 a.m. – 1 p.m.
I have a deep desire to better serve my community both as a citizen as well as an entrepreneur, and the longer I am "after it," the more I realize that doing business honorably and well serves to make me and my city stronger. I also feel that it is my responsibility to "pay it forward" by "training it forward." I live in America where I am free to succeed, and I am free to fail. I'd rather succeed, and I know that the LaunchBox can help anyone who will take the opportunity to learn. As business, thought, and leadership expert John Maxwell says so well, "A leader is one who knows the way, goes the way, and shows the way." Let the LaunchBox help you do just that.
By: Ali Elizabeth Turner