By: Ali Elizabeth Turner
In September of 2021, Athens Now was pleased to showcase a collection of short stories written by pastor and coach, Tee Jackson. And now, he has several more that are varied as to topic, and all of them are easy to understand. The three latest are entitled When Our Time Comes, Access To Holy God, and Legacies Do Matter!
Tee has three loves: the King, the Kingdom, and the SEC, in that order. Of course, right in there with King and Kingdom is his family, and he will tell you he is a blessed man. Tee has taught and coached all over the Southeast, and has pastored there as well. He and Jackie also served as part of the patient support and visitation team at Athens Health and Rehabilitation, and Tee also pastored at Shanghai Baptist Church.
He has taught history, and has much to say about the power of mentoring and the influence we can have on generations to come. Tee has often expressed his gratitude for two people in his life who had a powerful, positive influence on him. One was a fellow who used to come to all of his Little League games when he was a boy, and was his most ardent cheerleader. The other was his fifth-grade teacher, Liza Lou Barnes, and she inspired him to become an educator as well as a coach.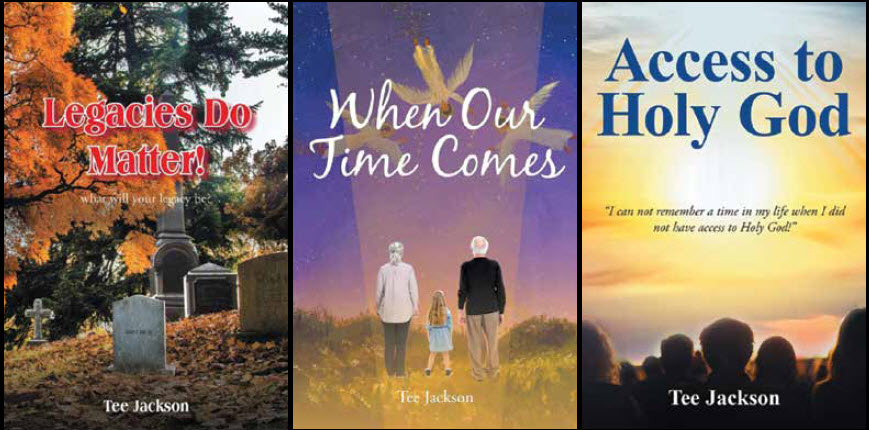 Here is what Tee has to say about his latest volumes:
Access To Holy God
The book can be used to help anyone both find God and develop a better and more consistent relationship with the Creator of the Universe. When you have a relationship with God, your access can be constant and instant. Tee has walked with God for almost all his life, and says with gratitude, "I cannot remember a time in my life when I did not have access to Holy God! Being a Christian is not a religion, it is a relationship. It is a daily walk. We are God's children, and he wants to commune with us."
When Our Time Comes
This book can be used as a guide, as a resource and as inspiration for those who are dealing with serious personal illness, dealing with the passing of a friend, a relative, or maybe just facing an uncertain future. The scripture references refer to everyone, though specifically refer to those who know Christ as their personal savior.
Legacies Do Matter! What Will Your Legacy Be?
Legacies Do Matter! is an inspiring book that shows how God is still at work in the lives of His people. The message is ideal for all ages and makes an affordable gift for anyone on any occasion. The book is an excellent resource to use for individual or group devotionals or studies. Each chapter of each book by this author will stir your mind and challenge your heart to grow closer in your walk with the Lord. It is the author's desire that you, the reader, will be both challenged and encouraged to grow closer to the Lord and experience His goodness.
One of the recurring themes in Tee's books is the need for, as well as the power of, perseverance. It is one of the greatest lacks in our culture as well as the church, and these volumes challenge gently to go the extra mile with others and yourself.
Each book is an expression of gratitude to God for the blessings in Tee's life, although he, like all other human beings, has had his share of hard times. He says that at the age of 72, as he has just finished his latest set of books, he can still feel the power and effect of his mother's prayers.

Jackie had grandparents who married at the age of 17 and were married for 81 years. When they had been married for 65 years, then 70, then 75, and then 80 years, they received official letters from the President of the United States that was in office at the time on White House stationery, and Grannie and Pawpaw lived to be close to 100. Tee says that one of their special gifts was to make every grandchild feel like "the favorite," and to this day, this loving couple is setting an example leaving a legacy. This is just a sample of the stories you will find in Tee's books, and you can find them online at Amazon and Christian Faith Publishing. They make great gifts, and are reasonably priced. Business owners and bosses may want to buy them for their employees to encourage them. No matter who you are, you are going to want to get several for yourself and others, and prepare to be edified!
By: Ali Elizabeth Turner