By: Ali Elizabeth Turner
Since 1986, the Greater Limestone County Chamber of Commerce as well as local merchants have been the sponsors of an annual Christmas Open House to kick off the holiday shopping season. I spoke with Pammie Jimmar, the new president of our Chamber of Commerce, and it just so happens that Christmas is her favorite season of the year. She is excited about this event, "The annual Christmas Open House is a staple community holiday event that highlights many of our local businesses and offers a number of festive seasonal activities from ice skating to caroling and many more. We look forward to seeing you on the Square," said Pammie. The theme this year is "I'll Be Home for Christmas," which is a throwback to a popular Christmas carol written during World War II. The most moving line is, "I'll be home for Christmas…if only in my dreams," and inspires one to take a moment to give thanks for the ones who gave everything and went without Christmas so that we could still be free to celebrate Christmas 80 years later. The 2021 Christmas Open House will be from Friday night, November 19 until Sunday afternoon, November 21.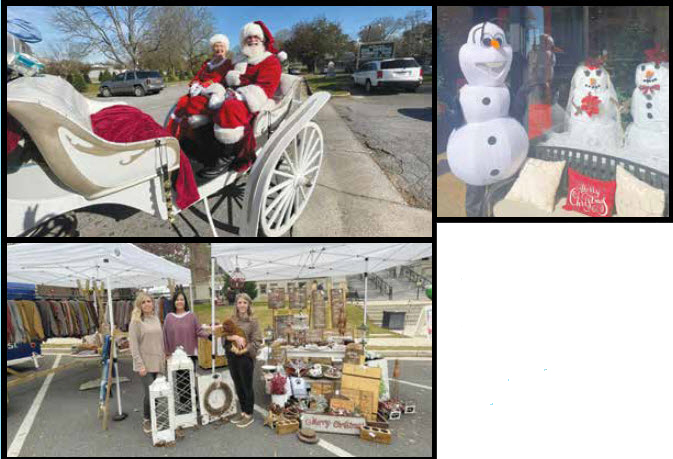 Here is a lineup of what will be available for you and your family to experience at the Open House, and the hope of all is that this will set the stage for your best Christmas, ever.
Window-decorating judging of the "I'll Be Home for Christmas" theme will be Friday evening, and once again you will be given the opportunity to cast a vote for your favorite window decoration
New this year — Athens Main Street Merchant Alley Stroll Tree Lighting at 5:30 p.m. on Friday, November 19
Ice skating will be available once again on the east side of the Courthouse on Saturday, and Sunday, Nov 20-21 from 12-4 .pm. Cost is $5 per skater
New location for Santa's Workshop is Dream Key Realty, 121 N. Jefferson Street – Photos with Santa from 11 a.m.-3 p.m.
The Merry Market vendors will be arranged on Marion Street, with shopping hours Friday 4 -8 p.m., Saturday 11 a.m.-8 p.m., and Sunday 12-4 p.m. This is an opportunity for vendors with home-based businesses as well as artisans and crafters to sell their wares. You can get more information as well as register at the Chamber of Commerce office at 101 South Beaty Street, Athens, AL 35611. Cost: $125 and for Chamber members $75
Entertainment will be provided by Oasis Worship Center and several more musical groups on Friday and Saturday.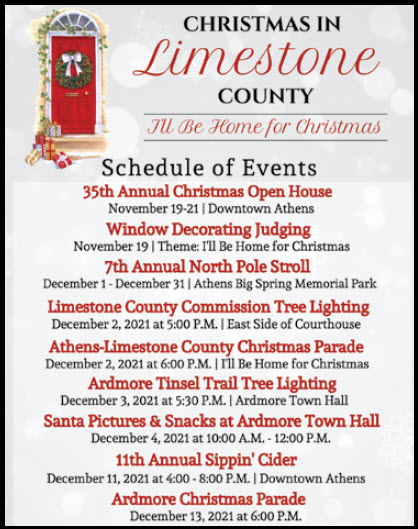 After the weekend of Christmas Open House in Athens, the rest of the county will have a number of opportunities to celebrate. Churches will have Christmas concerts and nativity pageants. Some churches gather up members in their buses and they go out to sing to people. Check the Facebook pages of Athens-Limestone County churches to see what they are doing to remember the "reason for the season" and join them!
More Christmas in Limestone County events include:
The 7th Annual North Pole Stroll in Big Spring Memorial Park from December 1-December 31
Limestone County Commission Tree Lighting- Thursday, December 2 at 5 p.m.
The Athens-Limestone County Christmas Parade, Thursday, December 2 at 6 p.m.
The Ardmore Tinsel Trail Tree Lighting December 3 at 5:30 p.m. at the Ardmore Town Hall
Pictures with Santa and snacks at the Ardmore Town Hall on Saturday, December from 10 a.m.-noon
The 11th Annual Sippin' Cider contest will be held in Downtown Athens on December 11 from 4-8 p.m.
The City of Ardmore's Christmas parade is Monday, December 13 at 6 p.m.
Come join the Chamber and the merchants of Athens on the weekend of November 19-21 and start off your holiday in an atmosphere that is cozy, safe, friendly, and relaxed. And don't stop there, let's enjoy ALL the festivities wherever they are held throughout the month of December!
For more information, please call the Chamber at 256-232-2600, or email them at info@tourathens.com
By: Ali Elizabeth Turner