By: Ali Elizabeth Turner
Coming up on May 6, the 2nd Annual ELHS Marching Band Car Show is going to be held at the high school parking lot from 10 a.m. to 2 p.m. The purpose of the car show is to raise money for the band to purchase instruments, uniforms, and to help fund band camps and trips.
I spoke with Amanda Smith, a true "band mom" who is also a graduate of East Limestone. She has two children, one who has graduated from both ELHS as well as the University of Alabama, and another who is still in the band. Amanda is passionate about the band because of the benefits she has seen in her kids' lives that go far beyond music.

In 2017, Amanda, along with the rest of the band had to deal with what has become known as "The Great Band Theft" when the trailer containing EVERYTHING band-related was stolen, and through a team effort was found with the help of social media. Blake Williams of Blake Williams Communications was one of the ones who manned the social media post, and through a series of what many think are miracles, the trailer was found. All that was missing was the generator and the medical bag. Every piece of equipment remained unscathed. "While the trailer was missing, people called in from all over to donate instruments or to purchase them," Amanda told me. She went on to say that the whole band was ready to march and compete by playing kazoos, which thankfully was never necessary. The trailer has since had the back painted with "I Once Was Lost, But Now I'm Found…" It is a happy story that has become part of the band's culture.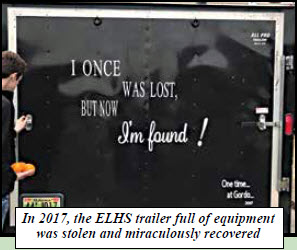 Speaking of culture, it is the "band family" atmosphere coupled with parental support, student commitment, and strict requirements that have made the ELHS band so successful. Under the direction of Mark McChristian, along with Michelle Priest and Jennifer "Ms. Sam" Janzen, the band has flourished and has won many awards.
Here is an example of their operational philosophy:
The ELHS Marching Band program grows not only strong musicians, but just as importantly, capable student leaders. As your student progresses through the band program, they will grow into leadership positions. Students assist in conducting music, managing uniforms, equipment, serving as section or band leaders, working fundraisers and events. Students learn to take responsibility for all operational aspects of the band. We ask a lot of your student, and the results are amazing! Our band is above all else, a family. Your student will hopefully be part of the band through graduation. The friendships and shared experiences gathered through these years will undoubtedly last far beyond graduation. Our students excel musically and academically. Many band students are in the Beta Club (honor society), routinely appear on honor rolls, hold leadership positions in school and church groups, and participate in sports and cheerleading.
The behavior of band members is to be above reproach, they are expected to help with fundraising, and if you mess up, guess what? You get to be on garbage duty! I found it refreshing to know that there is a crew that understands that belonging is a privilege, and that a fierce, loving tribe can be formed when expectations are high, fun is to be had, and grace is abundant.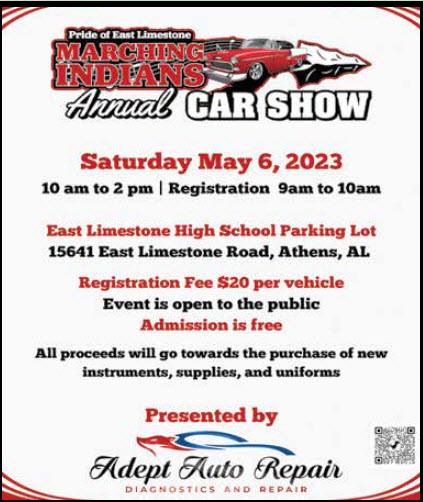 Amanda also pointed out to me that ELHS has a leadership program that has been developed over the years which has contributed greatly to their success as a band family. Below is a taste of how that works:
Our students are empowered to lead out of necessity and their proven capabilities. With so many band students, it is essential that we have strong student leaders. These leaders include drum majors, section leaders, and students who have stepped-up and accepted responsibilities. Our student band leadership is unique from other bands in our area and each year our students prove this approach works. Student leader positions are earned and carried out with pride. You will see student leaders directing music, organizing students, equipment and uniforms, and instructing. Younger students are welcomed into the band by older students in their sections and taught the ropes. This culture of helping each other and leading by example, strengthens our band family. Leadership meets during and after school as needed. Parents, we appreciate your support and encouragement of these student leaders.
For the car show, the Best In Show is going to be judged by the kids. There is a $20 fee to register your car, and the show will go on, rain or shine. There will also be concessions available, whose proceeds will also go to the fundraising event. One of the new features this year is called the "Room Service" ticket. You can have food delivered to your car by student waiters, and even tips will all go in the "bedazzled tip jar" to help band dreams come true. Biscuits will be available starting at 9 a.m., and for lunch there will be hamburgers and hot dogs, along with drinks and snacks.
It was important to Amanda that people understand just how hard the band kids work, not just musically, but for their band family, and thus, the whole community. "Each student is expected to participate in a spring fundraiser. We aren't selling items, so they have to put in the work. Working the fundraisers is a learning experience about hard work and earning what you work for," she said.
The top 20 cars will receive a plaque, and any category of car or truck is welcome. So, if you are a car fan, a show car owner, a band fan, or just someone who loves this community, be sure to save some time on Saturday, May 6 and come on out to the ELHS Marching Band Car Show. It is for a worthy cause, and you are sure to enjoy the cars and the kids! Admission is free.
 By: Ali Elizabeth Turner