By: Ali Elizabeth Turner
For the third year in a row, the people of Athens-Limestone County are going to have the opportunity to come together and safely rid their homes and property of all manner of items which, if not disposed of properly, can hurt people, plants, and pets. In fact, it was the harming of three-week-old kittens that prompted the return of the Household Hazardous Waste (HHW) collection event in 2020, after a hiatus of 12 years.
The incident that occurred in the summer of 2019 brought awareness to the problem of there being no proper way to dispose of HHW materials in Limestone County.
Keri Chalmers, avid cat lover and assistant manager at the Athens-Limestone Recycling Center, received a call from someone letting her know that a mother cat and four very tiny kittens were injured when someone dumped oil-based paint and lacquer thinner down a storm drain. The mother was using the storm drain as a refuge for her new family. Keri took in three of the kittens in an attempt to save them. The fourth kitten was never found.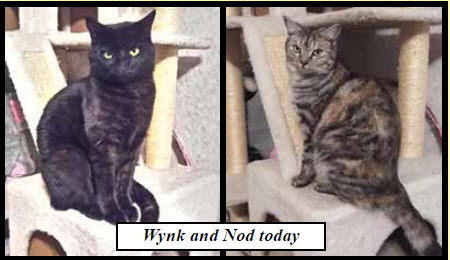 Keri named them Wynken, Blynken, and Nod from a well-known children's poem. Sadly, Blynken could not be saved and died in Keri's arms within 48 hours of the incident. Wynken, or Wynk as she is affectionately called, was in bad shape and became the "poster child" for the seriousness of a lack of proper disposal options for these chemicals. Today Wynk and Nod are thriving, as is the intention of KALB to make household hazardous waste disposal something that can eventually become ongoing.
For now, we are "celebrating victory" over household hazardous waste on one day, March 19, through the help of Huntsville's solid waste disposal authority, (SWDA) Clean Harbors Waste Disposal Services, the Solid Waste Authority of Limestone County, the Limestone County Commission, the City of Athens, and the hard work of volunteers. Incidentally, volunteers are still needed, and there will be breakfast and lunch provided for all who help. What has always struck me is the joy of those who help and how positive and patient they are with those who bring stuff to dispose.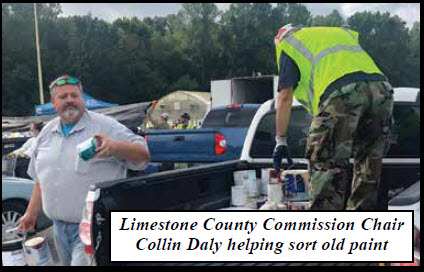 I spoke with Leigh Patterson, the Executive Director of Keep Athens-Limestone Beautiful, who emphasized the fact that all of this is about being good stewards of what we have been given. In addition, she mentioned something I found most thought provoking: "If people have a sense of responsibility, then they can have SOME sense of control in an unsettling time."
The first year, 2020, was smack dab in the middle of the unknowns of COVID, and there were almost 500 cars that showed up. In 2021, in the midst of pouring down rain, nearly 300 cars came, armed with all manner of approved things of which to dispose safely. This year Leigh is hoping for even more.
Everyone is always wanting to know what is and is not allowed, and here is the breakdown:
MATERIALS ACCEPTED
Paint and related products such as oil or water-based paints, mineral spirits, turpentine and thinners, furniture strippers, paint removers, stains, aerosols.
Automotive products such as transmission fluid, brake fluid, anti-freeze (motor oil should be taken to the Athens-Limestone Recycling Center on Lucas Ferry Rd. for recycling).
Household cleaners such as oven cleaners, toilet cleaners, disinfectants, drain cleaners, rug and upholstery cleaners, floor and furniture polishes, ammonia or bleach-based products.
Household chemicals such as acids, pool chemicals, solvents, mercury thermometers and thermostats, fluorescent lights.
MATERIALS NOT ACCEPTED
Explosives
Radioactive or biological waste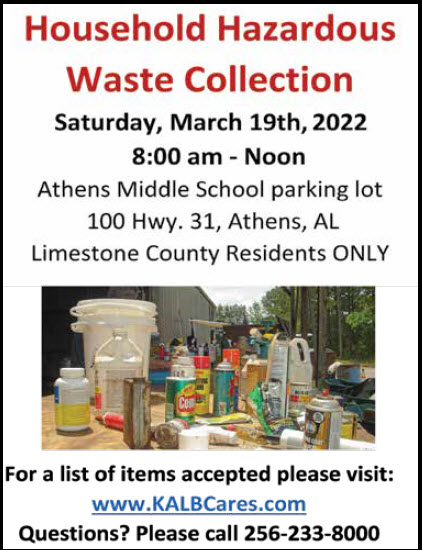 Here are a few more guidelines:
If you are bringing tube lights, they CANNOT be broken. The "bulb eater" is designed to capture the mercury and then it will be disposed of safely. Prescription medications, both liquid and solid are accepted. Incidentally, the Athens Police Department receives medications (in pill form) for disposal all year round, so you don't have to wait for the HHW event. If the containers are damaged, please put them in a box that has been lined with two garbage bags or in a container with a lid. If your household wastes are leaking, put the box or container in cat litter, sawdust, or other similar absorbent materials for transport.
If you are unsure about something you have, give KALB a call at 256-233-8000 and they will get an answer for you.
The 2022 HHW collection event will be held on Saturday, March 19  from 8 a.m.- noon at the Athens Middle School parking lot, 100 Hwy 31, Athens, AL, and is open to Limestone County residents ONLY. For more information, or to volunteer, please call KALB or email KALBCares@gmail.com. Come and celebrate the chance to be a better steward of all we have been given in Alabama the Beautiful!
By: Ali Elizabeth Turner