By: Ali Elizabeth Turner
The year 2020 was many things, if not disruptive to what we have come to think of as normal life. One of the local "casualties" was the Tennessee Valley Old Time Fiddlers Convention, an event that has garnered a national reputation, and for more than a half-century has been a major part of our festival season in Athens-Limestone County. Well, we are happy to report that the Convention is on, and it is going to be great!
The Fiddlers Convention will be held from September 30-October 2, 2021 back on the campus of Athens State University. Chris Latham, the Director of Marketing & Communications at Athens State University, assured me that there will be hand sanitizing stations available, and they are confident that with this being an outdoor event being held in a month from now, we will have made significant progress through our current COVID capers.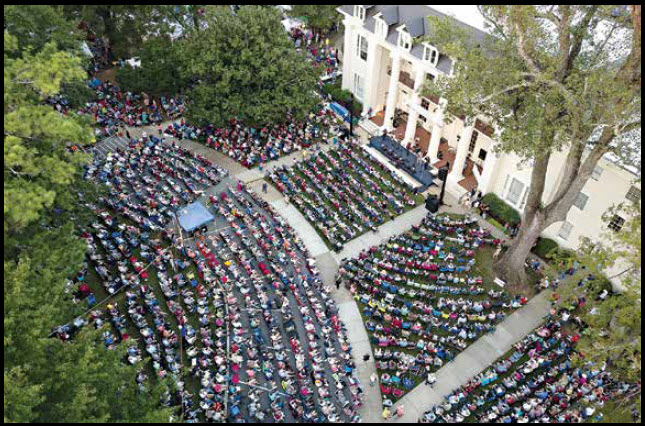 Chris told me, "One of the exciting things about this year's Convention is that for the first time since 2018, there will actually be a Fiddle Champ." In 2019 the finals were rained out, so no winner was crowned, and then last year there was no event due to the COVID pandemic. The upside of having to wait for 2021 is that the amount of prize money is significantly greater. There is a total of $19,425, and the Top Fiddler will get $1800. There are 14 categories of winners, and the purse will be distributed in full. Chris also mentioned that the performers, both professional and amateur, are glad to be back at it. In addition to the $19,425, Bank Independent will be donating $500 on Thursday night, $1,000 on Friday night, and $1,000 on Saturday night as cash giveaways to Convention attendees (you must be present to win).
Thursday night is free and open to the public. Volume Five will play at 7 p.m. on the Alabama Farmers Cooperative Main Stage at Founders Hall. Additionally, entertainment will include performances by Jimmy Fortune on Friday night at 5 p.m., and Dailey & Vincent at 6 p.m. Then on Saturday it will be Doyle Lawson and Quicksilver at 5 p.m. There will be woven throughout the Convention several types of contests, including Buck Dancing, Junior Fiddler, Senior Fiddler, Intermediate Fiddler, Classic Old Time Fiddler, Old Time Band, Bluegrass Band, and the Fiddle Off. There are also contests for specific instruments such as mandolin, bluegrass banjo, dobro, dulcimer, harmonica, as well as old time singing.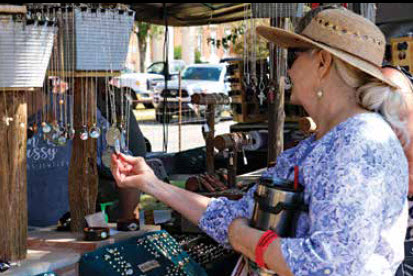 One of the best parts of the Convention is winding your way around the Athens State University campus and watching as people who have never met before make wonderful music together by the hour. The youngsters love the oldsters, the oldsters love the youngsters, and the sensitivity, encouragement and skill possessed by all is a joy to behold and hear.
This year the vendor tables are back, and the artisan wares are as varied as are the attendees. Chris Latham wanted people to know that as of this print date there were a few slots left for vendors, and there will also be food trucks on hand for attendees to patronize.
New this year will be a music store that will be held in Sandridge Ballroom. It will be named in honor of Jerry McGlocklin, who for years displayed his instruments outside, and I can say they were works of art and reasonably priced as well. For the music store, there will be room inside Sandridge for 18 vendors, so if you are looking at a custom-made instrument or would like to be a vendor, contact Chris Latham at chris.latham@athens.edu for availability both at the Jerry McGlocklin store as well as the outdoor tables.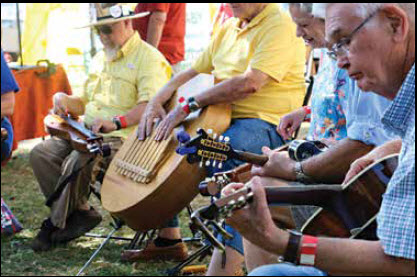 Unique to the 2021 celebration will be the presentation on Saturday of a beautiful plaque from the Country Music Hall of Fame gifted by Debby Delmore (youngest daughter of Alton Delmore) in honor of the Delmore Brothers and their contribution to the art and practice of old-time music. At 3 p.m., Mike Compton and Andy Todd will be performing music made famous by the Delmore Brothers in McCandless Hall, and there is no additional charge for the concert. While you're there, be sure to check out the Delmore Brothers Museum, which is located on the ground floor of the NE corner of McCandless Hall.
Chris wanted people to remember the purpose of the Tennessee Valley Old Time Fiddlers Convention, and that is to build community, make and enjoy music, and to help students in their educational pursuits through scholarships. All in all, the 2021 Fiddlers Convention is going to be worth the wait, and we know that it will be well attended. For more information or to get tickets, go to www.tvotfc.org. See you there!
By: Ali Elizabeth Turner