This is the 15th year that a hard-working group of Athenians hopefully will be able to make it possible for kids and adults to experience the nearly lost art of storytelling. And, for the second year in a row, the event is going to be largely online, with a few very limited live appearances.
Adapting to challenging situations is something to which we have become accustomed in this past year, and the 'Tellers were so desirous of continuing the tradition of coming to Athens each October that last year they did the festival online through Facebook. COVID just wasn't going to stop them. And while I am deeply appreciative of their commitment to our town and our kids, I know that there is nothing like having them under the big red and white tent. For my part, the best thing is watching the students manage to both sit still enough to listen and simultaneously squeal with laughter. They don't know that they are being taught life lessons that, if applied, can make a huge difference in their lives. But, for reasons beyond the festival committee's control, the tent was available, but there was no crew to set it up and take it down. There was a tent available in Atlanta, but they wanted $20,000 dollars, which was way out of the budget. So, rest assured a tent and crew have been procured for NEXT year, and for 2021, it will be much like last year.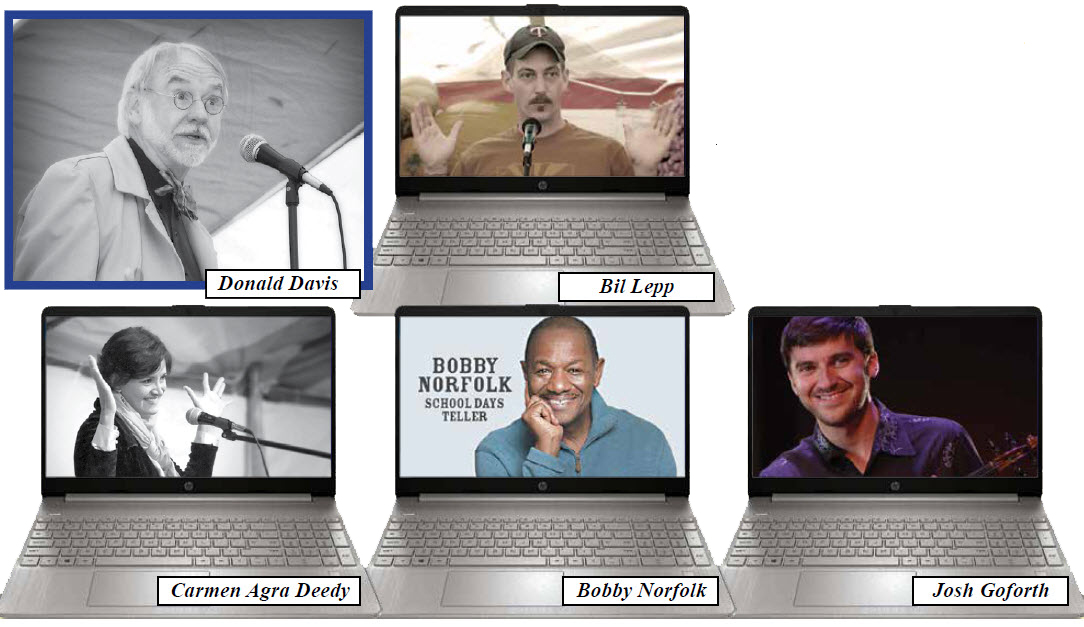 Here is what we know for sure:
The grand old man himself, Donald Davis will be on hand for a very small event that will involve local student tellers. At 6 p.m., Wednesday night October 20, Mr. Davis will be teaching them the art of storytelling at the Tourism office, and will also be selecting two student winners to tell the next night.  Donald is also going to tell stories on Thursday night, October 21 at a fundraising dinner to be held at Emmanuel Baptist Church. Doors open at 5:30 p.m. The event is being sponsored by Dream Key Realty, and is going to be called, "Dinner With Donald." The cost of tickets for a single person is $75, and $40 of that is tax deductible, and the cost of two tickets is $125, $55 of which is deductible. The meal will be catered by Sweetest Things, and is bound to be tasty. Your dinner ticket will also give you unlimited access to the online event, and the online event will be available after the festival is over for all ticket holders to view for a limited time. Donald found that last year telling stories with no one in the room was just not something that he wanted to repeat, and I have heard the same complaint from people who have "spoken" at online business conferences. Without people in the room, and being able to gauge the responses, it just feels dead and strange. We are so glad he will be able to be here in the flesh!
Carmen Agra Deedy will be on hand for a special livestream performance that is going to function as this year's School Days. The audio-visual details are being worked out, and participating schools will treat this much like an assembly, with Carmen telling from a screen and kids out in the audience. Besides being an amazing storyteller, Carmen is an award-winning children's author.
Bil Lepp will be returning to the online event, and is slated to start his second year with his own show on the History Channel. It is entitled Man Vs History, and Bil digs deep to find out the truth about many of the legends about America that have been passed down for centuries, such as whether or not Ben Franklin discovered electricity in a storm with a kite and a key. For us, he'll just be tellin' tales.
Madison County, AL, native Josh Goforth will be back to perform musically as well as a teller. Simon Brooks, who hails from the UK will be a part.
Most recently, Bobby Norfolk has indicated that he is going to be available for the online event. Bobby is an Emmy Award winning teller and TV personality, and I had the great pleasure of sitting "criss-cross apple sauce" on the library floor at Johnson Elementary School watching him tell stories old and new to mesmerized kids. Bobby especially has a remarkable repertoire of sound effects.
Tickets are going to be available on the Athens Storytelling Facebook site, at the festival website www.athensstorytellingfestival.com, or tickets can also be purchased at the Tourism Office located at 100 N Beaty St, Athens, AL 35611.
It is very important that you keep checking the festival site as well as Facebook so that you can get the latest information and updates. Yes, it is yet another year where we have been thrown some curves, but Storytelling is still on…line! Next year will be even better, and what a family reunion we shall have!
By: Ali Elizabeth Turner