By: Ali Elizabeth Turner
Over 17 years ago, a group of folks from Athens gathered up and headed out to the National Storytelling Festival held each year in Jonesboro, TN, and had such a good time that they decided to start a festival for Athens-Limestone County. Blood, sweat, tears, COVID, and supply-chain issues with a tent have tried to "trample on Tellers," but this has solidly become one of the best parts of our Athens Festival Season.
We are happy to report that the 17th Annual Athens Storytelling Festival will be held once again under the big tent on the campus of Athens State University, and the dates are October 24-28.
This year there are some new faces as well as the ones that over the years have made Storytelling Festival feel like a family reunion. Leading the charge as always is the venerable Donald Davis, who is the elder statesman of the group. Donald grew up in Appalachia, where stories have always had their rightful place in shaping the culture. He spent 25 years as a Methodist minister, would use stories in his sermons (just like Jesus did!), and has earned the highest awards in the National Storytelling world.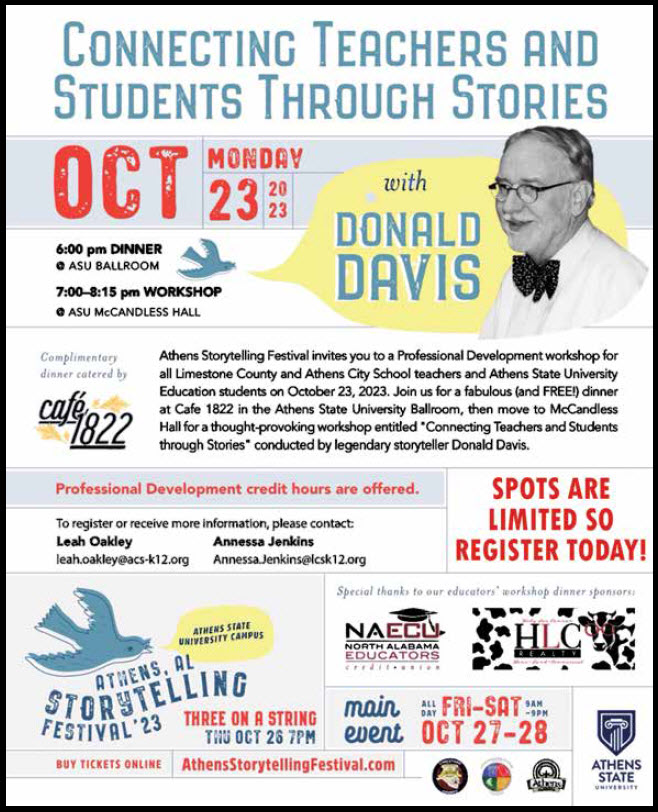 Donald is giving a true gift to the teachers of our area in that he is hosting a Monday night event that will equip educators to better use stories in the classroom. If you are a teacher in either the Athens Public Schools or the Limestone County Schools, you owe it to your own professional development (for which you will get official PD credit), as well as to the kids, to "sit at the feet of the master." There will be a free supper as well, and the whole shebang will be in Sandridge Hall on the ASU campus. For more information, contact Leah Oakley at leah.oakley@acs-k12.org. If you are a teacher of any grade level, or, if you are an education major attending Athens State University, this is going to be well worth your time. You need to hurry, though, because space is limited and they need a headcount ASAP.
Storytelling Festival veteran Bil Lepp (yes, that's Bil with only one "l") is back again, and his specialty is finding humor in just about anything. He has published six books for children, several audio collections, and his family-friendly fare has even been heard on the stage at Comedy Central in Los Angeles. He has awards as long as your arm (well that may be an exaggeration, but still…) along with Josh Goforth, who is originally from "next door" in Madison County. Josh knows his way well around about 10 instruments, is multi-award winning, and is one mean fiddle player in addition to being a 'teller.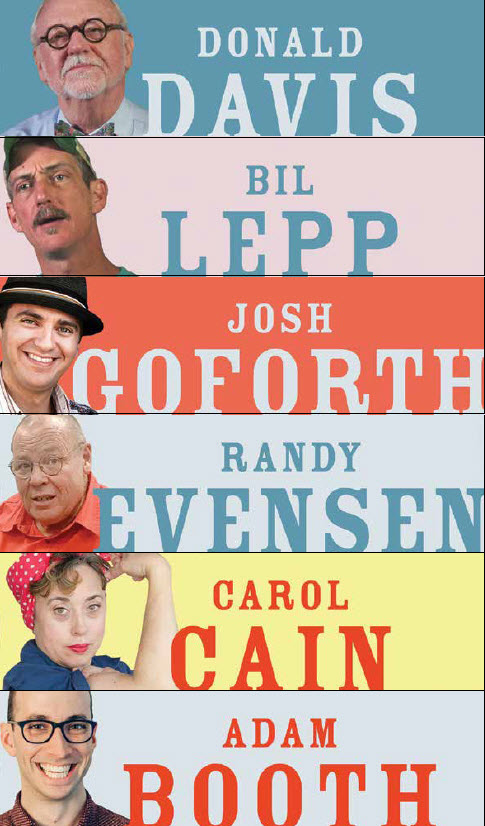 Carol Cain is going to do her signature "Rosie the Riveter" sketch, complete with polka-dotted bandana and denim work clothes. Carol has been doing the "Rosie" piece for the past 28 years at the Little White House in Warm Springs, Georgia, and elsewhere. Carol is featured on Donald Davis's video workshop on storytelling, which was broadcast by BYU as well as on Georgia Public Television.
Randy Evensen will be back, and is glad of it. He spent 35 years teaching first and second graders and for the last eight years has told stories in the Utah County public school system. Randy has been a part of several festivals, but his favorite venue is being around the campfire telling stories to his grandkids.
Adam Booth is a traditional musician as well as a storyteller with a career that has taken him all over the U.S. and to Banff, Alberta, Canada. He was voted the 2022 West Virginia Folk Artist of the Year, and will be 'telling three times on Friday as well as two times on Saturday.

Three on a String, who have (finally and deservingly) been inducted into the Country Music Hall of Fame, will perform on Thursday night. In addition, at that performance, the finalists from among the student tellers will tell their tales, and a winner will be chosen. In 2021, Three on a String celebrated their fifty years together as a group, and hail from Alabama the Beautiful. They have been with us many times, and we are "pleased as punch" that they are back.
And, now for the School Days portion of Storytelling Festival, which will be held Monday through Thursday, and headed up by British 'teller Simon Brooks. Simon started telling in 1991, and has been in the States since 2003. He brings rich British and Welsh lore to his tales, and has performed extensively here and across the pond. He is someone who provides all of his own sound effects, all of his own voices, and has unending energy — perfect for kids.
School Days is near and dear to the hearts of the 'tellers, because we are the only festival in the country that sees to it that school kids of every type and stripe get to attend for free. We thank our state legislators — State Senators Tim Melson, Tom Butler, Arthur Orr, and our State Representatives Danny Crawford, Ben Harrison, Andy Whitt, Phillip Rigsby and Larry Stutts for making this possible. For me, watching the students shriek with delight and being captivated the whole time they are under the tent is the best part of the week.
Whatever you do, take some time to, as the 'tellers put it so well, "laugh 'til you cry and cry 'til you laugh" by attending the 17th Annual Athens Storytelling Festival. It will be good for every part of you and yours.
For tickets and more information, go to www.athensstorytellingfestival.com.
 By: Ali Elizabeth Turner