By: Ali Elizabeth Turner
For over one hundred years, the Dobb's Shoe Shop at 110 Market Street in Athens cobbled the shoes of Athenians. Then, that era came to an end and the building became available for sale during COVID. Athens natives Will and Sara Ogles felt prayerfully that they were to get it and repurpose it as an art studio as well as a private office place for their jobs in software development. They wanted to give an opportunity for the people of Athens-Limestone County and beyond to discover for themselves the peace and positivity that can be experienced through what Sara calls "functional art," art which is meant to be used and loved.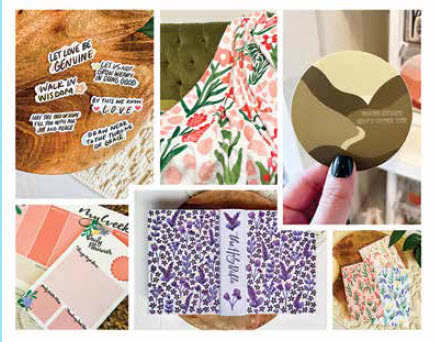 As is the case with all great art and music, usually the creator goes through some version of what is classically referred to as "the dark night of the soul," and that was certainly the case for Sara. "I went through a dark spot in 2019, quit my job, and took eight weeks to create something every day. It helped me through," she said.
I should say at this point that both Will and Sara are people of strong faith and attend Central Church of Christ. But believers, just like anyone else, can be hit with depression for any number of reasons (just read the Psalms) and no one is immune. It has been proven that enjoying art, God's creation, being creative, and caring for others all can be part of the way through, which Sara discovered. And in addition, she has by grace beautifully turned her pain into purpose. Her "darkest time" painting is right there on the wall, juxtaposed with one of the other things for which she is well known, which includes watercolors of local historical buildings as well as private residences, along with giclées (a printing technique developed in the late '80s using high-quality inkjet) of places like Samford Hall at Auburn University. That watercolor is officially licensed by Auburn University.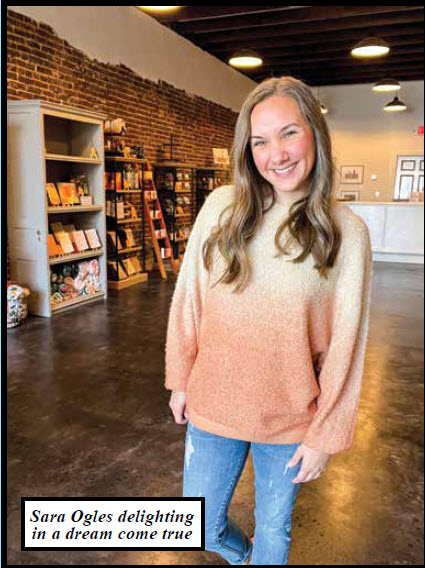 Getting the Dobb's building into shape was a huge undertaking, and now it showcases the charm of the old brick that was under the plaster and blends it with modern amenities. The original ceiling beams are exposed, and they were able to keep the well-used outside door while installing new windows facing the street. They put in new wiring, plumbing, a slab floor, HVAC system, and a roof. The result is a comfortable, airy room that serves as the perfect location to be creative as an artist as well as thrive as entrepreneurs.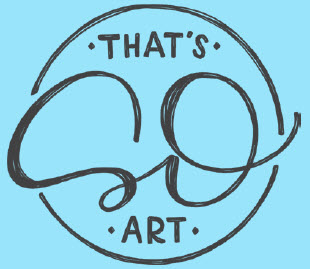 Will graduated from Athens Bible School in 2003, and Sara from Athens High School in 2004. They were married in 2005 and have two children. Sara studied graphic design at the Savannah College of Art and Design. Will heads up a software team, and Sara describes him as "having a fire that burns to help people." In addition to the studio, Sara works for Jonathan Barksdale and Untether, LLC here in Athens. For now, That's SO Art is only open on Fridays, but people are welcome to shop online and arrange for local pickup during the week.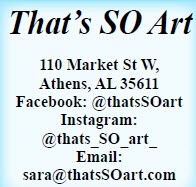 Sara especially enjoys making patterns, and has parlayed them into everything from stickers to stationery to Sherpa blankets. She has produced notepads, journals, lanyards, lined notebooks, zippered pouches, and also has a cabinet of her favorite art supplies that are for sale. "It saves a trip to Madison, and I like to teach people why these are my favorites," she said.
When Sara was in her time of "therapeutic creativity," she taught herself how to do modern calligraphy, and has several faith-based barnwood pieces of wall art for sale. However, her current creative love is taking Bibles and customizing the exterior with a hand painted pattern or scene. She applies several coats of what is called gouache, a type of paint that sits somewhere between soft-bodied acrylic and watercolor. She lets it dry and then creates the scene or pattern. She also has a table with several of her creations from which to choose. "Sometimes I spend all day on just one," she told me, and has the joy of making it possible for someone to own an original piece of artwork while having their own Bible; any way you look at it, these are heirlooms. Sara has a solid following on Tik-Tok, and has been shipping items across the country since 2020.
Sara also will open the shop for a private shopping opportunity by request. That's SO Art participates with Athens Main Street for the Fridays After 5 events, and the regular store hours are Fridays from 10-5. Stop by and enjoy an approach to creativity and life that will nourish your soul along with your artistic senses. It is truly "art you can use."
By: Ali Elizabeth Turner