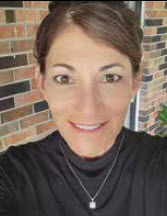 By: Tina Morrison
The Athens Limestone Tourism office has been diligently working for years to not only bring visitors and residents to Limestone County but to improve their quality of life. By hosting fun, family-friendly events which spotlight the many benefits of living in a small Southern town, we, like you, pride ourselves on making an impact in our industry.
We are excited to announce our events and experiences that will generate interest and attract tourists. Our 2023 Event Marketing Strategy is "Shine a Light on Big Spring Park." This marketing strategy will create a desire within people's minds for their vacation, and we'll gain the attention of tourists seeking the outdoor recreational experiences we offer. Furthermore, our marketing plan will convince our audience that the perfect getaway any time of year is in Athens-Limestone County, AL.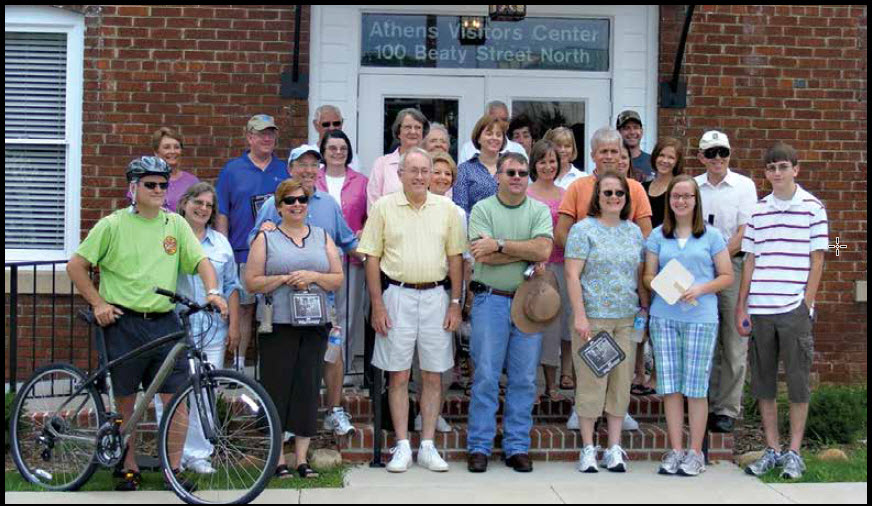 Athens Big Spring Memorial Park, a gem in the heart of the city, is located just steps away from our Visitors Information Center and nestled between the Beaty Historic District and Athens State College District. It is surrounded by the city's oldest cemetery, the Athens-Limestone Chamber of Commerce, Keep Athens Limestone Beautiful headquarters, and the in-progress Scout House music venue. The groundwork has been laid to establish the park as the perfect location for many popular events like the Wacky Quacky Ducky Derby and the North Pole Stroll.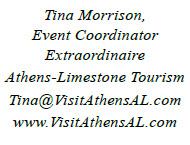 With all the amenities Athens Big Spring Memorial Park has, such as tennis courts, a covered pavilion with picnic tables, restrooms, a pond with a fountain, sidewalks with benches, flower gardens, a grassy area, an ADA-accessible playground, historical markers, and one-of-a-kind metal sculpture artwork, this park in the heart of Athens is one of our own premiere, underutilized event locations. With a statewide focus on outdoor recreation, we are poised and ready to host these 2023 Tourism events in Athens Big Spring Park! We will release more details on these events soon, but for now please save these dates:
March 11 – Roaring 20's Murder Mystery Dinner in the Tourism Meeting Room
April 1, 8, 15, 22, 29 – Saturday Historic Walking Tours
May 7-13 – National Tourism Week Open House
May 12 – Singing in the Park – Summer Concert Series (1 of 3)
June 9 – Singing in the Park – Summer Concert Series (2 of 3)
July 14 – Singing in the Park – Summer Concert Series (3 of 3)
September 9 – SUPERHERO DAY!
October 3, 5, 10, 12, 17, 19, 24, 26, 31 – Haunt Walks
December 1-31 – North Pole Stroll
We are excited to host these events, but we need your help. Your company's tax-deductible sponsorships will help us host and market all these wonderful events, and it's the perfect way to get your company name and brand in front of residents, tourists, and future residents. Thank you for considering a sponsorship with the Athens-Limestone Tourism Association. We are hardworking, dedicated, and trustworthy professionals, and we appreciate your continued support to Athens, Limestone County, and our own Sweet Home Alabama. All sponsorship opportunities are first come-first served. Thank you for your time and please give us a call today to discuss your preferred event sponsorship. Teresa Todd and Tina Morrison ~ Your Tourism Dynamic Duo (256) 232-5411
By: Tina Morrison – Tourism Athens