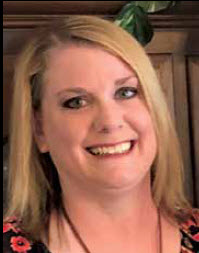 By: Leigh Patterson
As some of you know, I have accepted a job with another company, and my time as KALB Executive Director is now over. Words cannot adequately express how much I have enjoyed my time with KALB over the last nine years. The relationships and friendships that have been formed over the years will hopefully last for years to come. This organization means the world to me, and I will miss being involved in the day-to-day activities. I plan to stay active as a volunteer in the future, so this is not goodbye, but see you soon!
The KALB organization is made up of volunteer boards who care so much for our beautiful city and county, and they continually strive to make it a better place for all of us. It has been a joy to work with them and I thank them for all their hard work. KALB would not be able to continue its projects, programs and events without the many volunteers who work behind the scenes.
Litter is an ongoing issue unfortunately, and I would like to encourage those in this community to step up and take an active role in improving our city and county. Many already have and continue to do so, and for that we are truly grateful. For those who would like to be part of the solution but may not know where to begin, here are a few suggestions.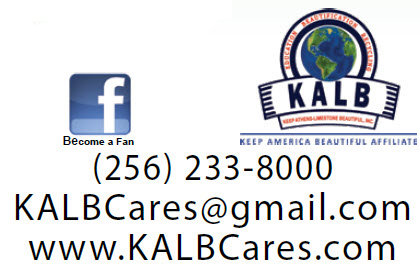 Begin at home:  It sounds simple enough, but don't litter and teach your children not to litter. Strive to be a good steward of the things that have been entrusted to us, which includes taking care of our own property and the world around us. Take responsibility and dispose of your trash properly. This will go a long way in making our community better. Also, be sure to bag your trash properly. Loose trash in garbage cans easily blows out when the trash truck is making its rounds, and this just adds to the litter problem.
Volunteer at a cleanup event:  KALB hosts several cleanup events through the year. If you've never participated in a cleanup, it is very eye opening. Until you get down into the ditches or on the sides of the roadways, you just don't realize how much litter is present. I would encourage you to include your children in these cleanup events as well, so that they may learn from an early age that litter is harmful and that caring for our environment is important!
Organize a cleanup:  If you would like to host a neighborhood cleanup or if you are part of a group looking for a way to give back, consider organizing a one-time cleanup event. KALB will be happy to provide cleanup supplies to help you accomplish this, along with information on how to host your event.
Consider KALB's Adopt-A-Spot program:  This program allows you to take on a more active role by cleaning a specific area regularly. Groups or individuals may adopt a stretch of roadway in Athens or Limestone County, and KALB will provide you with the supplies needed to clean the area. If your area is located within the city limits, you can earn a little extra cash for the non-profit club or organization of your choice! Call the KALB office for more information or visit the website KALBcares.com.
The KALB organization has been around since 1977, and it is still going strong today! I am leaving the organization in good hands, as the KALB Commission is a very strong and active board. I am pleased to announce that Tamisha Sales has been hired as the new Executive Director. She comes to KALB with over 15 years of experience in the nonprofit world. I look forward to seeing what the future holds for KALB as Tamisha takes on this role. She will do great things! I encourage you to welcome her and embrace her. As for me, I will be around, and I look forward to seeing you soon.
By: Leigh Patterson
Executive Coordinator – Keep Athens-Limestone Beautiful